One of the first things you have to do when you start a new business is to decide where you are going to print your business cards. As you may know, there are a lot of choices out there, and it can be difficult to narrow down the best ones. For that reason, I have put together a list of the best online business card printing services that are available today.
The list below is filled with the best business card printing websites available now. This will give you a great place to start looking and help you make a decision that is right for you and your business when it comes to the best business card website.
Why Print Business Cards Online?
Printing business cards online has some great benefits. More often than not, the process from start to finish is going to be quicker and easier. It will also be cheaper for you to print business cards online than it would for you to do it somewhere else.
The reason is that so many of the best online business card printing services offer all sorts of deals and free shipping.
You also get to personally build and design using a number of online building and design tools. Most all the top places offer this. Before you know it, you can have 500 freshly printed business cards in your hands for a very low price.
Finally, having the ability to design and print business cards from the comfort of your home or office is also very ideal. No waiting in lines, and no having to go out and find a local print shop to haggle with.
The Best Online Business Card Printing Services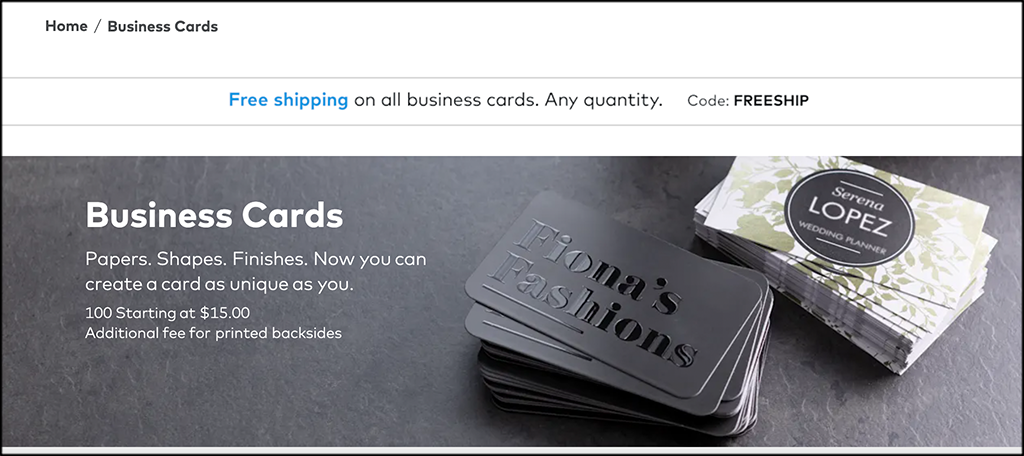 Vistaprint offers a very wide range of online business card printing services. They have dozens of online template designs that you can work with. You can also upload your own design and have them print that off as well.
If templates are not your thing, and you haven't designed a business card to upload, then Vistaprint also gives you the option to work with one of their in-house designers. They will get the design you want in place and ready to print.
The Vistaprint name has been around for quite some time, and the number of services they offer is just about unmatched by other online card printing services out there.
From a wide range of different paper thicknesses and paper stock to a number of different business card finishes including foil, the site gives you everything you need to create amazing business cards. This includes things like embossed gloss, plastic, and pearl, on top of the traditional matte or gloss.
Vistaprint also offers a number of other unique design layout options for those of you who do not want the traditional rectangle layout design.
Pros
Excellent print quality
Amazing online design tools
QR code generator on cards
Tons of card design options
Solid and fair pricing
Cons
Low customer service rating
Too many upsell attempts
Templates can be too basic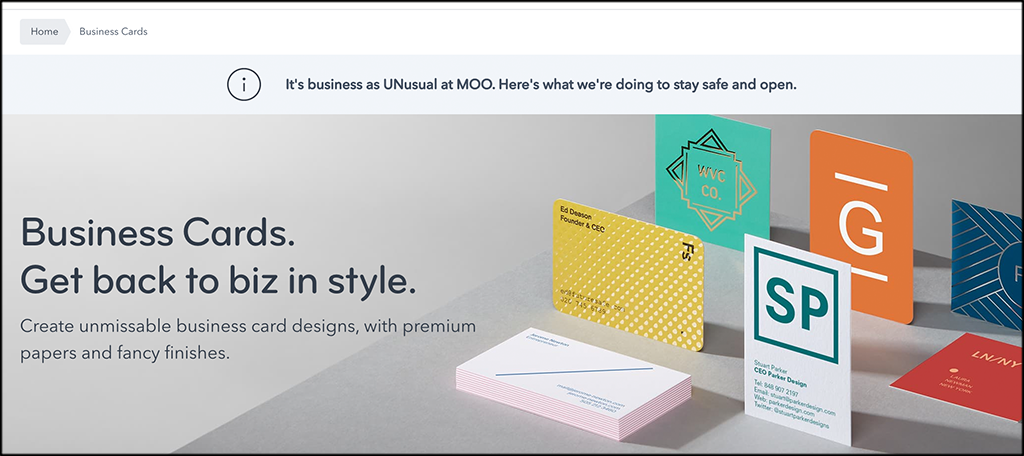 Moo is another one of the best online business card printing services that you will find out there today. They are an excellent option for anyone who needs a custom business card that will stand out from others.
Moo is specifically known for its high-quality, as well as their huge selection of different sizes and styles for business cards that they have available. Standard, square, mini, and rounded are just a few of the options available from Moo.
They have business card dimensions and sizes that you won't be able to find anywhere else. Their pricing is more expensive than most other places. However, the quality speaks for itself, and you will be hard-pressed to find a higher-quality printed business card anywhere else.
They also allow you to design your own card online. However, if you don't want to do that, then you can also upload your own custom design or choose from a pre-made template.
Standard business card pricing is fair, albeit a little more pricey. Moo does offer a system where you get much lower pricing if you buy in bulk.
Pros
Easy to use
Amazing templates
High-quality stock
Unique design options
Excellent shipping packages
Buy more for less
Cons
More expensive than other companies
Not as many customization options available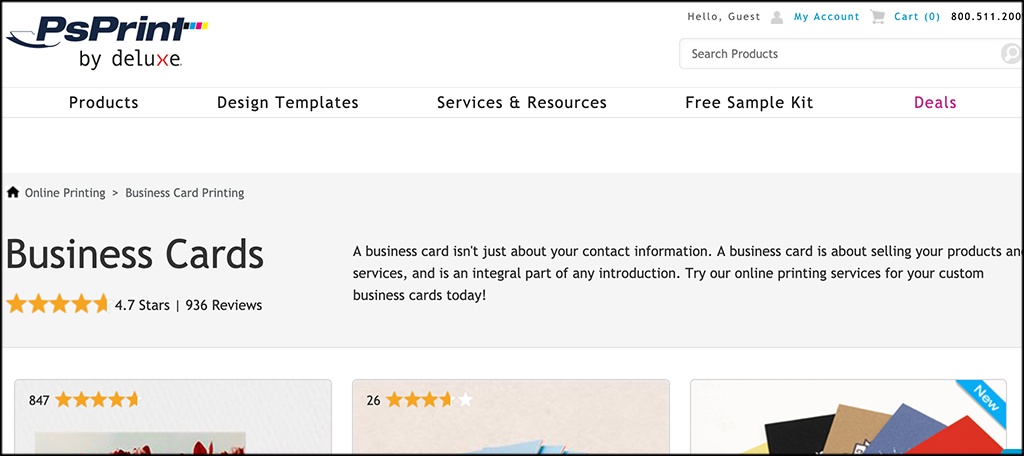 PsPrint offers a little of everything in the business card niche. That being said, they are popular and respected because of the pricing, design tools, and overall business card printing service. Matter of fact, PsPrint comes in highest for actual print service.
The pricing comes in at the lowest for all the providers on this list. Don't get me wrong, I am a believer of getting what you pay for. However, there are some instances where value and quality are mixed well and you get a refreshing return on your product.
The PsPrint design tools on their website are also some of the best you will find. Add to that the fact that they are not overly complicated to use, and you have the ability to design some of the best business cards online you will find.
Pros
Solid and easy to use design interface
Good print quality
Inexpensive
Excellent overall printing service
Cons
No interface guides
Sometimes pricing on different tiers is not clear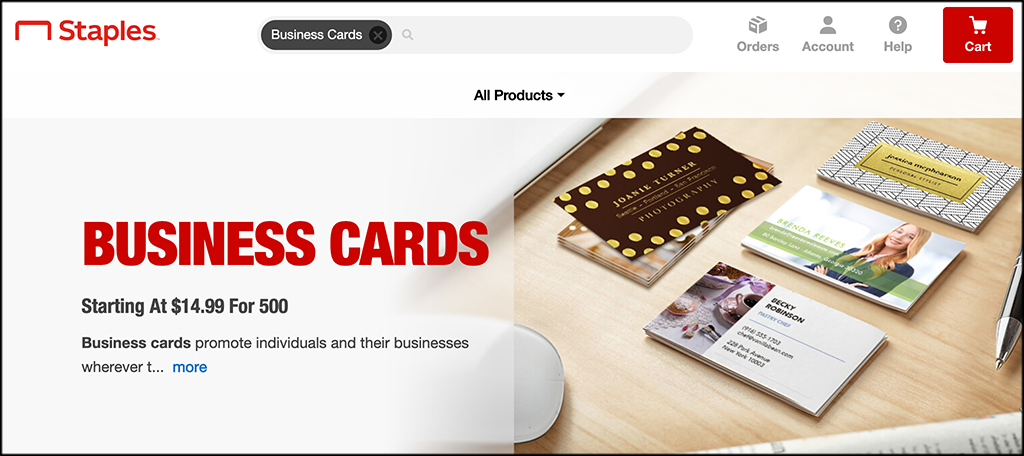 Staples does a lot of things well. Perhaps the most attractive part of their service is that you can get your business cards in almost no time at all. You can actually get your business cards designed, printed, and in your hands, on the same day if you use the "same day pickup" option from your nearest Staples store.
The design tool is not quite as complex as some of the other tools on this list, and it is very straightforward and easy to use.
You can easily upload a card design from any of your cloud storage spaces you might be using. This includes Google Drive and Dropbox. Staples is also a little more lenient on the file type that you can use, which gives many people more options.
Pricing at Staples is very fair, and again, with same day pickup available, it makes it a very attractive option for people who are trying to get quality business cards printed up fast and easy.
Pros
Fast, same-day delivery
Solid print quality
Easy to use design interface
Cons
Not as many card material options
Fewer design templates available than other providers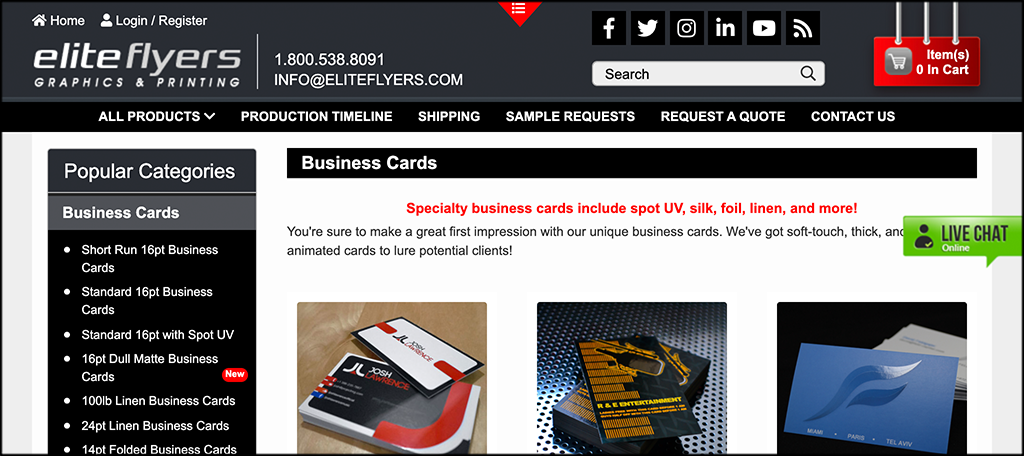 If your business is a little larger, or you are trying to put in a high-volume order for business cards, then Elite Flyers may be the right choice for you. If you need to order in bulk for either yourself, your staff, or an event, then Elite option offers some of the very best bulk pricing and discounts available.
They also provide a very wide range of business card styles including silk, linen, foil, spot UV, and more. Paper style comes from thick to soft-touch, which means they have just about anything you want available. Variety is not a problem.
Pricing for smaller orders will vary, but again, bulk pricing and turnaround time is incredible. They do have a minimum order of 1,000 cards. However, they can also accommodate large orders of up to 25,000 cards and provide you a 3-5 day turnaround time.
Pros
Amazing turnaround time on large orders
Plenty of options
Professional design services
Fine printing quality
Cons
No free shipping
Orders have to be 1,000 cards or more
Templates are not organized
Can be pricey for smaller orders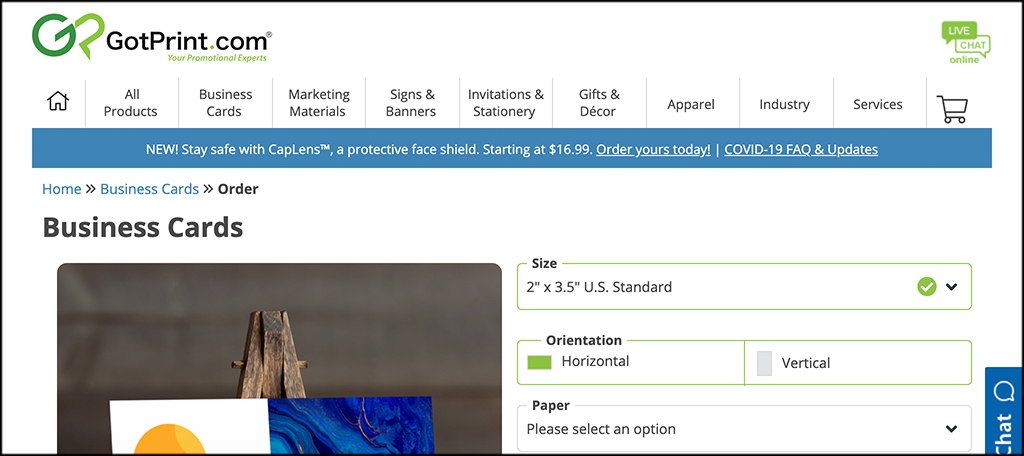 Starting off the second half of the best online business card printing services is GotPrint. They will get business cards to you cheaper than just about anyone. However, it should be noted that the entry-level business card stock is very cheap and not nearly as durable as others.
They offer a selection of custom online printing options for business cards, as well as a good web-based card-designing tool. If you are looking for unique business card shapes, GotPrint also offers plenty of those to choose from as well.
All-in-all, the service offers very good quality at a very affordable price. This is important for new business owners who are trying to limit what they spend on marketing materials to start.
Pros
Excellent pricing
Good online card designs tool
Unique card shape options
Tons of printing options
Cons
Templates are less modern than other competitors
No snap-to-align in card design interface
Fonts are limited
Entry-level card orders have low paper quality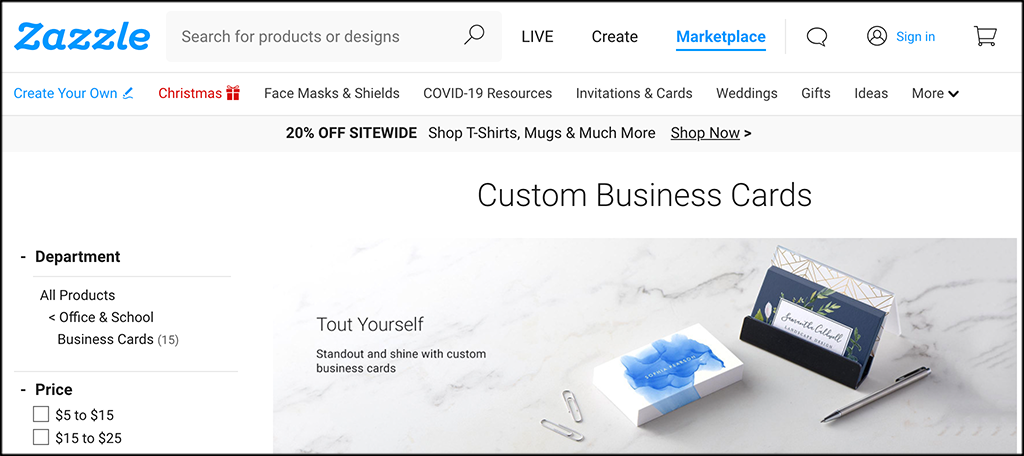 Zazzle may be an online business card printing service that you haven't heard of. That being said, they offer a very impressive range of different business card templates, which you can explore by profession of style. This allows you to really create a style that fits your business niche.
You can upload your own design option, but you can get the most out of Zazzle if you use one of their templates. They have some of the very best available from any of the providers on this list.
The range of options looks very professional and high-quality. In terms of size and shape, you can choose standard business card size, large, square, or mini. They take their choices even further with the ability to choose Euro and Oceania, which are also bigger than the standard size.
Pros
Large range of templates
Very stylish designs
Search business niche by keyword
Tons of printing options
Cons
Not as much freedom if you upload your own design
Pricing varies more often than it should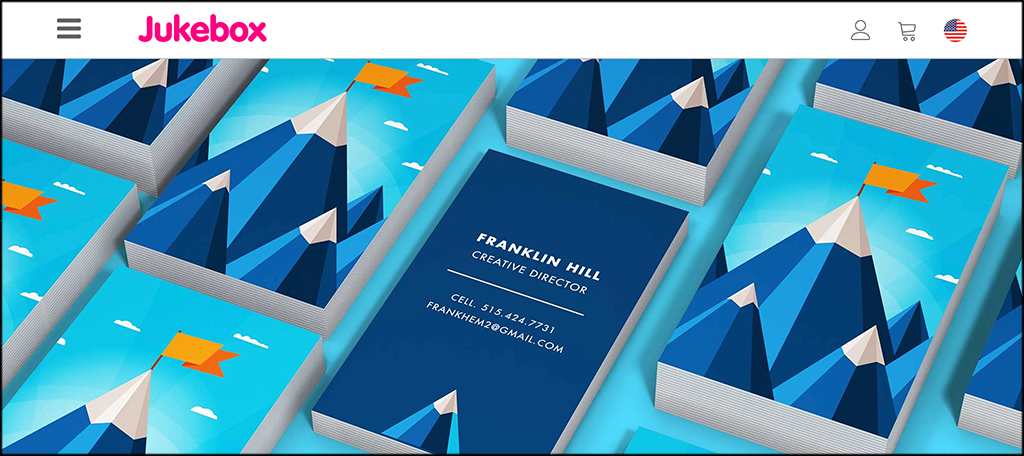 For a wide selection of premium business card templates that focus on high-end designs for maximum customer impact, Jukebox Print has you covered.
This company is one of the best online business card printing services for one specific reason. They offer business cards made from different materials than that which are commonly provided by other business card printing services.
For example, at Jukebox Print, you have the ability to have business cards printed on bamboo, hemp, cork, cotton, or even wood. This is a unique way to print business cards, and you will also set yourself apart from your competitors if you try this.
There is also a large range of available gold foil designs as well.
Top all that off with the ability to print premium black business cards, and you have everything you need to make a killer impression with potential clients. While Jukebox Print offers a more detailed and higher quality business card, their prices also reflect that. You will pay more, but it is definitely worth it.
Pros
Tons of unique card materials
Very stylish designs
High-quality cards
Gold foil options
Cons
Not for beginning designer use
More expensive than other services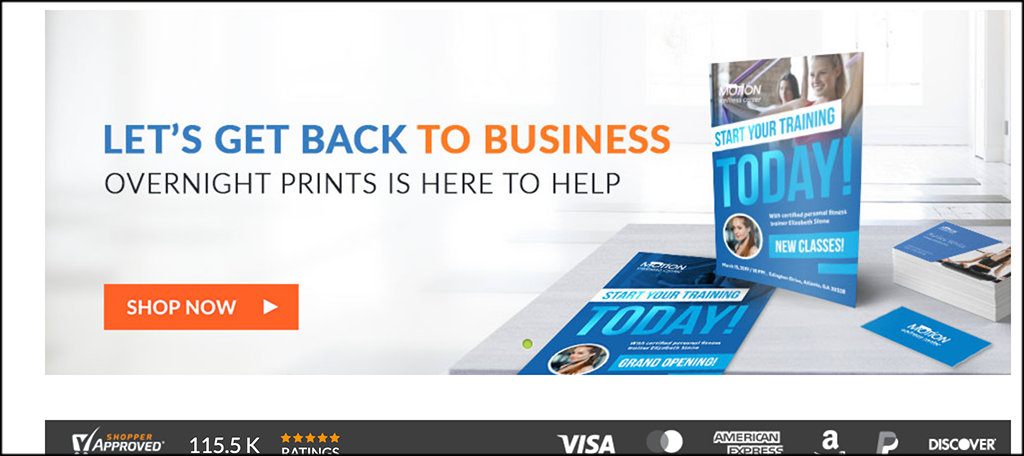 Like Staples, Overnight Prints is another one of those online business card printing services that can get cards into your hands at a lightning-quick pace.
This company has something called BITGIT (Buy it Today, Get it Tomorrow) specialty service. Orders placed by 8:00 pm EST will be delivered the next day. This is what sets them apart from their other competitors.
While Staples does offer same-day service, you do need to have access to a local store for pickup. With Overnight Prints, you get next day service no matter where you are, without having to leave the house.
Aside from their overnight service, they also provide high-quality cards that will help you make a lasting impression. They offer unique shapes like square, Euro sized, circle, and mini business cards.
Overnight Prints is definitely a company to check out for all your business card printing needs.
Pros
High-quality cards
Next day service with BITGIT
Tons of card shapes
Fair and affordable pricing
Cons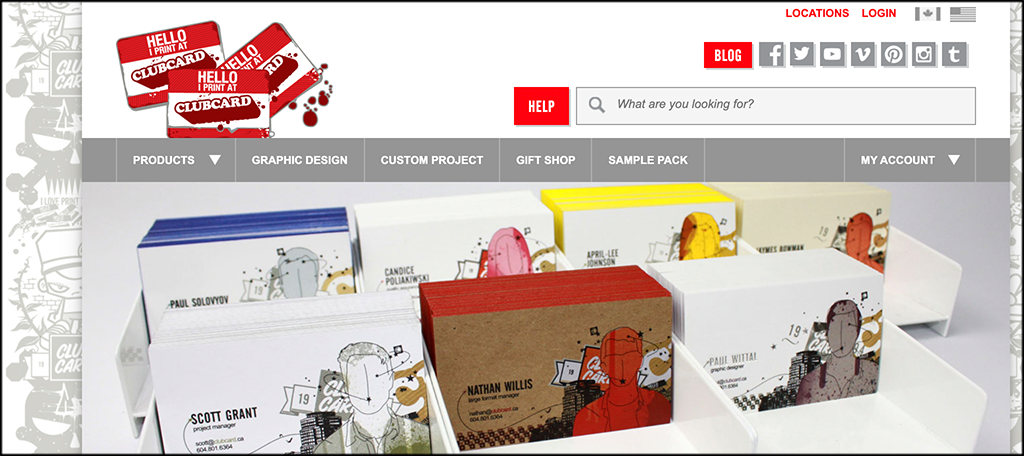 Rounding out our list of the best online business card printing services is Clubcard Printing. This company offers excellent graphic design, and it really shows on their business cards. Their designs are second to none and will help your company stand out from the rest of the crowd.
They have a lot of different designs to choose from, as well as a large variety of card material for printing. Some of their most popular options include laminated, 100% recycled, coated, uncoated, and foil business cards.
All-in-all, Clubcard printing has a large variety of options and a fantastic graphic design service that will help your business pop.
Pros
Tons of card types
Excellent service
Plenty of designs
100% recycled business cards
Cons
How Important Are Business Cards?
Truthfully, a business card is still one of the most important pieces of marketing material you can have. This is a fantastic way to get your name, services, and brand out to people.
You want to make sure you design a unique and memorable business card, as having something that pops will definitely help people remember your business.
Final Thoughts
It is important to take your time and choose the right online business card printing service for your company. The choice you make is based a lot on personal preference, as well as what you are looking for.
All of the online business card printing services on the list above come highly recommended, and you probably can't go wrong with any of them. Use the list as a tool and a place to start looking.
Before you know it, you will have amazing business cards in your hands to start handing out to people.