In a team environment, you want everyone to be on the same page when it comes to information and tasks. Using a to-do list in WordPress helps streamline the process by letting everyone know what needs to be done.
In fact, a to-do list can greatly help those who manage websites on their own. I know I often forget certain things throughout the day, and having a list helps keep me on track.
What about creating a frontend to-do list? Perhaps you have users who don't have access to your admin panel. Maybe you want to create a checklist for visitors.
In this tutorial, I'll show you how to set up a WordPress to-do list using the Cleverness plugin. It's a flexible tool that offers quite a bit in terms of use and customization.
Using Cleverness
Install and activate the "Cleverness To-Do List" plugin.
Go to the To-Do List on the left and click, "Settings."
In the general "To-Do List Settings" tab, you can control how the plugin behaves. For instance, you can add the date a task is completed, deadlines, progression, and editor controls.
This is all based on user preference and will depend on how you want to set up your lists in WordPress.
When you're done making adjustments, click the "Save Changes" button.
Click the "Advanced Settings" tab on the top.
In this section, you have control over the date format, list priorities, assigning tasks to specific users, user roles for tasks and custom email settings when tasks are assigned.
You also have the option to clean the database to keep WordPress running smooth. After all, you can clutter the system relatively quickly if you create and complete a lot of to-do lists.
When you're done making modifications, click the "Save Changes" button.
Click the "User Permissions" tab on the top.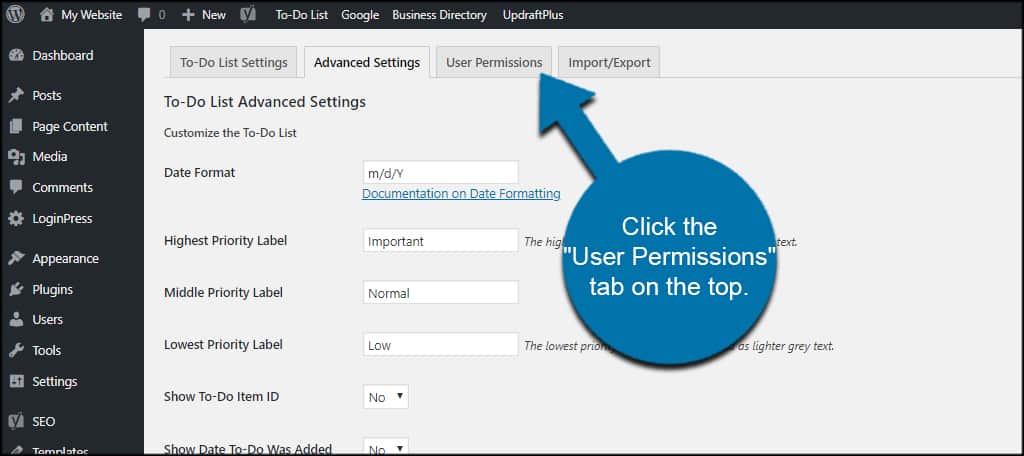 In this section, you can modify the permissions of users for certain aspects of the Cleverness plugin. You'll need to fine-tune this section to reflect what you want users to control in the WordPress to-do list.
For now, I am going to keep this as default. If you're the sole user of the website, you won't need to change anything in this section as you have control over everything anyway.
If you do make any changes to this list, don't forget to use the save button on the bottom.
Adding a WordPress To-Do List
Now that we have our settings as we want, it's time to start making our list.
Click the "To-Do List" feature on the left.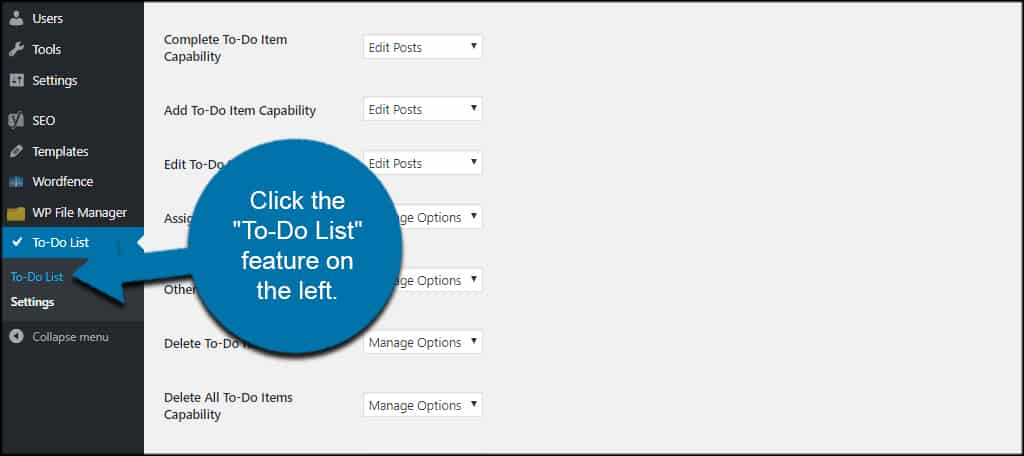 By default, Cleverness will already create your first item. This To-Do list is actually visible on your WordPress admin dashboard.
Let's add more to this task list in WordPress. For this tutorial, I'm going to add something simple like creating a post about winter golf.
Choose a priority level for the next task. In my example, I'll set it to a low priority. It just needs to be done at some point in the future.
The Cleverness WordPress task list plugin lets us use the WYSIWYG editor. Anything you can do in a WordPress post or page is available for your to-do list.
So if you have something like TinyMCE Advanced installed, it'll be available when creating your task.
Enter the details of your task. This can be as extensive as you like. However, it's beneficial if you add as much information regarding the task as possible especially if you have multiple users in WordPress.
When you're ready, click the "Submit To-Do Item" button.
The new addition will be added to your WordPress projects list.
You will also see it on the WordPress admin dashboard list.
If you don't see an admin dashboard panel for your to-do list, you may have to scroll down to find it. In my installation, it was at the bottom of my dashboard under all of my other tools.
You may also have to customize the WordPress admin panel to enable the to-do list as well as other features.
At which point, you can drag it up to the top so you can see the list.
Adding a Frontend To-Do List
So, what if your users don't have access to the admin panel? That's when you'd add the WordPress frontend to-do list on a page or post.
Cleverness comes with its own shortcode that will let you place the list almost anywhere on the website.
For instance, you can easily place the to-do list in a post, page or sidebar widget.
In this tutorial, let's simply add the shortcode to a static page.
Create a new page for the website.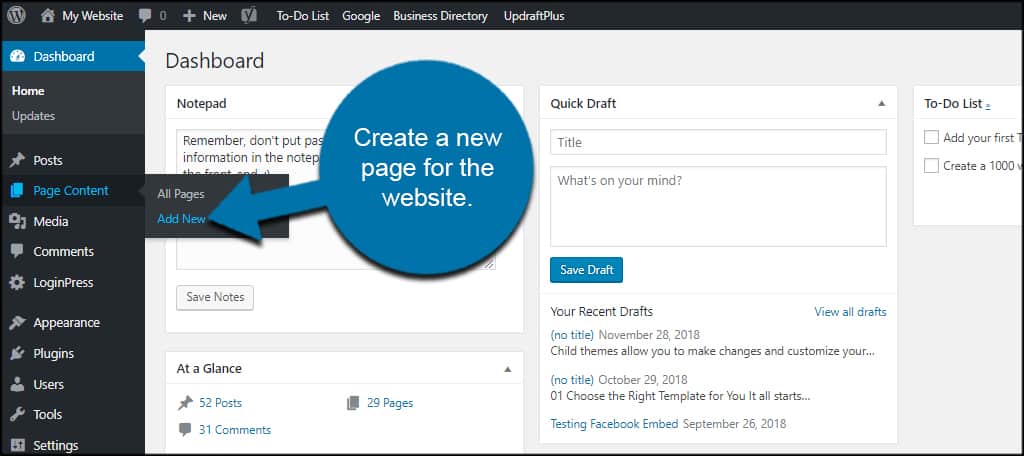 Add this shortcode to the page:
Your list will now show on the website.
The shortcode has a lot of options available to customize the layout of the frontend to-do list. There is a complete list on the Cleverness plugin page, but you can do things like show the priority level, progress, date and much more.
Keeping Workflow Efficient
Adding a WordPress task list plugin like Cleverness only serves to help keep development efficient. Whether you need it as a simple reminder for yourself or want to keep the team on the same page, it's quite a useful tool.
Streamline the progress of your site while enhancing its potential.
What plugins do you use to improve team efficiency? How often do you use plugins like Cleverness to help remind yourself of tasks?
Michael has been in the tech industry in some form or another since the late 1990s. He's built a variety of websites using HTML, Joomla and WordPress. Starting his freelance writing career in 2012, he's completed thousands of projects world-wide covering a wide scope of topics. Michael is currently the Content Marketing Team Lead. Today, he manages a team of writers to create tutorials, blog posts and support content for customers. Outside of GreenGeeks, he manages a YouTube channel that helps others learn how to become freelance writers, bloggers and overall professionals.