Images are one of the most effective ways to engage an audience on the Internet. Graphics play such an integral role online, services like Snapchat and Instagram are able to thrive. What about adding a gallery carousel to your WordPress website?
A gallery is great to show off products, services or your own artwork. They are instrumental in many online portfolios, especially for graphic designers.
In this tutorial, I'm going to show how to add a simple carousel to WordPress which may have a big impact on your guests. All it takes is the right plugin to boost the functionality of your content.
Using Photo Gallery by WD
By default, WordPress comes with an easy and basic gallery. However, it doesn't have a lot of the pizzazz and flare you might want to put into your posts and pages. For this, I'm going to use Photo Gallery by WD.
This plugin comes with a modern design for websites, several methods for showing off images and enhanced search engine optimization. What I like is the slew of tools that come with it.
It's important to note that you can only use the carousel from this plugin by purchasing the premium version of the plugin. For the features that are included, it may be worth the investment if you want to really show off your photos on the website.
Another thing to note is how Photo Gallery makes use of WordPress shortcodes. These are small snippets of coding you can paste into post and pages, which will launch the gallery once someone visits.
Install and activate the "Photo Gallery by WD" plugin.
Make sure you install the correct plugin. You'll see a long list of gallery tools you can add, but this tutorial is centered on the one created by Photo Gallery Team.
After installing the plugin, click the "Photo Gallery" option on the left. Make sure you don't click on the "Photo Gallery Add-ons." This is only a list of other plugins you can add to your site to expand what Photo Gallery can do. For now, we just need the basic plugin.
The next screen is a message that explains how the developer would like usage data to improve the plugin. This is completely optional and you can click "Allow" if it's OK for the developer to get information regarding your WordPress layout. For this tutorial, click the "Skip" button for now.
Setting Up Photo Gallery
The first thing you'll notice is how Photo Gallery comes with a tutorial as well as a user guide. There is a lot of information within this section, so you may want to spend a bit of time going over it. You also have access to a forum, idea submissions and other support information.
In Add Galleries/Images, you can upload your graphics. You can edit details such as the author, slug and the name of the photo. It's important to know this section is completely separate from the Media folder. You will need to add the images to this section if you want to use them in a gallery carousel in WordPress.
Albums are set up similar to images. This is where you can create bulk layouts of images and organize them.
Click on "Tags" if you want to customize those elements. These work similar to how WordPress handles tags and make it easier for people to find related images. For example, you could label certain images with "solar" and visitors can access all images with that specific tag.
In the options screen, you can control the overall layout of your gallery. This includes thumbnails, how the carousel with lightbox examples work, slideshow buttons and more. Photo Gallery even works with Instagram by adding the access token from the social site.
Photo Gallery can handle a wide scope of designs. Masonry, mosaic, lightboxes, carousels and more are available for customization. In the "Themes" area, you have access to customize the gallery's layout.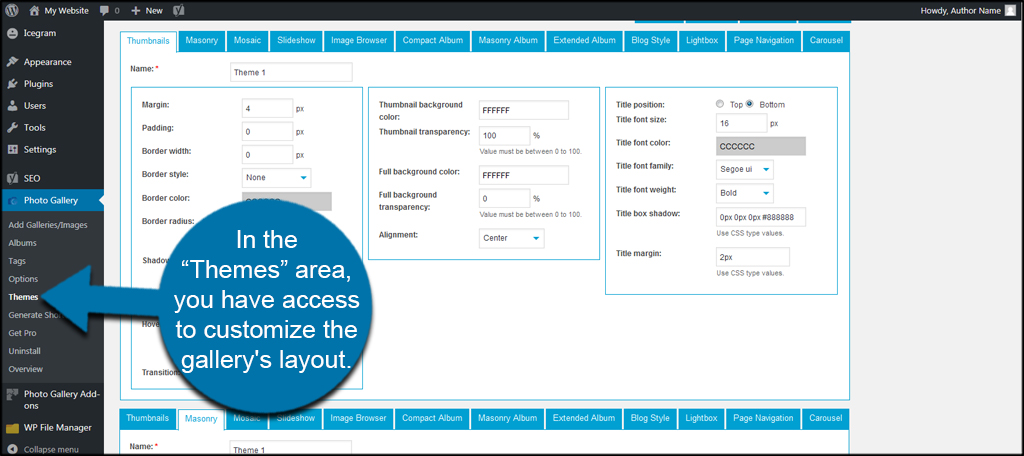 When you're ready to place the gallery in a post or page, click the "Generate Shortcode" and select your options. You can modify how each individual gallery appears on your site including search boxes, lightbox effects and more.
Although some options are only available in the pro version, the free plugin has an extensive list of what you can do.
Once your ready with your options, click the "Generate" button on the bottom of the page.
Copy the shortcode displayed in the box and paste it into your post or page.
Galleries Galore
This is just one example of an excellent plugin. Although the gallery carousel in WordPress is locked behind a premium version, it's still a useful tool for showing off your photographs. It's simple to use, easy to understand and full of customizable options.
What kind of gallery plugin do you use on your website? Would you buy a premium plugin for your website if it meant accentuating what you can provide to your visitors?
Kaumil Patel is the Chief Operating Officer of GreenGeeks and has over 13 years of experience in the web hosting industry working for and owning web hosting companies. Kaumil's expertise is in marketing, business development, operations, acquisitions and mergers.