Domain owner information is contained in a few different regional databases that are collectively known as the WHOIS database. It's important that the contact information for your domain is correct and accurate. Otherwise, you could run into problems when trying to update, move, or transfer ownership of a domain.
If you use our ID Protect service to keep your personal information out of the public WHOIS database, you should still maintain up to date contact information for your domain in GreenGeeks.
When you update the registrant (owner) contact information for most domains, there are important email messages you need to be aware of. If you fail to respond properly, your changes may not be made.
What is ICANN?
ICANN stands for "Internet Corporation for Assigned Names and Numbers." Its purpose is to ensure Internet stability and interoperability. You can learn more about what ICANN does on their website. ICANN creates many of the policies that affect domain names and IP addresses. Companies like GreenGeeks that sell or manage domains have to abide by those policies.
Making Changes to Domain Contact Information
These requirements apply to all generic top-level domains (gTLD). A gTLD is any domain with an extension that is not a country code. The requirements do not apply to country code domains, such as .uk, .tv, .co, etc. If you use a country code domain, check with your registrar to learn about rules that apply to your domain name.
When you change the first name, last name, email address, or organization of the registrant (the domain name owner), you have to acknowledge the change via email. You must click the link in the email(s), or the update will fail.
This only applies to changes made to the registrant's contact information. Changes to admin, billing, and technical contacts do not have to be acknowledged.
Changing Domain Contact Information at GreenGeeks
Click the "My Domains" link in the navigation menu to the left. Then, click the "My Domains" link in the drop-down.
Click the "Manage" button for the domain you are working with.
Click the "DOMAIN WHOIS" tab at the top of the page.
Use the dropdowns to complete all the registration info you need, or change what you want. When you are done, click on the "Save" button.
If you wish to update the technical or billing contact information, you can make the changes in the appropriate sections at the same time you are changing the Registrant Details.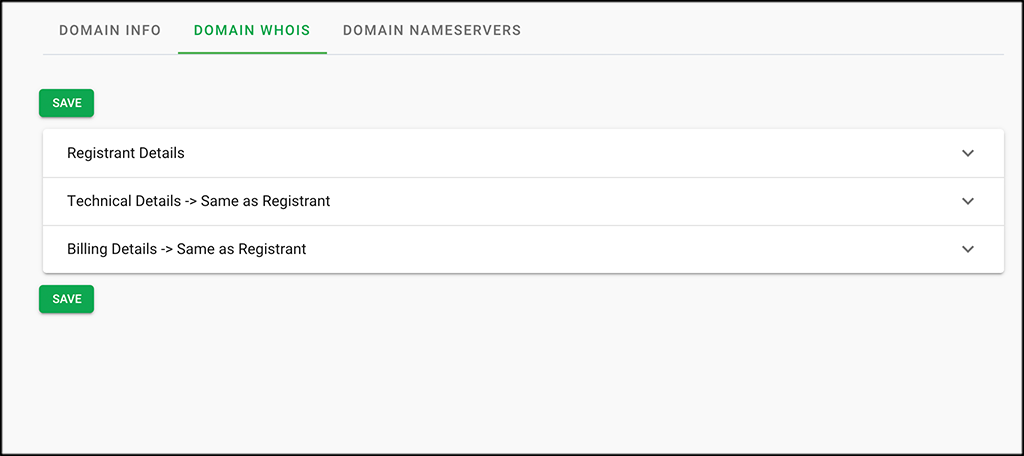 That's it!
To Avoid Problems or Delays
Take a few minutes to make sure your registrant information is up to date, especially the email address. When you change the first name, last name, email address, or organization for the registrant, make sure you approve the change by clicking the link in any email(s) you receive.