Backups are important and powerful tools in the hands of developers. A WordPress backup plugin can save you in your darkest hour, and luckily, most of them are free to use. However, there are a lot to choose from, which is why I took the time to construct this list.
Why is A WordPress Backup Important?
A backup is a copy of all of the files stored on your website and it can be used to restore any of those files at a moment's notice. Thus, in the event that your website suffers from a fatal error, hack, ransomware, hard drive failure, or something else, you can restore it within minutes.
This helps prevent your website from being down for an extended period of time.
Of course, there are other uses for backups. For instance, let's say you wanted to experiment with specific features on your website in a testing environment. You could use your backup to clone your website and install it in the test setting.
This will allow you to test the changes on your website and work out any problems in advance.
The plugins within this list vary from full backups to specific files. Therefore, it is important to make sure the backup includes the services that you find necessary.
The Best Backup Plugins to Try
1. UpdraftPlus
UpdraftPlus is one of the most comprehensive backup solutions available in WordPress and it's free to use. It handles both full and partial backups and allows you to customize exactly what gets backed up. And, everything can run automatically.
Did I mention that it's one of the most popular WordPress plugins with over 3 million active installs?
With it, you can upload your backup to a variety of cloud storage sites like Dropbox, Google Drive, Amazon S3, UpdraftVault, Rackspace Cloud, FTP, DreamObjects, Openstack Swift, and that's just the free version.
The premium version gives you even more options like Microsoft OneDrive.
2. Duplicator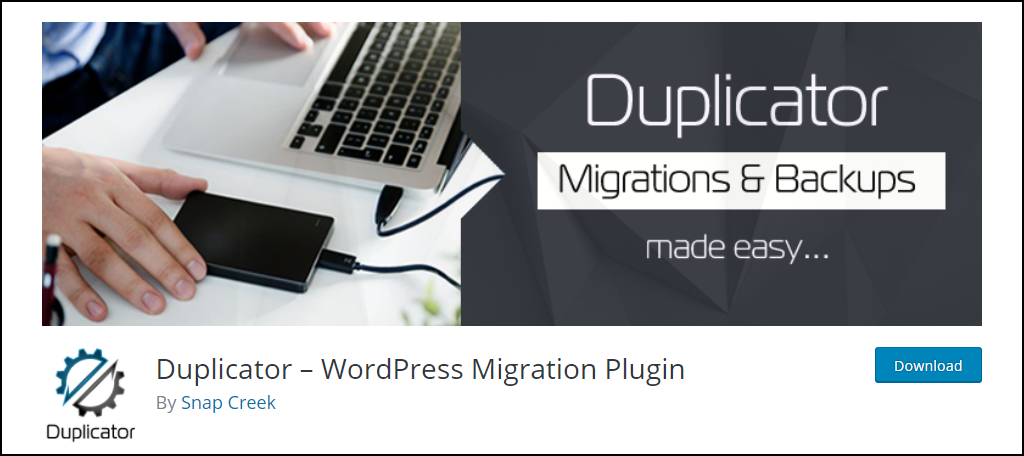 The Duplicator plugin excels at cloning websites to help them migrate from one web host to another. It makes a backup of everything including website content, database, plugins, and themes, which allows you to easily move your website around.
It is also ideal if you plan on using a testing environment because of the cloning functionality.
If you are in the business of setting up websites for others, you know the pains of setting up the same theme, plugin, and WordPress core settings. With Duplicator, you can avoid this by making a copy of your WordPress foundation.
It is the perfect tool for the job.
3. Jetpack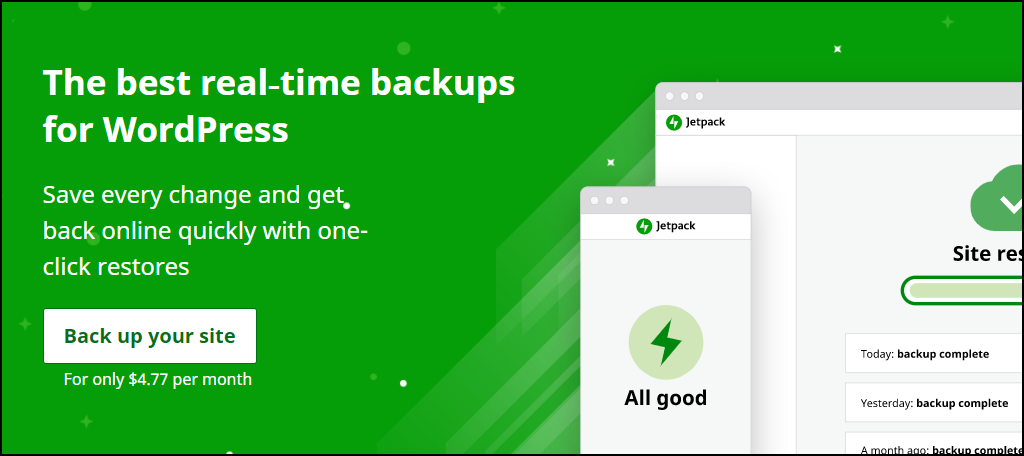 The Jetpack plugin has a lot of different modules. And backups are one of those things. However, backups are not part of the free toolset Jetpack offers. Instead, you will need to purchase a backup plan.
Luckily, it's pretty affordable at only $4.77 per month.
And with the Jetpack Backups mobile app, you can create a backup from any location. Of course, this is unnecessary for many because you can set up regular automatically scheduled backups.
One of the best features is the activity log. With it, you can see a list of the most recent changes to your website. As a result, you can identify who broke your website at a glance.
4. WP Time Capsule
WP Time Capsule is another useful backup plugin because it works slightly differently than others on this list. Instead of creating a full backup, it will only backups files that have been changed. As a result, the amount of time it takes to back up your website is much smaller.
That said,  it is worth mentioning that this is not a free plugin, although there is a 30-day free trial available.
One other very useful feature it includes is database encryption for your backups. This ensures that your backups can never be held for ransom and cannot fall victim to a hacker. It also has a staging feature that you can utilize to test what a plugin update does to your website.
5. BackupWordPress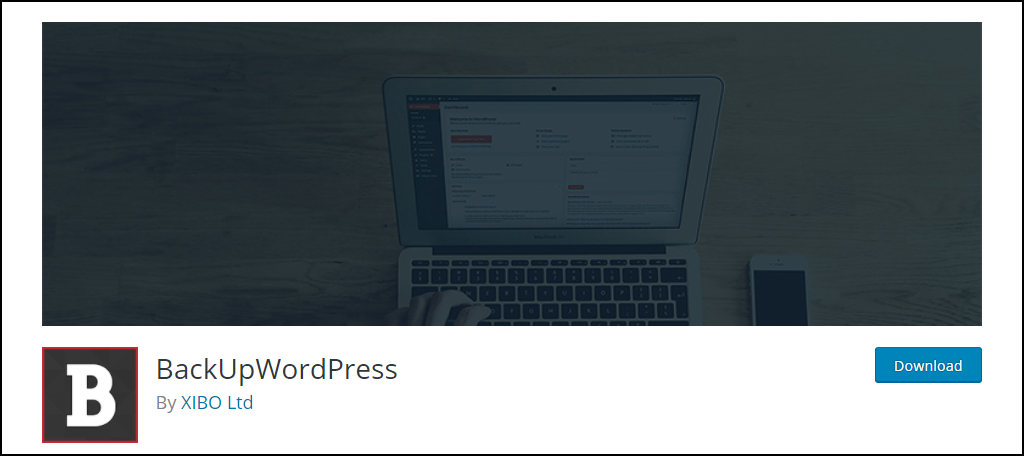 BackUpWordPress is another free and easy option to backup your WordPress site. There is no setup configuration involved, it is ready to go immediately after activation. In fact, as soon as you activate it, the plugin will create a full backup of your website.
Yeah, it really doesn't get any easier.
The backups are automatically stored on the backend of your website. However, this should not be the only location you keep your files. Instead, you should copy the backup and store it in a different location like the cloud.
In the event of a hack, the backup could be compromised.
6. BackWPup
BackWPup is a great choice for developers who want control over every aspect of their website. This includes the ability to send your backup to multiple locations such as Dropbox or Amazon S3, with more options available for premium users.
Of course, with just the free version, you can rest easy knowing your backups will be on time and secure.
It is worth mentioning that while the features are great, they can be a bit involved, and the plugin UI could use a bit of work. Hence, it is not the most beginner-friendly tool.
However, experienced developers will make full use of what the plugin does offer.
7. WPvivid Backup
The WPvivid Backup and Migration plugin is a great choice for any website looking to create a backup. It's easy to use, regularly adding new features, supports automatic backup scheduling, and has plenty of other reasons to give it a try.
And restoring your website couldn't be easier as it supports a one-click restore.
One of its newest and most useful features includes the unused image cleaner. This option will scan your media library for any image that is not currently being used on your website and provide you with an option to delete it.
This helps shrink the size of your backup and save server space.
8. WP Database Backup
The WP Database Backup plugin focuses on backing up your WordPress database and is not a complete backup solution. However, it is important to realize that some of the most important configuration options for WordPress are in the database.
In fact, this is a perfect replacement if you are manually backing up your database with MySQL Workbench or phpMyAdmin.
Once the plugin is activated, you can select an interval at which the plugin will regularly backup your database. It's a very simple plugin but does exactly what it needs to and it allows you to upload that backup to multiple destinations including Dropbox and Google Drive.
9. Backup Guard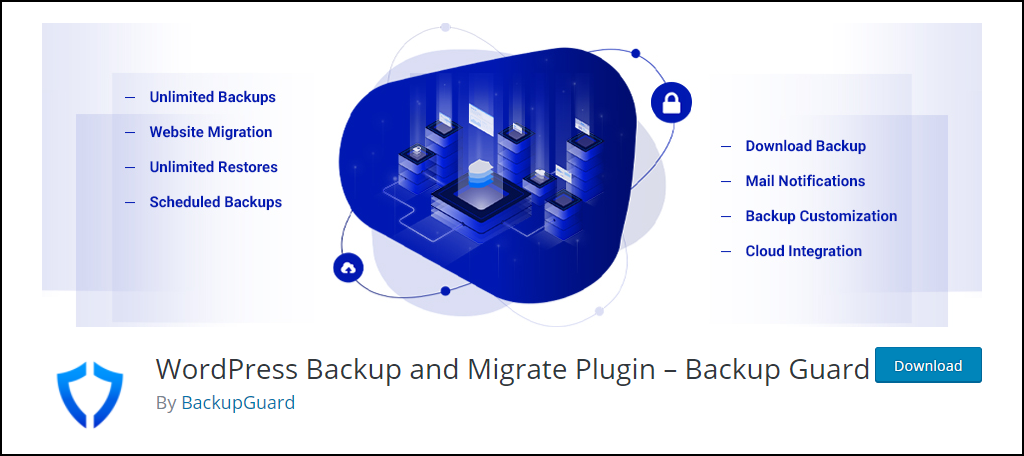 Closing out our list is Backup Guard, but don't let its placement fool you. It is a terrific option for any website in need of a WordPress backup plugin. It keeps multiple backups in storage and an easy-to-use restoration log that can help you select the best option.
This is a very useful feature in the event that the latest backup suffers from the same problem your website is facing.
After all, in some cases, the backup will trigger immediately after an update is made. This is why a test environment is so important; it helps you avoid those situations from ever happening. And with this plugin, you can easily migrate your website into a testing environment.
Install A WordPress Backup Plugin Today
Security, SEO, and backups are the three most important plugins you can install on WordPress. And frankly, they should be the first ones you install. A backup is more than just a disaster recovery tool as it can help you test changes to your website.
Testing is one of the most underutilized options new developers don't take advantage of, and it is baffling. It's like cutting a piece of wood before measuring. Avoid downtime on your website by installing a WordPress backup plugin today.
Was it hard to learn how to backup your WordPress site?