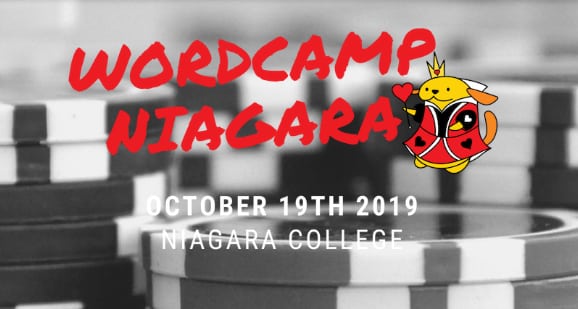 On Saturday the 19th, be sure to catch WordCamp Niagara 2019 held at Niagara College's Niagara on-the-Lake campus in Ontario. While you're there, you can take in the beauty of Niagara Falls just a short distance away.
This one-day event has a lot available for a wide variety of WordPress users. From avid developers to beginners, you're sure to find something that will expand your knowledge.
And although GreenGeeks won't be there in person, rest assured we're there in spirit!
What to Expect at WordCamp Niagara
This year has brought a lot of changes and adaptation for WordPress users. Since publishing version 5.0, the face of development has taken on a new shape. At this camp, you can find talks to help you gain better understanding of that shape such as:
Implementing a Design System in Gutenberg
In this talk, Matthew Brent will go over what Gutenberg can do for you and ways to approach design and tools. This is a must-see for those who are having trouble adapting to the Gutenberg editor.
Can Gutenberg Do That?!
Speaking of Gutenberg, Thiago Loureiro talks about its features and how other popular plugins interact with the system. You might walk away with a new understanding of the editor in this interactive discussion.
Becoming Familiar with WordPress and Web
Sit in on this session and Jordan Quintal will show you how to implement web accessibility features to help engage those with disabilities. After all, your site should be for everyone on the Internet.
Building a Local Community Hub with WordPress
Creating a local community can help a variety of organizations by engaging those who are nearby. Andy McIlwain goes over how to create this platform to exist alongside other social media systems like Facebook.
How to Write SEO-Friendly Blog Posts and Get Them Ranking
Anyone who creates content of any kind should want to sit in on this session by Natasha Burtenshaw-deVries. She'll break down steps and ways to engage both visitors and Google for better visibility.
These are just some of the awesome talks that are going on at WordCamp Niagara 2019. If you want to get more out of WordPress, be sure to attend!
Fun Facts About Niagara on-the-Lake
This camp is held at the Niagara on-the-Lake college campus, which rests on a strip of land between Lake Ontario and Lake Erie. It's just a short distance from the world-renowned Niagara Falls and is easily accessible from the United States.
But what other fun facts are there for this particular area? Well, I found that:
Niagara Falls is actually a culmination of three individual waterfalls: Horseshoe, American and Bridal Veil Falls. More than eight million people visit the location every year.
Niagara Falls is over 12,000 years old! The beginnings are traceable to the end of the last glacial period.
Although Lake Ontario is the 14th largest lake in the world, it's the smallest of the three Great Lakes in North America.
There's no doubt that WordCamp Niagara 2019 is surrounded by natural beauty and splendor. It makes me sad that I won't be attending what's sure to be an amazing weekend.
Have a Great Weekend at WordCamp Niagara!
Niagara and the surrounding area is stunning, to be sure. Between the backdrop of a world wonder and incredible WordPress talks, everyone in attendance has a lot to cover this weekend.
Be safe and enjoy what this camp has to offer.
I'd also like to take a moment to thank the organizers, sponsors, volunteers and attendees for helping make this a great camp. It's your support that drives these events to be the successes they are.