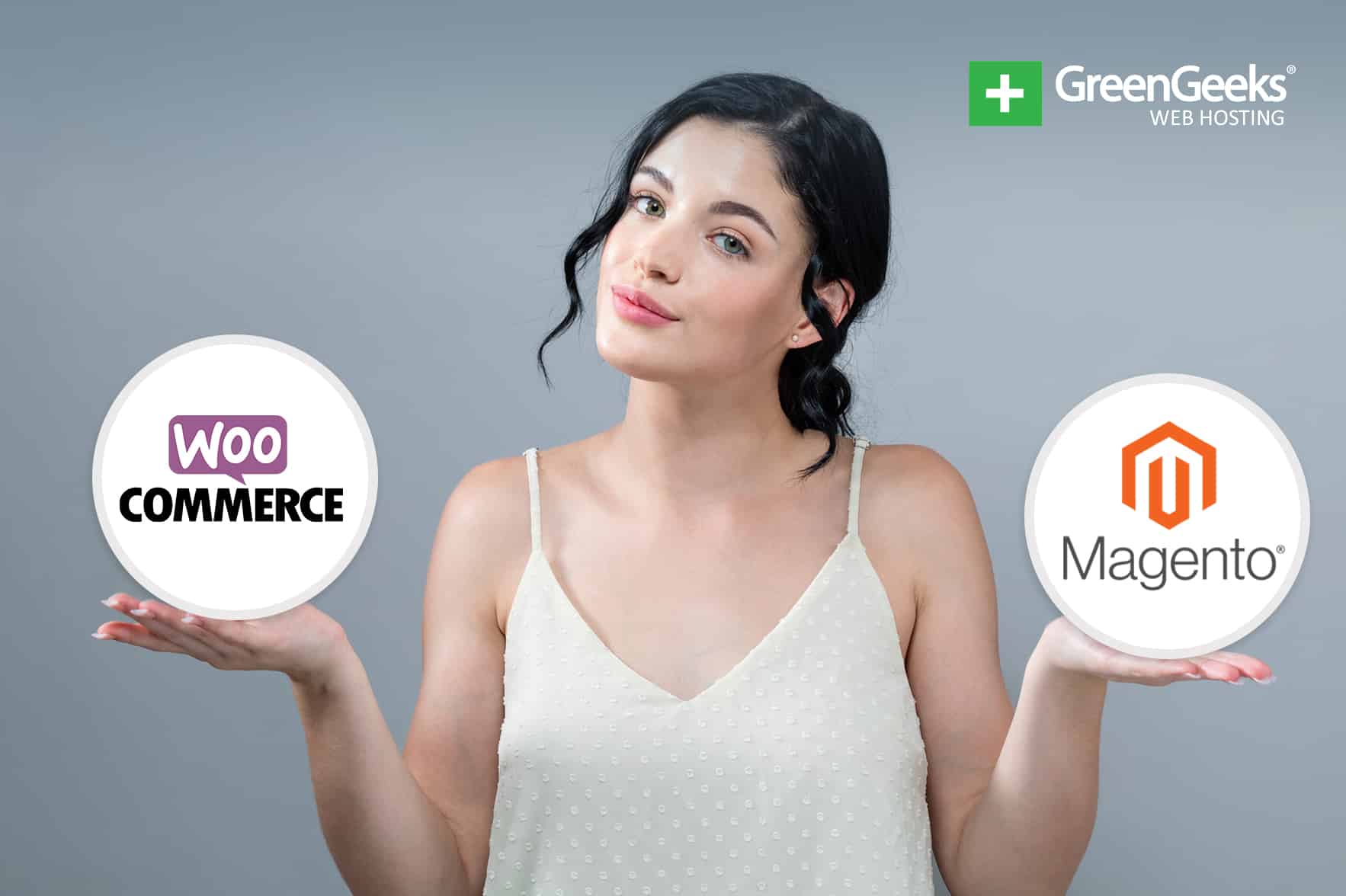 So you are deciding to start an online store, but you are a little hesitant on what eCommerce platform you should use? There is an ongoing debate raging that involves WooCommerce vs Magento. So which one is right for you?
To answer this question for yourself, you have to be aware of what the Magento platform and what the WooCommerce platform delivers. Basically, they are both for running online stores, but from there they have a lot of differences.
There are a lot of things to consider when running an online store. What is the cost? How do I start? What do I expect? Some of these can't be answered until you simply start the process.
That being said, there are a lot of questions that can be answered when it comes to comparing WooCommerce vs Magento and figuring out which one is best for you.
Let's do a rundown of them both to give you a better understanding of how they work.
What is WooCommerce?
Simply put, WooCommerce is an open-source eCommerce plugin built for WordPress. It is designed for both small and large-sized online merchants that are running the popular content management system.
WooCommerce was launched on September 27, 2011. It is a wildly popular plugin for several reasons. WooCommerce is WordPress ready, it is very scalable, and the base plugin is totally free.
WooCommerce has been downloaded over 5 million times and helps millions of users around the world. So, you know it is trusted and powerful.
What is Magento?
Magento is also an open-source eCommerce platform written in PHP. The software was originally developed by Varien, Inc. They are a US private company headquartered in Culver City, California and is simply called Magento now.
Development was assisted by volunteers, and the first release of the Magento eCommerce software was made available on March 31, 2008.
The product is used on over 250,000 websites, which is a far cry from how many sites run WooCommerce. But, it is still a massive amount.
Advantages of Using an Open-Source System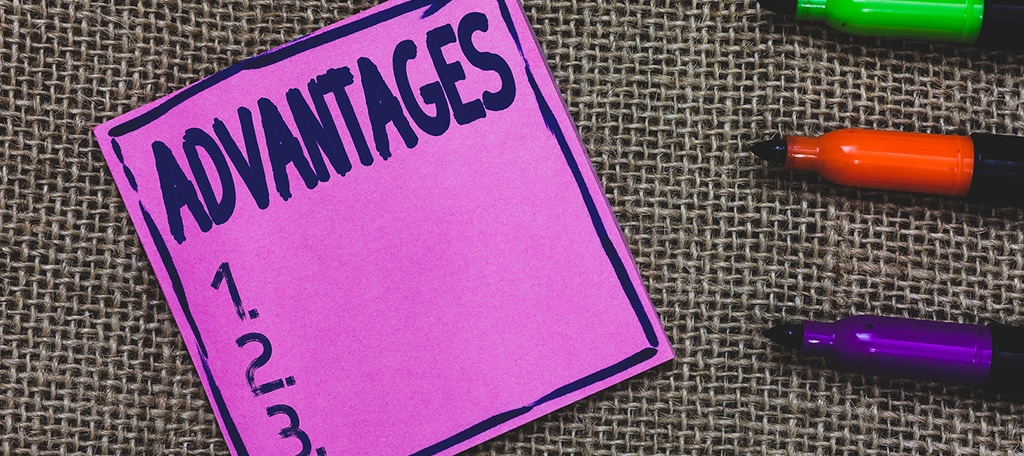 The main advantage of using an open-source system is that anyone and everyone can contribute to the development of the project. This includes building plugins for the project and contributing in many other ways.
This provides a platform for immeasurability regarding functionality. In other words, it opens the doors for development while saving money from hiring professionals.
An open-source community will also have tons of help forums, and it is usually very easy to find answers to questions. This is usually much more convenient than having to email a developer a question and wait days for an answer.
Since both WooCommerce for WordPress and Magento eCommerce are open-source, they are both ideal for building and expanding online stores. Admittedly, Magento is a little harder to use. However, this doesn't mean it should not be considered.
WooCommerce vs Magento Main Features
Each platform has a lot of different things to offer. Some good, some not; it just depends on who you are. Let's dive into some WooCommerce vs Magento differences.
WooCommerce Main Features 
WooCommerce comes with a nice assortment of main features. They include:
A totally free plugin
Supports unlimited products
Supports almost every WordPress theme
You need to have your own hosting
Tons of customization options
Hundreds of extensions (free and paid)
Basic security features to protect your store
Very easy to use, even for a beginner
Built-in blogging for marketing purposes (thank to WordPress itself)
Magento Main Features
Magento eCommerce also comes with a lot of nice main features. They include:
Several premium services
The free version is self-hosted
Premium versions include hosting
Unlimited products
Theme based system
Offers a variety of options
Supports extensions & offers a lot of them
Advanced security features
Dedicated security patches
You need a basic level of web development knowledge to use Magento
What Do Both eCommerce Platforms Have to Offer?
Again, both WooCommerce and Magento offer a lot of the same things just in a different way. However, let's take a look at what WooCommerce vs Magento has to offer aside from their main features.
What WooCommerce Has to Offer
WooCommerce is oftentimes the first thing that comes to someone's mind when they think of online stores. This is especially true if they are using WordPress already.
The plugin gives you everything you need to start and build an online store. Through the use of its extensions, the platform can help you scale to just about any level you want.
Other key features of WooCommerce include:
The free plugin supports an unlimited amount of products.
The extension system is vast and is built using the WordPress plugin format.
You can use almost any payment processor you want with the use of the extensions.
There are literally dozens of free themes available or it integrates into almost every WordPress theme, free or paid.
Pros:
You can set up a store for free, aside from the cost of your web hosting expenses.
If you have experience with WordPress, the WooCommerce is easy to use and understand.
They have very extensive documentation available and you can also contact the team with more questions if needed.
Easily integrates with Google Analytics via an extension.
SSL support is available, you just need to get your own certificate.
Cons:
If you don't use or have any familiarity with WordPress, then you will have to learn both platforms.
The WooCommerce plugin base model is free, but other specific extensions are paid. The prices can add up if you aren't careful.
What Magento Has to Offer
Arguably the biggest difference in WooCommerce vs Magento is that WooCommerce is geared more for every user and allows you to scale appropriately whereas Magento is geared toward companies.
Magento offers the free Community version (as stated above), but they really excel with the Enterprise version of the product.
Let's use the free Community version for this comparison.
Other key features of Magento include:
It supports unlimited products, so add as many as you want.
It has its own theme and layout system.
The APIs needed for proper use connect with just about any third-party platform.
The admin interface is intuitive, even though it is more complicated.
Pros:
Built with scalability in mind and has no problem handling large stores.
A more streamlined checkout process.
Guest checkout is automatically turned on.
You can use PayPal, Authorize.net and Braintree payment gateways right away.
Cons:
It is geared more toward developers and is really not all that easy for beginners.
The Enterprise edition can be very expensive and it is also geared toward large stores.
It is tough to get a handle on it at first, but worth sticking out.
WooCommerce vs Magento Pricing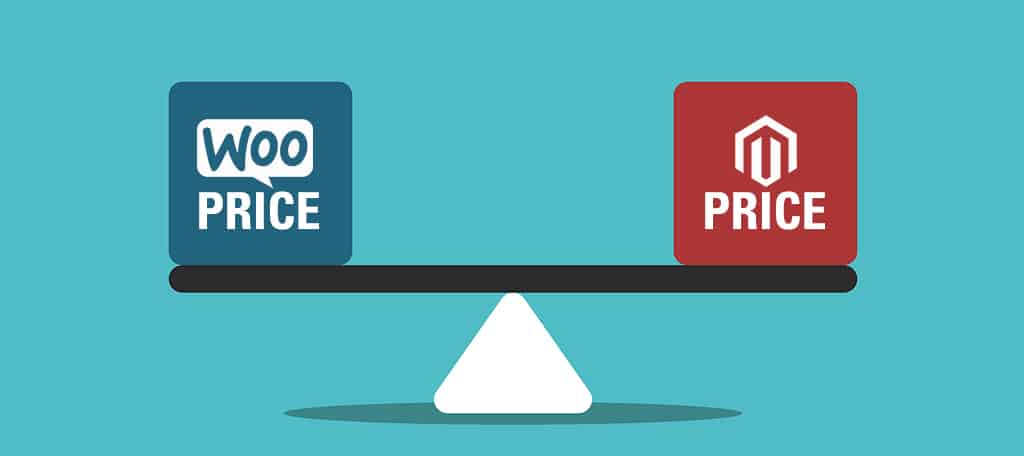 Setting out pricing info for both of these eCommerce platforms will vary based on what you are trying to accomplish.
That being said, we can get a pretty decent idea regarding the pricing of WooCommerce vs Magento by going over a few things.
WooCommerce Pricing
As I have stated above, WooCommerce is completely free to use. As long as you are running WordPress, you simply install and activate the plugin and go from there.
Now, additional costs will include things like your website hosting and any other type of paid plugins or modifications you want. Some of these key features come in the form of the WooCommerce extensions, and many of the best ones are paid options.
But as far as products, scaling, becoming bigger… that can all be done without too great of a cost to yourself. Get a solid hosting provider that is low cost and offers everything you need and you will be good to go in that regard.
Magento Pricing
While Magento does indeed offer its Community version of the software for free, there are a few limitations (as noted above). Magento does shine for bigger business eCommerce stores, but that will come at a price.
Magento eCommerce does offer several premium services, but they put together pricing and structure based on need. There is no specific pricing structure laid out to view.
Unfortunately, if you want to get to the bottom of pricing and fee structure for Magento's premium services, you will need to chat with their sales team. Then, you need to give them some details and let them respond by giving you some pricing options.
Based on this info alone, WooCommerce easily wins the pricing and cost structure. This is simply because they can provide you with everything you need to get an online store up and running for free.
Be sure to get yourself a fantastic Magento hosting provider as well, to help with the cost.
Overall Performance
This is a tough one to really name a winner. Overall performance of a website (eCommerce or otherwise) will be directly tied to how everything is set up and optimized. Your hosting provider will play a big role in this as well, which is why it is so important to have good hosting.
Other things that will affect overall performance include the theme you are using, the way you are optimizing images, and whether or not you are using a Content Delivery Network (CDN) or not.
So basically, the performance of your eCommerce store will depend a lot on you, and how you handle things when it comes to setup and content.
WooCommerce vs Magento Security
The importance of security for an eCommerce store is extremely important. After all, you are taking payments and personal information online from your customers. You need to know this is being handled properly, and they need to know it as well.
Magento and WooCommerce both allow you to implement several types of security features. You need to use extensions and other manual tweaks to secure your online shop properly.
Remember, installing an SSL Certificate is the first thing you want to do on either platform.
One thing Magento does do that gives it a slight edge over WooCommerce is it offers a lot of dedicated security patches. However, when it comes to ease of use, Magento is behind the ball. The security patches are not exactly easy to apply for beginners.
Whichever platform you ultimately decide on, security should be at the top of your list of things to do.
On the other hand, most security plugins for WordPress apply to WooCommerce sites. Which means you can easily add some of the strongest security available with very little effort. In fact, even the updates to security plugins can easily be set to automatic.
Product Management
Both WooCommerce and Magento offer pretty solid product management services. Again, as has been the case for most of this article, WooCommerce is much easier and offers all the basics for free.
With WooCommerce product management, you can immediately sell physical and digital goods, as the out of the box plugin has a lot of functionality. If you are familiar with WordPress, the process is even easier.
You can further extend WooCommerce product management functionality by using one of a number of extensions the developer offers. One of the more popular ones is called Product Add-Ons.
Magento also offers a lot of great product management options without having to purchase any type of extension. As a matter of fact, Magento supports really cool product features like:
Product Reviews
Grouped Items
Wish Lists
Advanced Pricing Rules
Product Personalization
So both eCommerce software systems offer a lot in terms of product management.
Magento vs WordPress
An interesting question that a lot of people pose is not specifically WooCommerce vs Magento, but Magento vs WordPress. The great thing about this is that you can actually perform Magento WordPress integration.
You will need to learn both platforms, but you can have a Magento based store running on a WordPress website. You just need to use a third-party plugin to do this. There are a few out there, but a good one is Magento 2 WordPress Integration.
If you are using a Magento premium service, you can also ask customer support if they can help you with Magento WordPress integration.
Final Thoughts
There is a lot to go over and think about when it comes to WooCommerce vs Magento. Both solutions offer a lot, and both will give you what you need to build an online store.
The solution you decide on will depend on what type of platform you want to learn and run, pricing, ease of use, scalability, product management, and other factors.
I lean toward WooCommerce overall simply because of the ease of use and the overall cost. That isn't to say that Magento should not be looked into, because they offer a very solid solution as well.
It will mostly boil down to personal preference and your overall marketing goals.