We all know by now that our social media posts reach their maximum potential when they include a visual element. Perhaps you noticed that the second most popular social media site, Instagram, is completely image-based.
Yes, it is almost exclusively visual. You couldn't make a purely-text post on there if you wanted to. (Well, actually you can – more on that in a minute.)
If you regularly post images to one or more social media sites, you know how difficult it is to keep track of what fits where. But visuals are an important part of any marketing strategy.
40% of people respond better to visual information than plain text.
"Let's see, these Twitter images have to be 1024 by 512 pixels…or was that 940 by 788? Let me check…1200 by 675?! Wait, when did that become the size? Someone needs to update this spreadsheet…I think all of these are wrong…"
Sound familiar?
If you aren't posting images to your social media, now is the time to start. It's never too late to implement a great idea! And the application we're talking about today makes it so easy that there are officially no more excuses for not including images in your posts.
The Social Media Landscape Changes Quickly and You Have to Keep Up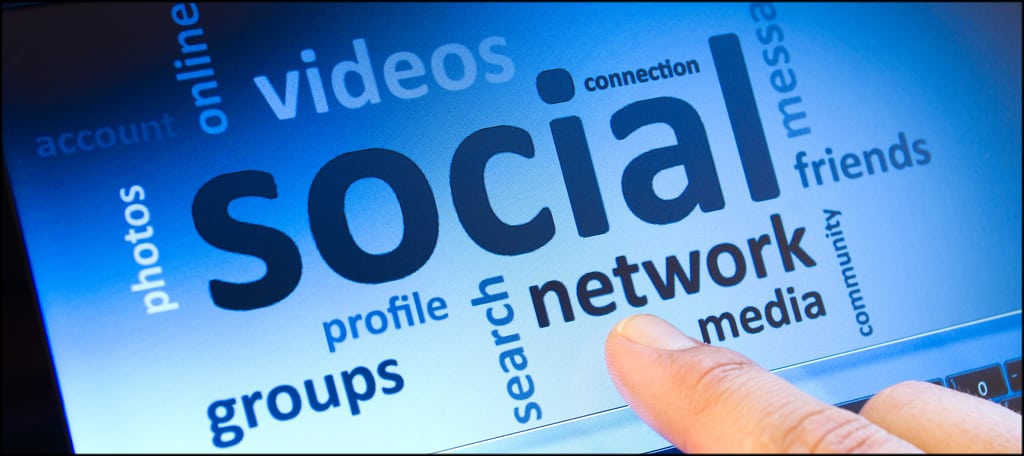 We went from the primitive text-only caves of early Twitter to the visual explosion that is, well, everywhere, in a few short years. If you do social media marketing, that rapid expansion and adoption of images have been a wonderful development.
More is always better, right?
Sure it is. But each social media platform has its own ideal dimensions for images. Those ideals are flexible and ever-changing. It's difficult for one person to keep track of all of the different social media visual standards.
So why not let someone do it for you?
Enter Canva, Now You're Always up to Date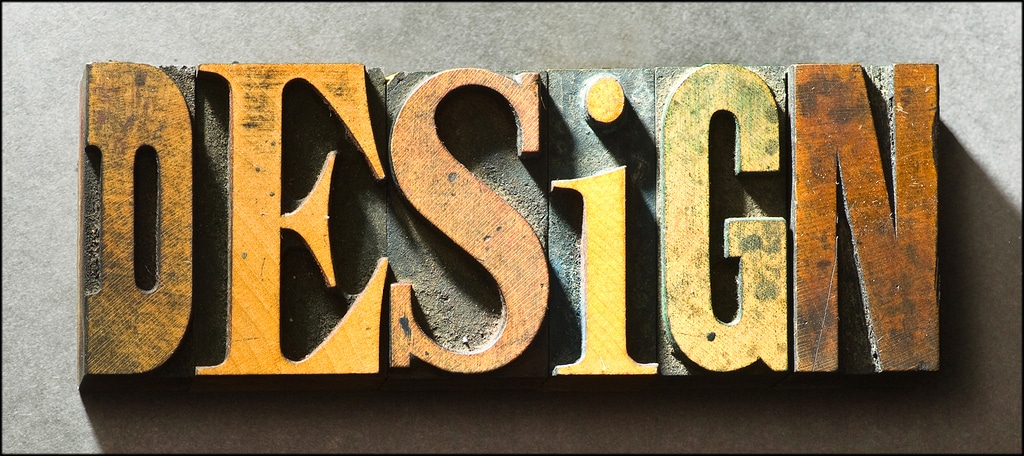 Canva not only knows what size each of your social media images should be, but it can also help you create them.
In short, Canva is an image layout application. You can design flyers, business cards, infographics, book covers – all manner of new and traditional media. But what we're going to focus on today is Canva's awesomeness as a social media image generator.
Want to know all of those different image sizes and aspect ratios for all the different social media sites? Canva knows what they are.
It knows what's best for each platform. It even provides templates so you can be confident that you are using an optimized size.
That's a valuable service. But on top of being awesome, Canva is also free.
If you want to expand your horizons with some graphic elements that aren't available on the free plan, they come at a low cost. In fact, most are as little as $1.
If you find yourself using Canva often, you can upgrade to a Pro account which isn't really all that expensive. The upgrade unlocks more design elements, animations, team collaboration tools, and maybe the best feature, one-click resizing of images for different social media sites.
That means after you create an image with Canva for, say, Instagram, you don't have to recreate it for other platforms. You can convert the Instagram image to the proper size for Facebook, Twitter, or Pinterest with a click.
That's a time saver that for many of us, which more than justifies the cost of a pro account.
How It Works
To say that Canva is easy to use is an understatement.
To get started, go to the Canva website and open an account. You can do that with a couple of clicks if you use your Facebook or Google logins. Alternately, you can use your email address.
Once your account is open, you can search for the social media site you're creating an image for and select the template from the dropdown.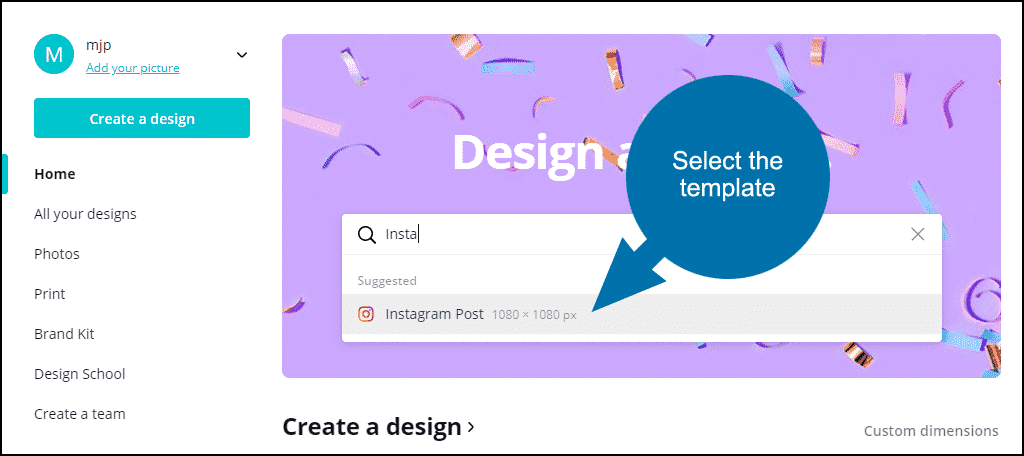 Choose a template from the left column. You can select and resize, rotate, and filter the image's elements and text. Some templates have multiple image elements that can all be edited separately.
Making changes to text is just as easy. Just select the text and you can change it and adjust the font size, color, alignment, and position.
When you're finished with a design you can download it or publish it directly to Twitter or a Facebook page or group.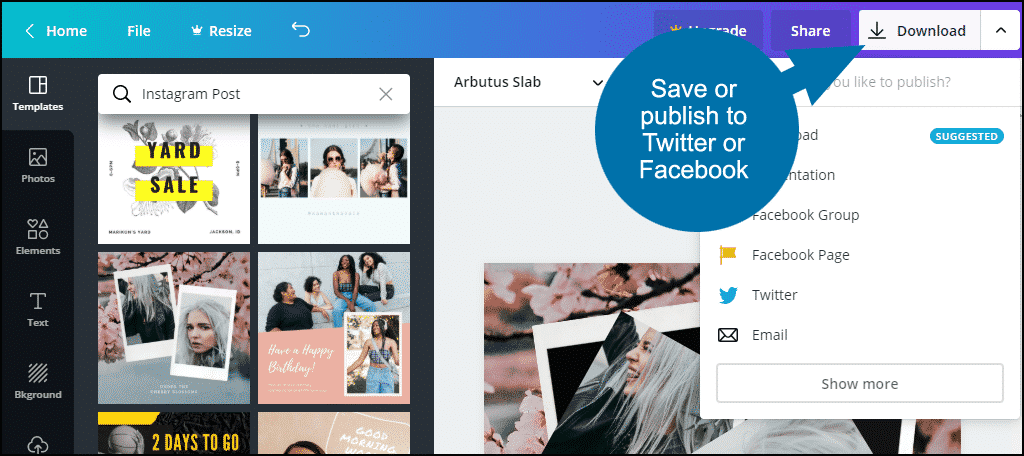 Starting From Scratch
Using a template is the quickest way to get started. But once you become familiar with the Canva controls, you can create images from scratch starting with a blank canvas.
Click the "Custom dimensions" link, enter the image dimensions, and click the "Create a new design" button.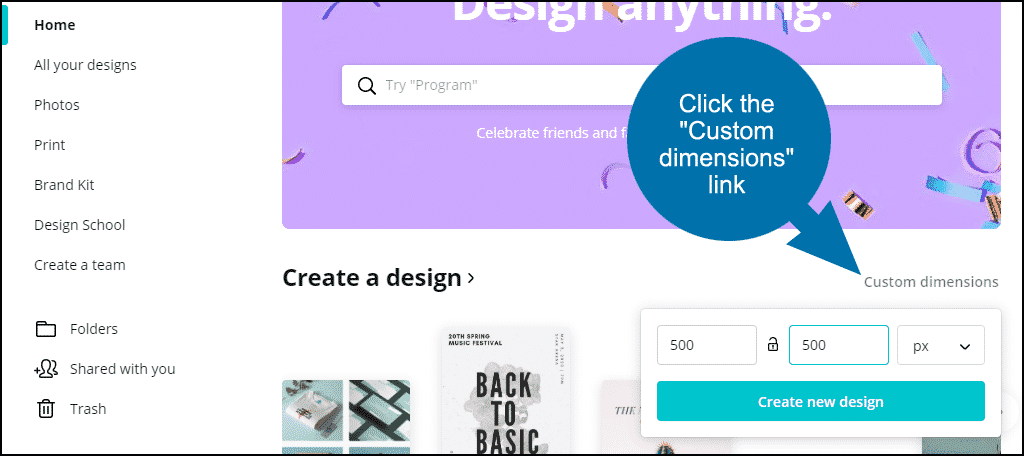 Remember when I said you could make a text post on Instagram? Well, this is how you do it. By dropping your text into a blank image.
Is that a text post, strictly speaking? No.
But this is social media. There is no "strictly speaking!" You can make up the rules as you go along.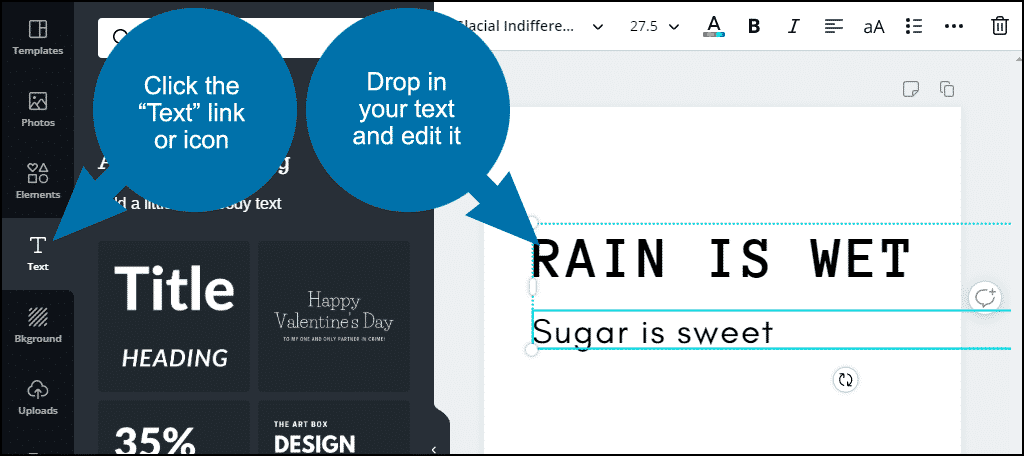 It's easy to add a background color or texture.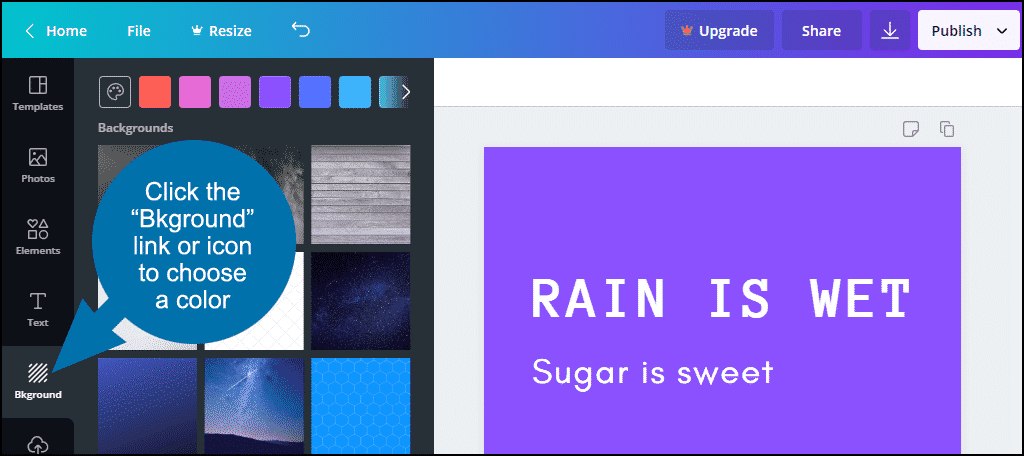 If you have data visualization like a graph or a small infographic, it can make for a good post as well.
Click the "Uploads" navigation link, then the "Upload an image" button.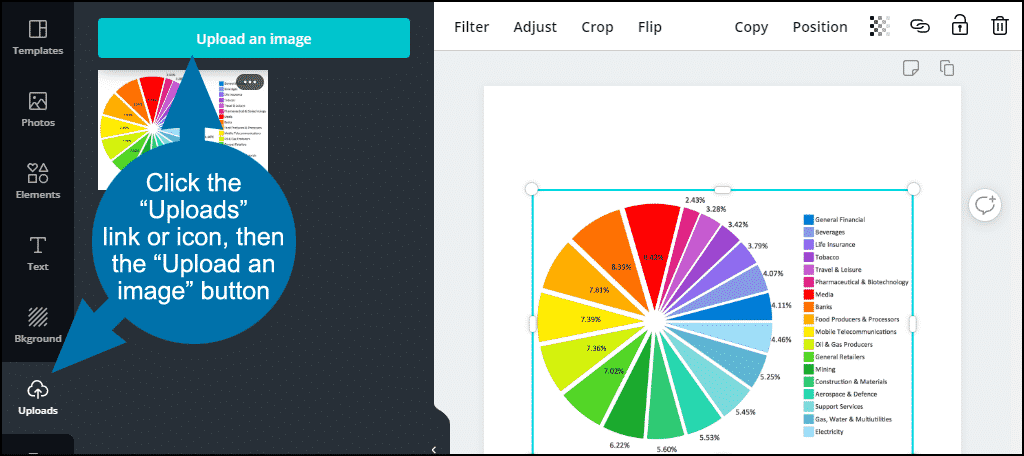 Add some text, and voila! A sharable image that's also informative.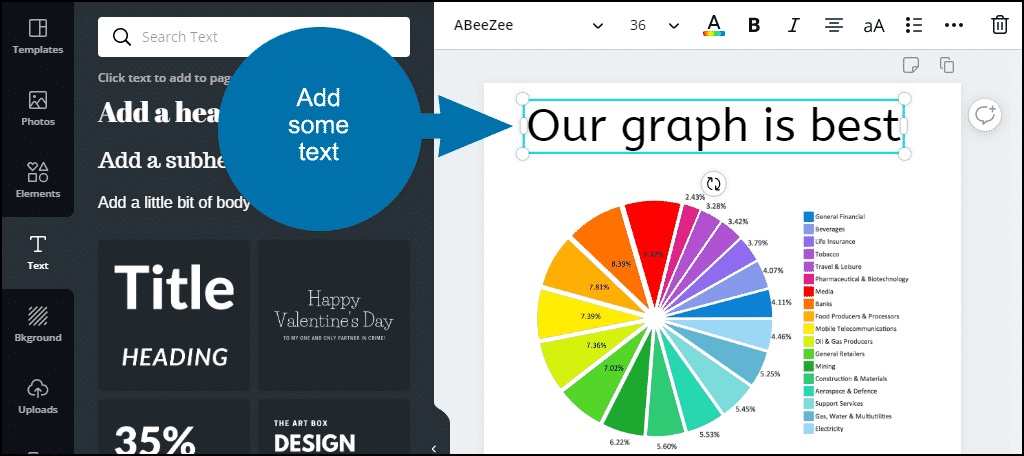 A visual element doesn't have to mean photographic. And as you can see, it doesn't mean you need a graphic designer to make great use of images in your social media strategy.
A Field Guide to Canva's Social Media Templates
So, how many social media templates does Canva provide?
More than 50, as it turns out. It's spread across 13 different social media sites. These include Facebook, YouTube, Instagram, Twitter, LinkedIn, Pinterest, Twitch, SoundCloud, Tumblr, Etsy, WhatsApp, and Snapchat.
You can see that Canva is geared toward social media in the U.S., as they don't make templates for the big European or Asian social media sites or apps. But if you use the big U.S. names, Canva has you covered.
In addition to providing templates for each of those platforms, Canva also lists the various image size requirements. So even if you don't want to use the application, their site has a lot of useful information.
Here's the breakdown.
Includes sizes for Profile Picture, Cover Photo (template), Image Post (template), Shared Link Images, Tab Images, Event Image (template), and Facebook Ad (template).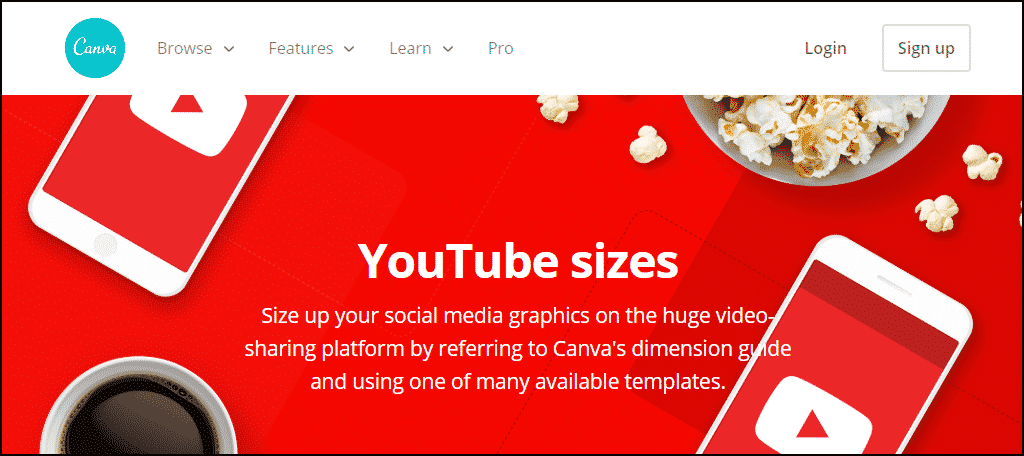 Includes sizes for Channel Icon, Channel Art (template), Desktop Display, Tablet Display, Desktop and Mobile Display, and Video Thumbnail (template).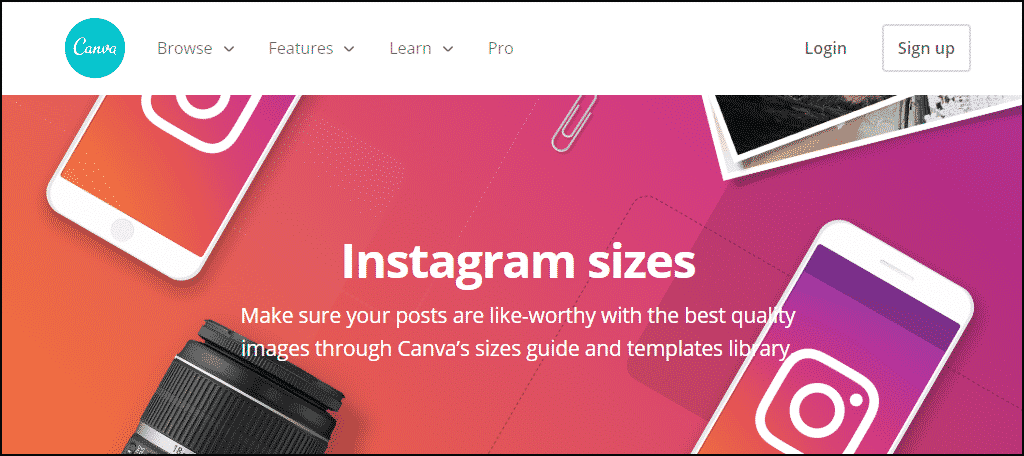 Includes sizes for Profile Photo, Square Post Images (template), Images, and Stories.
Includes sizes for Header Photo (template), Profile Photo, Twitter Post (template), Cards Image, and Summary Card Image.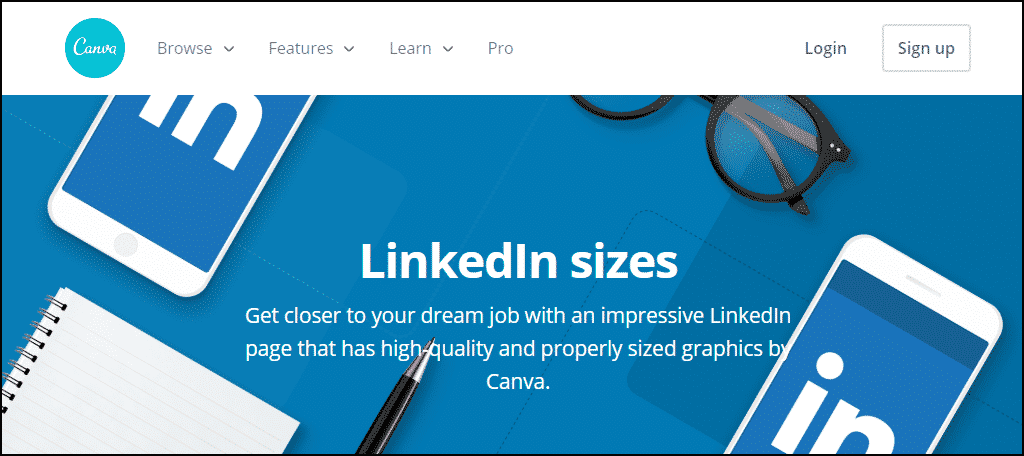 Includes sizes for Profile Photo, Cover Photo (template), and Shared Image.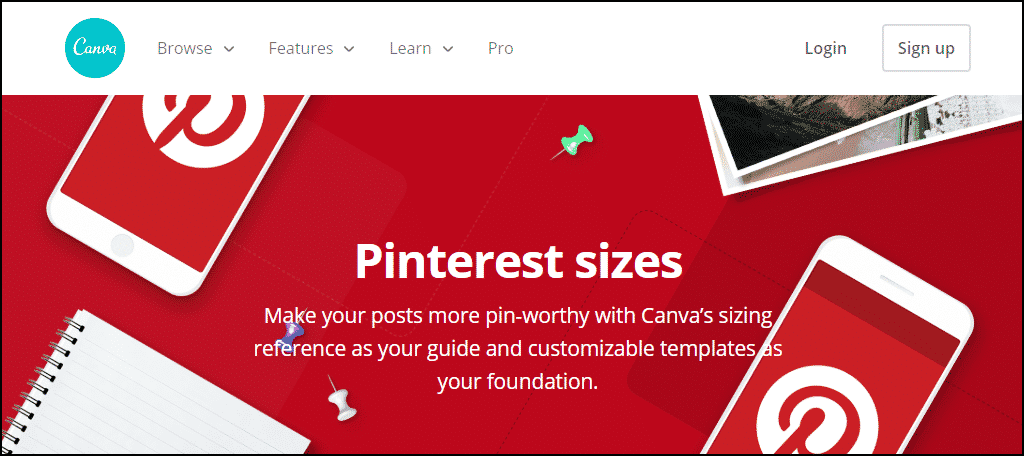 Includes sizes for Profile Photo, Board Cover Photo, and Pin Sizes (template).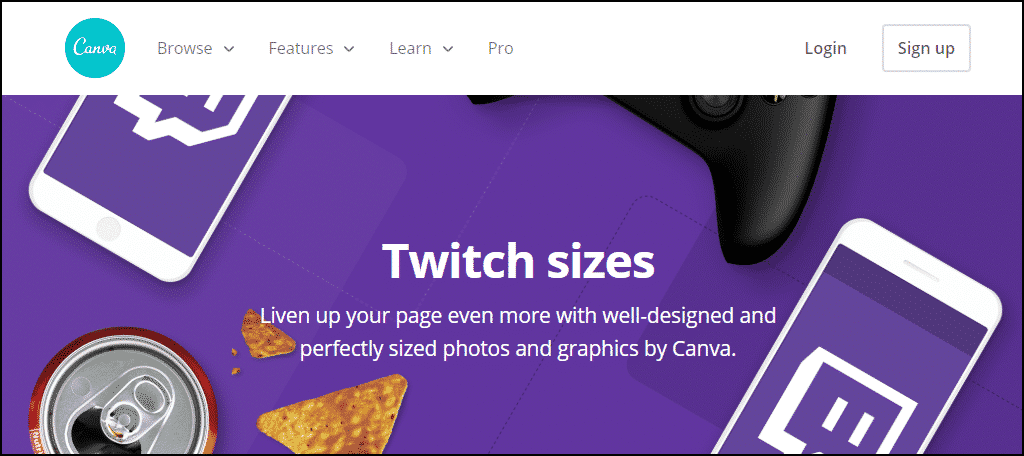 Includes sizes for Profile Photo, Profile Banner (template), Video Player Banner, Video Thumbnail, Cover Image, and Info Panels.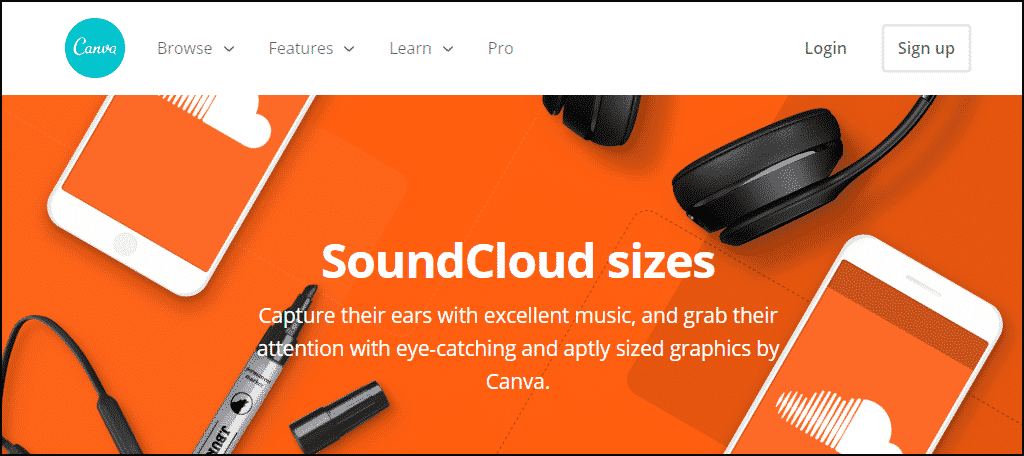 Includes sizes for Profile Photo, Album Cover, and Minimum Header (template).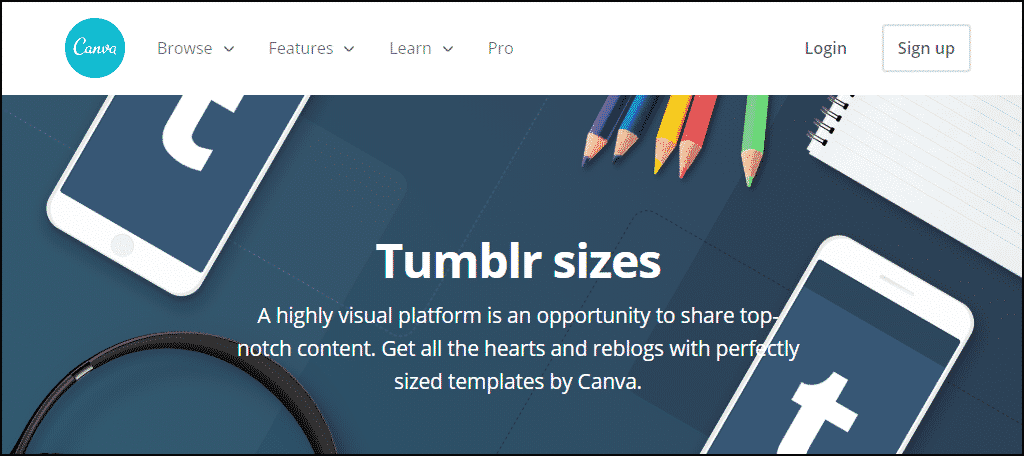 Includes sizes for Profile Photo, Banner (template), and Shared Image (template).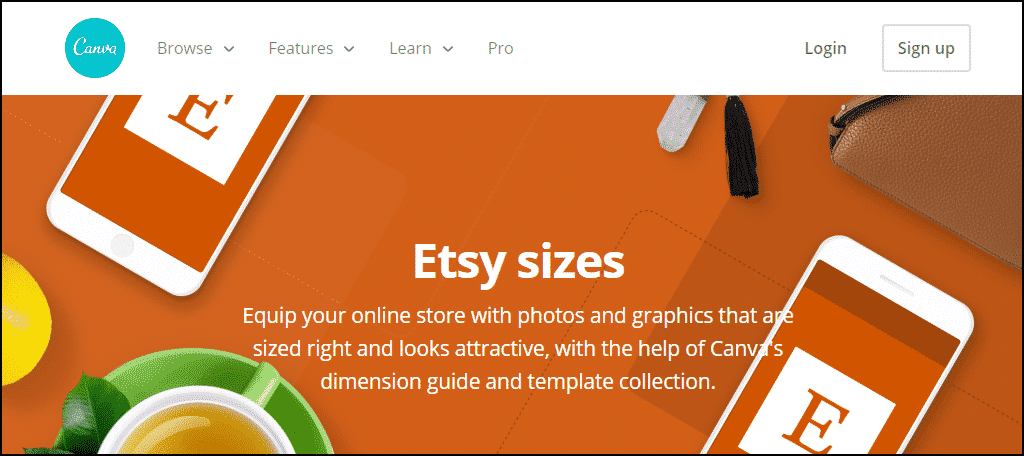 Includes sizes for Cover (template), Profile Photo, Shop Icon (template), Shop Banner, Thumbnail, Team Logo, and Item Listing.
Canva Is Mobile
I know there are some of you out there who are reading this and thinking, "It would be great if a tool like Canva existed for my phone." Well, if you're looking for graphic design apps for Android, look no further.
In fact, Canva has both an Android and an iOS version.
I'll admit, I'm not a big smartphone user. I Tweet, I do Instagram, and I let the sassy narrator of Google Maps tell me where to turn when I'm driving somewhere new. That's about it. I don't even use my phone as a phone.
But, even I was able to create an image with the Canva Android app. If I can do it, you know it's well-made and intuitive. And with its ability to post directly to Twitter or a Facebook page, a mobile version makes a lot of sense.
Do It Yourself Tools Like Canva Are Great for Small Businesses
When you're starting a business you need every advantage you can get. Tools like Canva allow you to produce the kind of quality marketing materials that used to be available only to larger, established firms.
Not only can Canva cut down on the time and effort needed to create social media graphics, but it's also kind of fun. If a tool is enjoyable to use as well as effective, well, that's a rare and wonderful combination.
And I believe Canva ticks both of those boxes. It can really do wonders for your social media presence, and it's so easy and fun to use that you may just find yourself looking forward to what used to be a tedious marketing task.
Take it for a spin and see what you think.
In Closing, May I Remind You That While You Can Lead a Horse to Water, They May Still Be Color Blind When They Get There
It's worth noting that while Canva is effective and fun, even the best graphic generation tools can't always replace a professional designer. How effective your Canva images will depend somewhat on your eye for design or aesthetics.
Personally, I have a "grey thumb" when it comes to design, so all the helpful tools in the world aren't going to turn me into a great graphic artist. When I edit a template in Canva the results look like one of those abstract scribble paintings by a monkey or an elephant.
If you're like me, I feel your pain. The templates in Canva are a tremendous help for those of us who aren't great with design. But don't forget that there are also a lot of professional designers out there looking for work. They can elevate your game and turn out to be worth their weight in gold.