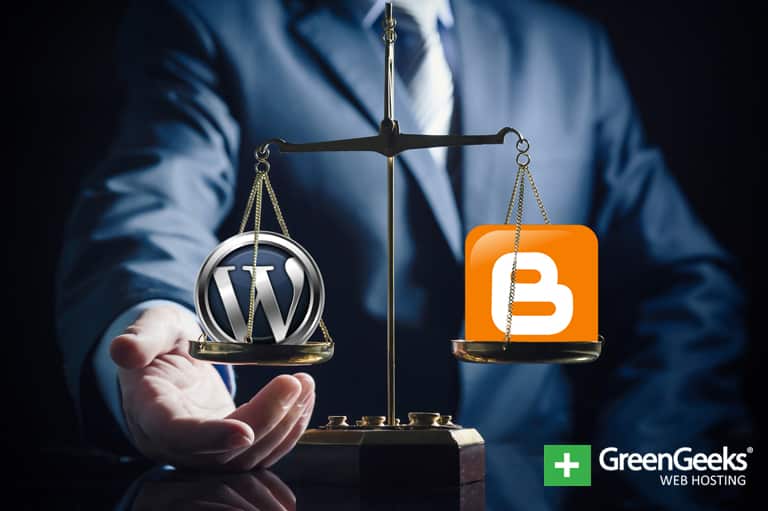 Out of 1.7 billion websites, around 600 million of them are blogs. Building a blog is simple to do while offering a variety of benefits. And there are two CMS that specialize in making blogs, WordPress and Blogger.
Today, we will be pitting these CMS against one another to discover which of these is best the blogging platform. We will examine their ease of use, design options, flexibility, SEO, support, and pricing.
Overview: Blogger vs WordPress
While both of these platforms were made with blog creation in mind, they go about it in pretty different ways. Therefore, before we begin, let's do a quick overview of what each one brings to the table.
Blogger Overview
Blogger is a blog hosting service that is completely free. You even get access to a free BlogSpot domain name to help you get started immediately. That said, if you go this route, your URL will resemble something like this: www.website.blogspot.com.
If your not a fan of having your URL longer than it needs to be, don't worry, you can actually use a third-party domain name provider to customize the URL. It is also important to mention that you do not own your blog, Google does.
Note: You might be wondering what exactly is BlogSpot and what it has to do with Google. BlogSpot provides you with a free subdomain, which is why ".blogspot" is present in the URL. It is free, but that's the only good part about it. Serious blog owners should avoid it.
WordPress Overview
WordPress is open-source software that allows users to build any type of website. However, at its core, it was made for blogs. In fact, the default WordPress install can only handle blogging. Everything else needs to be added with plugins.
While the actual software is free, you will need a web hosting company and domain name to get started.
Due to the nature of WordPress, you can add just about any kind of feature to your blog in just a few clicks. And it can scale up as your website grows.
Note: This comparison is for a self-hosted WordPress.org website that focuses on blogging. This is because WordPress can be used to create any type of website.
Ease-of-Use: Blogger vs WordPress
The demand for websites has grown significantly over the years and in 2021, it's basically a necessity for businesses. However, there is one problem, the average business owner does not have a web design background.
Luckily, most modern CMS provide a code-free solution.
When it comes to accessibility, both Blogger and WordPress excel. In fact, both specifically target beginners. That said one of them stands out as the easiest platform to use.
Blogger Accessibility
Blogger focuses exclusively on blogs. Every single tool it provides serves a purpose for your blog. The initial setup is easy, in fact, it's even easier than WordPress. However, once you start creating content, things change.
The editor is similar to a Microsoft Word document, while also sporting an HTML editor. It's simple, but adding more complex elements is more complicated. They typically require extra steps that can be hidden in the settings and layout options.
If you plan to create blog content with any elements outside of images and video, it's not intuitive, or sometimes possible.
WordPress Accessibility: Winner
There's a reason that WordPress is the most popular CMS in the world, and that's because of its accessibility. Regardless of what type of website you want to make, WordPress allows you to make it without writing a single line of code.
It achieves this by utilizing plugins and themes to add features and customize the design. Both of these tools are easy to understand and require little input from the users.
In terms of editors, the Gutenberg editor is unmatched.
It is a block-based editor that allows users to create blogs in a logical way. As a result, users can use the blocks to place unique elements throughout their content with the end result being more exciting content.
Design Options: Blogger vs WordPress
Your website needs to look good and most importantly stand out from the competition. As a result, the standards of web design have increased dramatically over the years, which makes bad designs stand out.
While both platforms provide customization options for website design, one of these goes far further than the other in the number of options available.
Blogger Design
By default, Blogger sports a minimalist design, meaning there isn't much on the page except your content. While this isn't a bad thing, most developers want their website to stand out from the crowd. Minimalist design doesn't always help.
It does offer a few default themes, but if I'm being honest they are not great. Instead, you really have two options, use custom CSS code to improve the appearance of your website or purchase a premium theme.
In many cases, this is the point where Blogger stops being free.
WordPress Design: Winner
WordPress excels when it comes to customization options and that is largely thanks to its huge library of themes. It has thousands of free themes that all offer unique customization options, and a huge library of premium options as well.
You can also use one of the many great page builder plugins to build uniquely styled content in WordPress. Many of these sport a simple drag-and-drop interface, so anyone can use them.
When it comes to design, there's really no comparison between the two.
Flexibility: Blogger vs WordPress
Websites can drastically change over time, and having a platform that allows your website to evolve is good for business. For instance, it's quite common for successful blogs to expand into selling merchandise., thus, having the flexibility to do so is crucial.
When it comes to flexibility, one of these is several leaps ahead of the competition.
Blogger Flexibility
Blogger focuses on creating blog content, but it also branches out to other things. For instance, you can actually add an online store to any Blogger site using Selz, but this is not free, like the rest of Blogger.
If you want to add more varied content in Blogger, it is possible. But, the platform was exclusively designed with simple blogs in mind and that's where it really shines.
What you can add beyond blogging is limited and requires expertise that most beginners don't have.
WordPress Flexibility: Winner
WordPress has a humble beginning as a blogging platform, but can be turned into any kind of website. And you can do this with minimal effort, knowledge, and price.
For instance, want to build an e-commerce site, use the free WooCommerce plugin.
Want to build your very own social network, use the BuddyPress plugin. It's really that simple. If you want to do something in WordPress you can and I guarantee there is a plugin that can help you do it for free.
Search Engine Optimization (SEO): Blogger vs WordPress
The amazing content you create is worthless if no one can find it, and that's where search engine optimization (SEO) comes in. By following the guidelines set by search engines, you can help your content rank better, thus increasing traffic.
Both do a terrific job at managing SEO, but only one of these is actually owned by Google, so you can probably guess which has a slight advantage in this area.
Blogger SEO: Winner
Blogger makes SEO easy, you don't actually have to do anything. The platform is SEO-ready out of the box and has all of the best SEO practices built-in.
For beginners there is no contest, this is the simpler and easier option.
However, there are limitations. You really don't have that much control over SEO. It is also worth mentioning that if you get a free Blogspot domain name, that can actually hurt SEO.
Simply put, the URL structure is not SEO friendly. Though, this isn't an issue if you purchase your own domain name.
WordPress SEO
WordPress has amazing potential when it comes to SEO. You are in complete control of every aspect of your website and in the hands of an SEO veteran, it's great. If not, then you need to start doing some homework or install a plugin.
Luckily, there are many great SEO plugins in WordPress to take advantage of that will boost rankings. While it's easy to learn the basics, getting some of the trickier settings correct can prove troublesome for beginners.
Support: Blogger vs WordPress
Since both of these target beginners, making sure that guides and help are available to get started is essential. There are a ton of ways to receive support like over the phone, through email, or FAQs.
Let's take a look at what each one offers in terms of support, it might be shocking.
Blogger Support
Blogger really sells itself as a platform for beginners. However, its documentation would make you think otherwise. As a free service, there is no way to receive direct support for your website. Instead, you are at the mercy of their help articles.
These can range from great to head scratching.
WordPress Support: Winner
WordPress delivers one of the most comprehensive FAQ sections that includes detailed documentation and forums to ask questions to the community. On top of this, you also have your web hosting support services available.
These can provide one-on-one help sessions to help you troubleshoot problems. In fact, many of them have their own tutorials to help customers get started. In most cases, your web host is your best friend, if not, it's time to switch.
If you purchase any premium tools, like plugins or themes, most of these come with dedicated support staff.
Even the free ones provide support in most cases. You'll never be alone in the WordPress community.
Pricing: Blogger vs WordPress
Let's face it, the biggest hurdle that prevents most blogs from getting started is the price. It can take months before you even earn a penny, which makes starting a website a big risk financially.
That is, if your paying for it.
In this case, they are both free to use. However one is freer than the other, so I'll let them speak for themselves.
That said, sometimes a cheaper price is not always worth it.
Blogger Pricing: Winner
Blogger is completely free to use from start to finish. You can get a domain name and host your website at no cost to you. It really is that easy, however, it's worth mentioning that the level of support you have access to is far lower than from a web hosting company.
Also, keep in mind that you do not own your blog, Google does. While you can reap the benefits of blogging and earn money, you don't actually own the website. For some, this can be a big problem. But for many beginners, it's not really a concern.
WordPress Pricing
WordPress is open-source software and is completely free to use. That said, you are going to need to buy web hosting services and a domain name. Thus, you can't really start a WordPress website for free.
Though, you get what you pay for. Buying a domain name to keep from having the ".blogspot" in the URL can be very beneficial. And when it comes to web hosting, the support team can be your best friend.
Sometimes, it's worth the few extra bucks per month to get a higher quality product.
So Which One is Better, Blogger or WordPress?
While both of these are suited for beginners, I strongly recommend using WordPress.
While it might be slightly more expensive to purchase web hosting services, most services include a free domain name. And when you pay in advance, hosting is usually cheaper than a single cup of coffee each month.
In terms of design and flexibility, WordPress has no equal. In addition to this, you own your blog, have full control over SEO, and it's easy to use. It's a CMS that can grow with you and can do just about anything. And there's always help available online.
There's a reason it's the most popular option…it just works.
Do you agree with our choice?