WordPress has become the world's most popular CMS platform and one of the reasons it became so popular is due to its huge selection of plugins. However, this makes finding the best WordPress plugins challenging for beginners.
So, what do plugins do that make them so special?
Plugins are like apps for your smartphone. Each one adds a unique feature for your website that you can customize, and the best part is that they do not require you to write a single line of code.
There are literally tens of thousands to choose from, which can make this quite a daunting task. Luckily, there are a lot of resources that users can use to make better decisions when it comes to WordPress plugins.
Here are the best plugins to install on your WordPress site today.
Note: Installing too many plugins can slow down your website. It is only recommended to install the tools you absolutely need as speed is a huge factor in the user experience and your website's SEO rankings.
Best WordPress Plugins to Use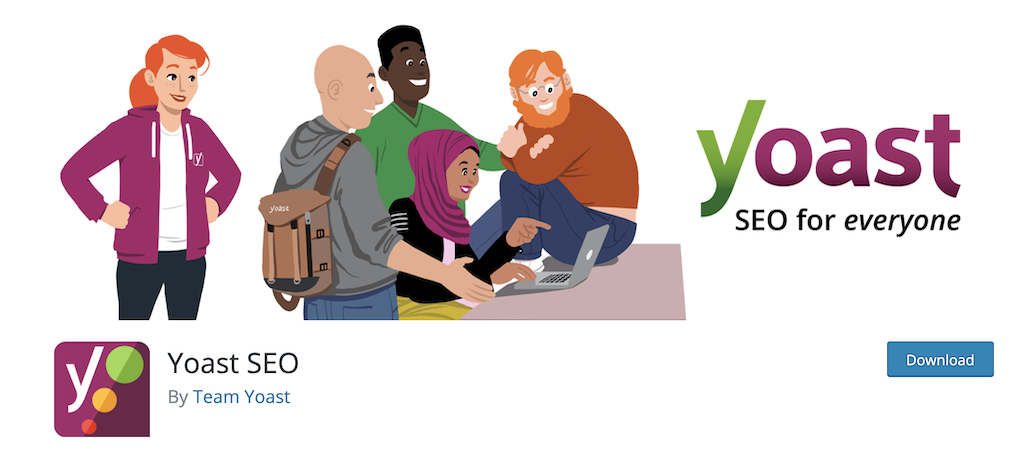 Let's start this list off by tackling arguably the most important aspect of any website, the SEO situation. Every WordPress website has got to have a solid SEO structure in place so that it can be found by users and indexed properly by Google.
This is where Yoast SEO comes in.
This plugin is the most popular WordPress SEO plugin in the world. Yoast gives users every tool they need to properly set up a website for search engines and indexing.
The plugin takes care of everything imaginable so you have less to worry about. From providing built-in XML sitemaps to taking care of proper URL structure and meta tags, the Yoast SEO plugin should be at the very top of your list.
Benefits of Using Yoast SEO
Gain full control over your website's breadcrumbs
Improve site load times
Check the readability score of your content as you write
Includes internal linking tools to help visitors find your other content
Displays your content's Google preview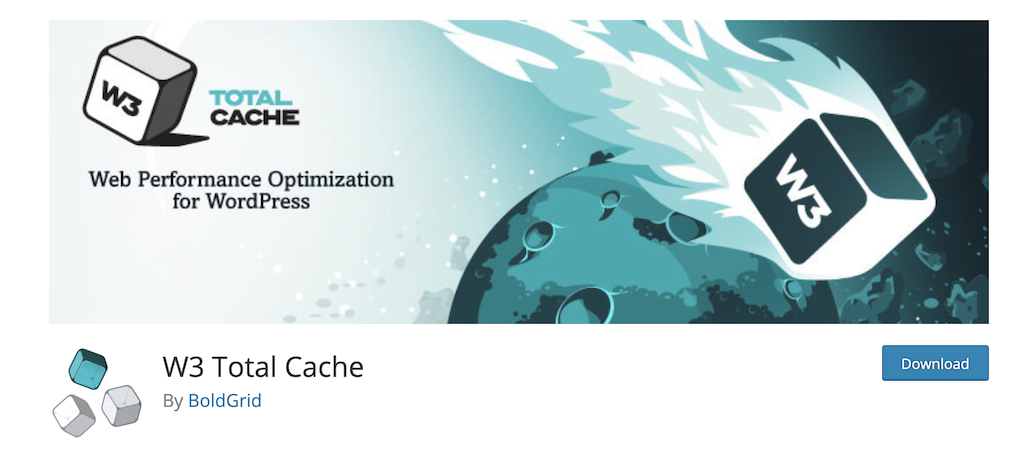 Right on the heels of SEO structure for your website is proper caching. W3 Total Cache builds on SEO by providing increased overall website performance.
It does this by reducing load times by leveraging features like content delivery network (CDN) integration and the latest best practices.
There are a lot of good caching plugins out there to choose from. However, W3 Total Cache gets the nod here for several reasons.
For starters, the plugin provides a web host agnostic Web Performance Optimization (WPO) framework for WordPress. It is the only caching plugin that provides this.
Furthermore, this is one of the most popular, if not the most popular, caching plugins for WordPress available. There is a list of features a mile long that is provided to you once you install it on your website.
From improved search engine results to faster page load times, the W3 Total Cache plugin is simply a must-have WordPress plugin for business websites.
Benefits of Using W3 Total Cache
Minify CSS, JavaScript, and HTML
Supports AMP for better mobile experiences
Add Lazy Loading functionality to images
Minification of posts and pages and RSS feeds
Compatible with Cloudflare
Another really important tool for all WordPress websites to have is analytics. MonsterInsights provides some of the very best Analytics tools around. The plugin attaches directly to Google Analytics and provides you with every stat and chart you can think of.
That's not all. You are able to manage the entire setup right from the comfort of your WordPress admin dashboard. This means no going back and forth from Google Analytics to your WordPress website.
Everything is right in front of you, easily managed, in one place.
If you want actionable reports and customized reports that eliminate fluff and allow you to better understand your traffic and marketing attempts, then MonsterInsights is a plugin you need to install on your site today.
Benefits of Using Monster Insights
View audience reports to see statistics about who visits your website
Create eCommerce reports to see sales data
View site speed reports to find out ways to improve performance
GDPR compliant
Affiliate link tracking options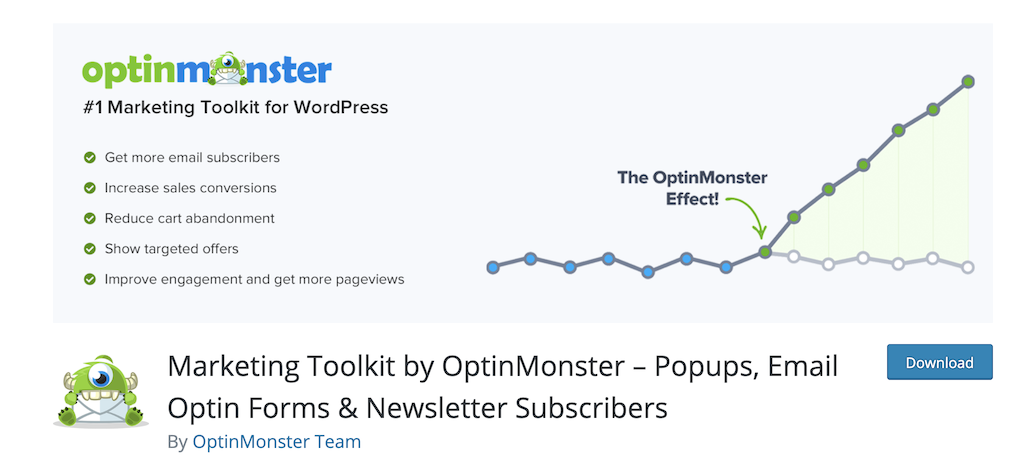 What is something you are always trying to improve on and do correctly when you are running a website? If you answered marketing, then you would be correct.
There is a lot of work that goes into putting together a good marketing campaign. Whether you are trying to leverage social media marketing or attempt to build landing pages that convert, OptinMonster can help you achieve all of your business website marketing goals.
This is one of the best WordPress plugins for business websites around. Rightfully so, as it helps you create all sorts of targeted marketing material.
From dynamic popups built to generate more email subscribers to other specialized email forms, this marketing plugin has it all.
You can build sticky bars, announcements, and other landing page marketing options as well. All forms and build options are mobile responsive and ready to roll right out of the box.
Make sure your business website takes advantage of the marketing tools that OptinMonster provides.
Benefits of Using OptinMonster
Easily create lightbox popups
Gamify your popups by adding small games like spin the wheel
Create exit-intent pop-ups
Implement A/B popup testing
Geolocation-specific popup settings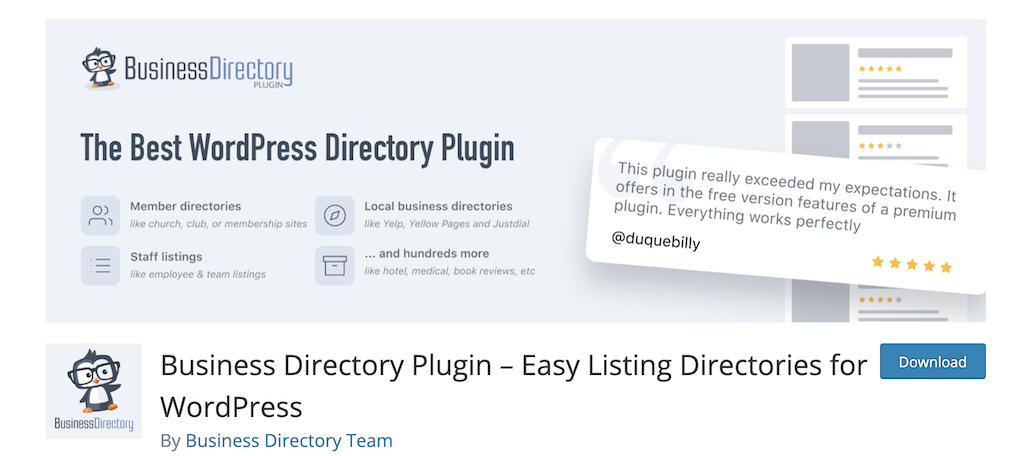 The Business Directory plugin can do two very important things for your business website. It can help with SEO, which we have talked about already several times above, and it can increase user interaction on your website if handled properly.
The plugin allows you to build and maintain a simple yet powerful business directory directly on your website.
For example, maybe you want to list all the relevant churches or libraries around your area. You can easily do this with the Business Directory Plugin.
You can even think bigger and build and maintain an entire business directory of all sorts of businesses and properties around your city. This brings more users to your website, creating interactions and clickthroughs that may not have been there before.
Easily monetize the plugin if you so choose or you can allow other businesses to request to be listed on your site. This is definitely a WordPress plugin for business that you will want to take a long look at.
Benefits of Using Business Directory
Customize every aspect of form fields
Accept paid listings for extra income
Multilingual support
Google Maps support shows location of the listing
Accepts PayPal, Stripe, and other payment gateways
Best Landing Page Builder: SeedProd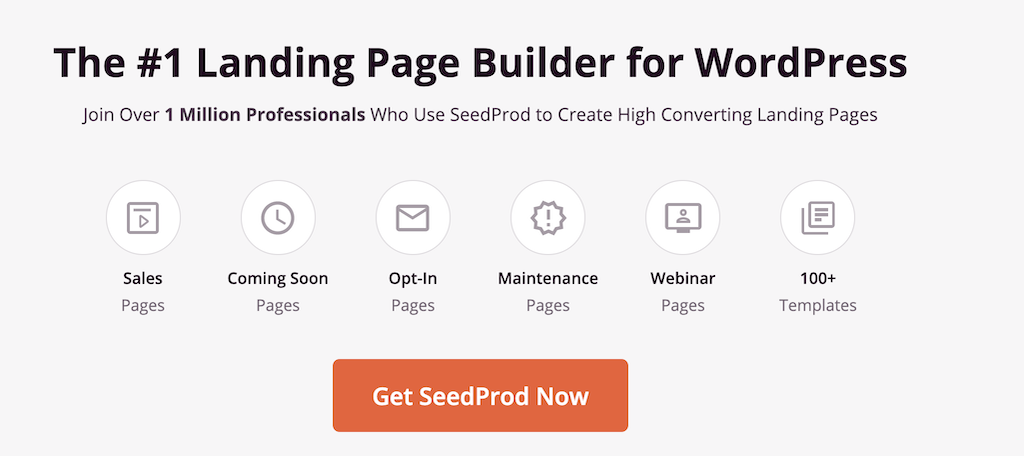 Landing pages. They are a very important aspect of marketing and a very important aspect of website design.
While we touched on it a little above with OptinMonster, SeedProd is actually a fully functioning landing page builder that will allow you or your marketing team to build any type of landing page imaginable on your WordPress website.
When I say any type of landing page can be created, I mean it.
Once installed, the plugin will give you the ability to drag and drop your way to any number of WordPress landing pages. This means the ability to build sales, coming soon, opt-in, maintenance, and webinar landing pages.
The SeedProd plugin also comes with over 100 pre-built templates, making it even easier to build beautiful landing pages that get conversions and are also mobile-ready.
This is the very best WordPress landing page builder plugin around, so take advantage of it now for increased conversions.
Benefits of Using SeedProd
Includes access to a variety of pre-built themes
Includes pre-made 404, Coming Soon, and Maintenance pages
Gain access to spam protection
Utilize smart sections (pre-built headers, footers, call to actions, and more)
Everything built with SeedProd is responsive
Best Anti-Spam Plugin: Akismet
Regardless of if it is your comment section, contact forms, or login area, every website deals with spam. Luckily, WordPress has a secret weapon with the Akismet plugin. It is the ultimate spam shield for a WordPress website.
It is made by the same team behind WordPress itself and the legendary WooCommerce plugin.
As such, this plugin is able to avoid a lot of the configuration process and begins working immediately upon activation. It protects all site elements from spam submissions and provides a slew of advanced tools you can use to further protect your site.
For instance, you can block IP addresses from leaving comments or form submissions. This can help you save server space as each spam submission eats up your resources, which can add up fast on more active websites.
Benefits of Using Akismet
Prevent users from leaving URL links in the comment section
Automatically delete spam comments
Filters out suspected spam comments
Most tasks are handled automatically, which makes it perfect for beginners
Integrates with most form builders
Best Form Builder Plugin: WP Forms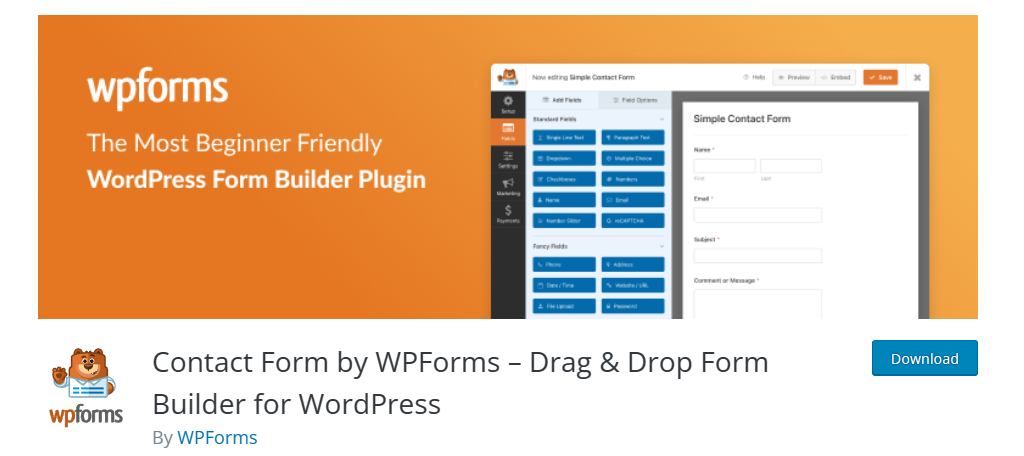 WP Forms provides a beautiful drag-and-drop form builder that you can use to build and displays an assortment of contact forms on your website. This is a form system that has been around for some time and is very easy to learn how to use.
Now, you may want to look into the pro (paid) version of this plugin, simply because of all the things you can do and the features you can unlock.
However, even if you stick with the free (lite) version of WP Forms, there are plenty of options to build solid contact forms that you can make visible on different parts of your business site.
You don't need to search for another form builder. WP Forms has you covered and will allow you to build contact forms, feedback forms, subscription forms, payment forms, and other types for your site in minutes.
Benefits of Using WPForms
Easily create surveys and polls
Form templates are optimized to improve conversions
Split longer forms into multiple pages
Create offline forms that visitors can fill out and submit later
Control who has permission to edit any form
Best Image Optimizer: Smush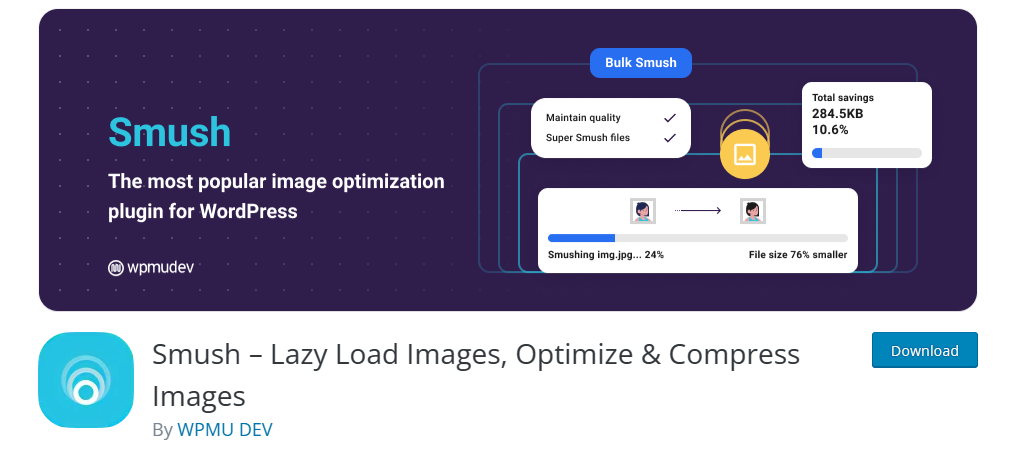 Images are a big part of websites and SEO. This is especially true for business sites that have galleries and portfolios on them. Smush is a very important WordPress plugin for business websites because it acts as a set-and-go image optimization plugin.
While there are several ways you can optimize your images in WordPress, Smush does the compression work for you. It strips all the data that is not needed and also compresses your huge images into a size that works perfectly on WordPress sites.
The plugin keeps all the image quality and look in place, but makes your images more suitable for both SEO and page speed purposes. Even if you don't run a WordPress business website with a lot of images, Smush can still be very valuable.
Benefits of Using Smush
Optimizes images not stored within the media library
Bulk options allow you to optimize multiple images at once
Works well in a multisite environment
Integrates directly into the image block
Implement lazy loading to speed up load times
While most hosting companies provide website backups, it is never a bad idea to have your own backup plan and strategy in place. This is where BackUpBuddy comes into play.
Simply put, this plugin will backup, restore, and move WordPress sites quickly and easily. It's one of the best backup plugins.
Face it, a lot of us have trouble with backups and figuring out how to work it all. The BackUpBuddy plugin allows you to easily set up complete backups, schedule automatic backups, storage on the cloud, and restore and migrate websites when needed.
This backup plugin even goes a step further by performing malware scans to help you avoid any security issues on your site.
If you have to pick one fully functional backup plugin that gives you every tool imaginable for website backup and migration, then this is the one.
Benefits of Using BackupBuddy
Schedule automatic backups to occur during off hours
Store your backups offsite
Easily restore your WordPress website
Create backups for specific parts of your website (database, files, etc.)
Zip backup files to make storage easier
Best Chat Plugin: LiveChat
This plugin gives you the ability to chat live and in real-time with users that are visiting your website. This is important because it allows interaction right away, which can be very useful when it comes to asking questions or getting important info about pricing and services.
The plugin includes a comprehensive set of features that will help you close sales and get more conversions. Included with LiveChat is the ability to allow agents to send personalized messages automatically.
You can also set it so that a certain trigger happens when a visitor meets predefined criteria, like the number of pages or certain pages visited.
Add this to your list of business website plugins and you will have just about every plugin you need to run a successful business website.
Benefits of Using LiveChat
This plugin is translation ready to meet your business needs
Allow for offline messages to be sent
Send out targeted messages when certain actions occur
Create quick replies to answer general questions
Provides detailed instructions to help you get started
Best Multi-Purpose Plugin: Jetpack
Many people will already have the Jetpack plugin installed with their WordPress core. This plugin comes with a series of modules that add a great deal of functionality to the site.
From tracking visitors to image galleries, the odds are great that you'll find something in this plugin that is beneficial. Creating an account is free, but you can upgrade to premium for the full tool set.
Due to the sheer number of modules available, you'll need to choose which ones you want to be enabled. This ensures that your website does not get bogged down by having to include all of the modules at once.
Benefits of Using Jetpack
Create full backs ups of your website
Enable 2FA (Two Factor Authentication) to your login area
Improve site speed with AMP support
Includes access to CRM (Customer Relationship Management) tools
Integrates with just about anything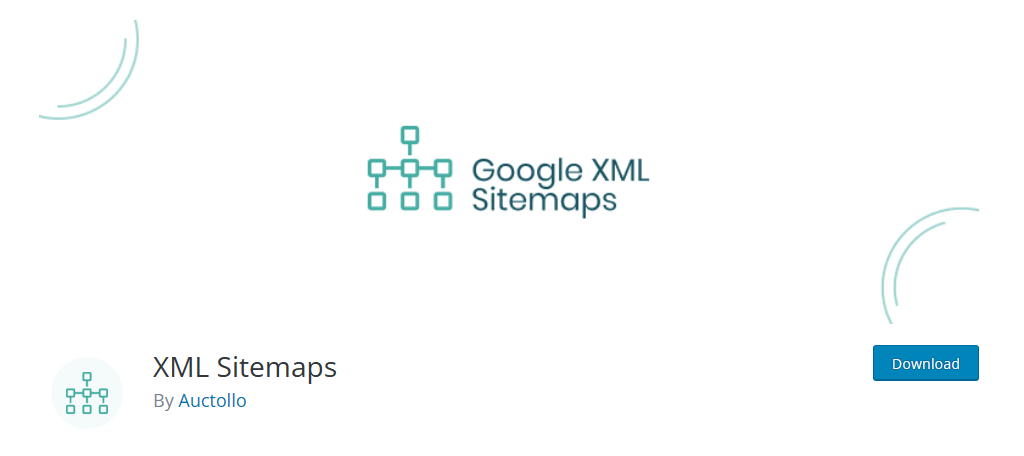 Every developer who wants their site to show up in Google, or any search engine for that matter, needs a sitemap. A sitemap is basically a map of your website that tells the search engine bots where everything is.
Google XML Sitemaps gives you control over what webpages get indexed and how the popular search engine interacts with your site. More importantly, you can quickly submit a new sitemap every time you make changes to the website.
This ensures that you can speed up the process of having that new content ranked on Google.
In terms of useability, once the file has been created, you simply add the address to your Google Webmaster Tools and wait for the search engine to crawl your content. It's very simple and should be thought of as a mandatory part of web design.
Benefits of Using XML Sitemaps
Supports Google, Yahoo, Bing, and Ask.com
Works with custom URLs
Includes various translation options
Works with any kind of page
Notifies all major search engines every time you create a new sitemap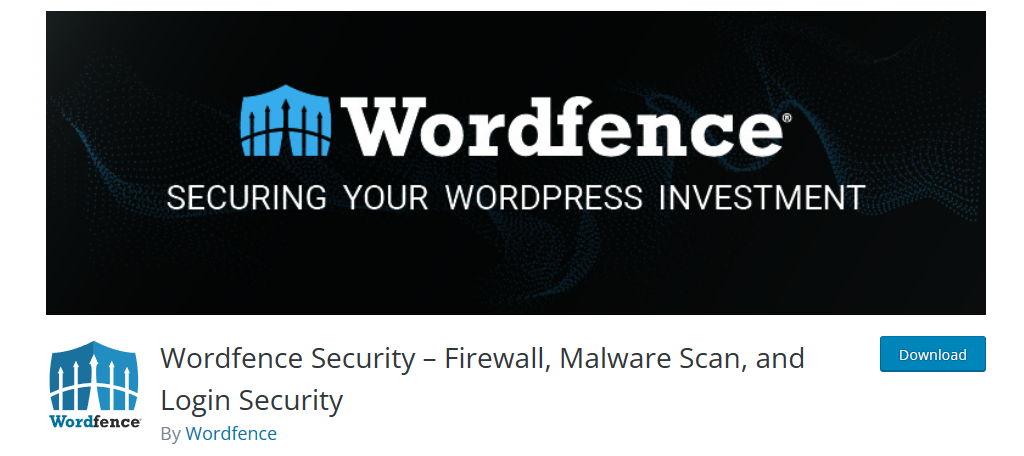 When you need to protect your website, Wordfence Security may be the only plugin you'll need. It offers real-time blocking of attackers, login security systems, file scanning, and much more.
This system is also compatible with IPv6, the addressing system for network access, which provides greater control over denying access from certain users or sites. The best part about Wordfence is that it is constantly evolving.
You see, Wordfence is used by over four million websites, and all of that data from the threats it blocks gets collected to make improvements to the system. This ensures you always have the best possible defense when it comes to malicious activity.
Benefits of Using Wordfence Security
Powerful firewall prevents threats
Enables 2FA on your website for improved security
Utilizes CAPTCHA to prevent spam
Block attackers by their IP address
Blocks admin passwords that are compromised
By default, WordPress uses PHP mailing techniques to send messages, which leaves a lot to be desired. However, you can use the Easy WP SMTP plugin to set up private email servers to do this task for you.
This is often a preferred method of sending messages because it can help reduce spam messages, looks more professional, and supports encryption methods such as SSL and TLS. Thus, it's a much safer option.
The plugin allows you to implement Gmail and Yahoo's SMTP servers for those who have accounts on those platforms. If anything does go wrong when failing to send a message, this plugin contains a great error log to track down problems.
Benefits of Using Easy WP SMTP
View when emails are sent, opened, or failed from the dashboard
Resend failed emails from the error log itself
Store all email attachments in a single location
Print email contents from the log
Compatible with most plugins that send out email notifications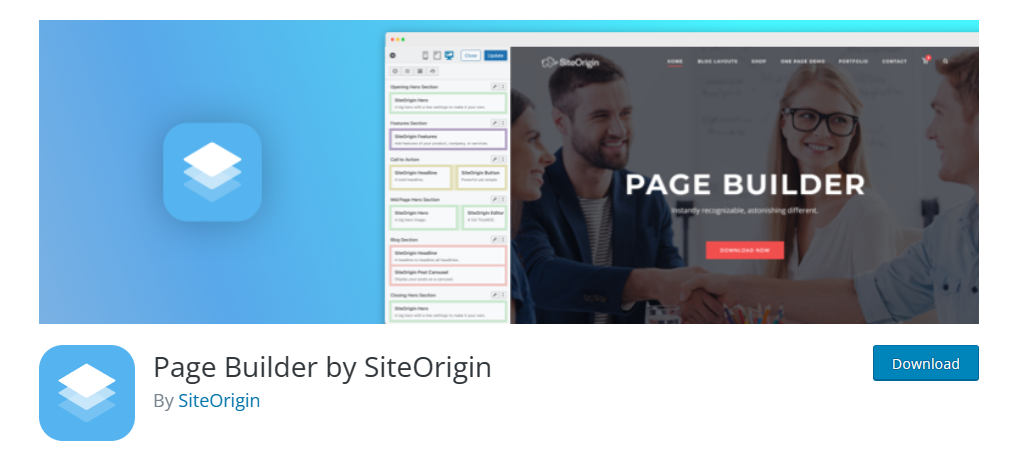 Page Builder is a well-known plugin as it has an incredible level of versatility for creating everything from an engaging home page to a beautiful landing page. A thriving landing page can determine your site's success.
Its functionality allows users to place sidebar widgets anywhere within the content of a post or page while offering superior customization. It comes with pre-defined layouts or you can directly alter the sizes of columns and rows directly from a drag-and-drop interface.
Unlike many editing tools on the market, Page Builder allows you to undo and redo changes to your site. It even stores them in a history section, which can help you significantly in the editing process.
Benefits of Using Page Builder
No coding skills are required to create beautiful pages
Available in over 32 languages
Create custom widget styles and row designs
Includes several accessibility options
All content is naturally responsive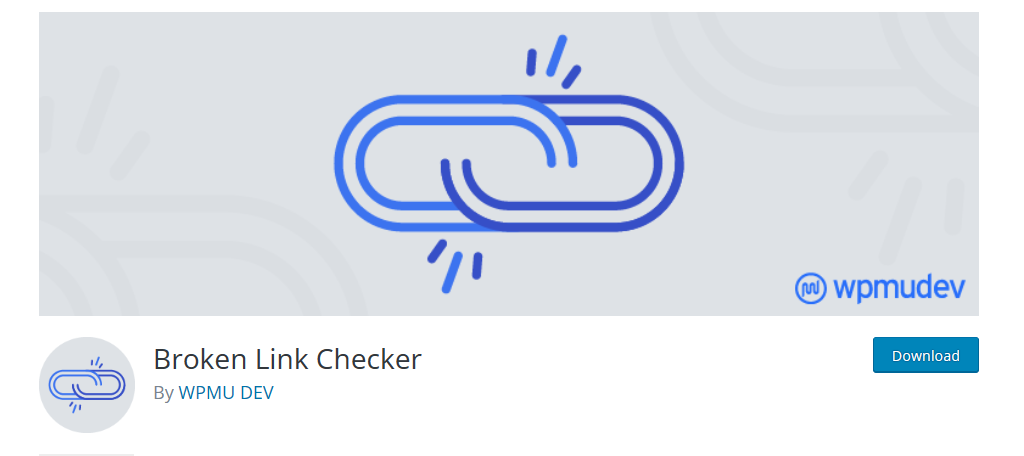 Whether internal or external, links are an important part of search engine optimization. The Broken Link Checker plugin will make sure they are all still leading to live pages. If not, the plugin provides a warning message.
From there, you can follow the link to see if the page if it is not working correctly or it was a false flag. And this process doesn't require you to go to the post or page where the link is located.
Instead, it is all done from a single location, which makes this incredibly easy to manage. You also have the option to get an email notification instead of a WordPress notification, so you really do have a lot of options.
Benefits of Using Broken Link Checker
Also detects missing images
Keeps track of redirects that lead to 404 pages
You can update the link URL from the plugin page
You can choose to block certain links from being detected by the plugin
Beginner friendly design
Best Social Media Plugin: BuddyPress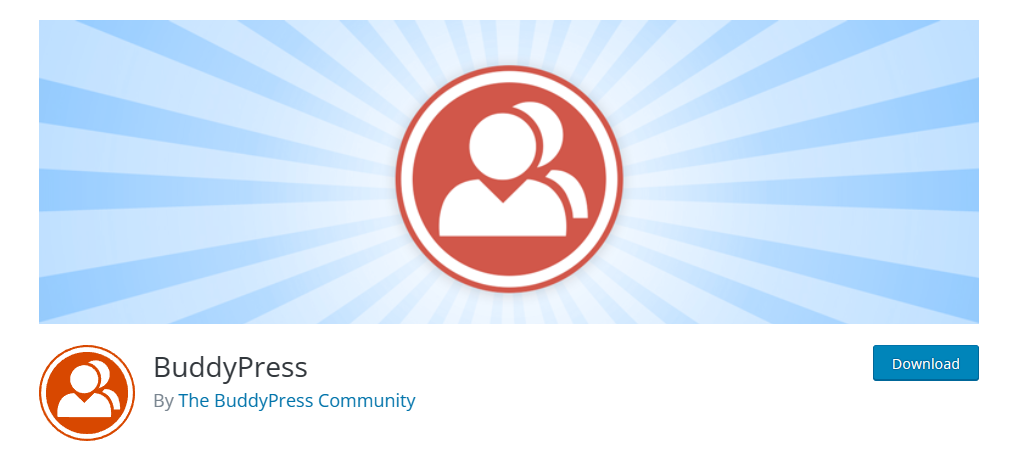 Many people love the idea of adding a social element to their website. This can inspire conversation while making the site more interactive for users. This helps get visitors to return to the site on a regular basis.
BuddyPress is a plugin that brings that social element to your pages. Users can create profiles, send private messages and interact with each other. You are essentially adding social network functionality to your website.
For example, users will be able to add each other as friends, which makes them more likely to invite their friends to the platform. You can utilize as many features as you want as the plugin is free to use.
Benefits of Using BuddyPress
Works with any WordPress theme
Gain access to free support options
Built-in support for Akismet to provide anti-spam protection
Beginner-friendly design makes the tool accessible
Add your interests and hobbies to your profile
Best eCommerce Plugin: WooCommerce
Perhaps the most effective way to sell goods from the website is through the use of WooCommerce. This plugin features everything you'll need in an online store and is capable of being integrated with a long list of external management tools and themes.
WooCommerce will handle everything from inventory control to recording taxes. And for anything that it cannot do, there is an add-on for it. Seriously, there are hundreds of WooCommerce add-on plugins to take your online store to the next level.
As such, this is among some of the best WordPress plugins for any online storefront, and it is one of the most popular on the system. Oh, and did I mention that it is free to use? No? Well, it is.
Benefits of Using WooCommerce
Compatible with over 100 payment gateways
Print USPS labels from your WordPress dashboard
Supports most major third-party tools like HubSpot or Mailchimp
WooCommerce supports all languages
All data is anonymized for safety
Icegram Engage allows users to create popups, opt-ins, and calls-to-action in a variety of ways on the website. These popups can be placed in various locations around the website, which make it extremely flexible.
Some of these include clickable links, buttons, and other options. The choice is really up to you. It also has a variety of tools dedicated to getting visitors to sign up for your newsletters.
The plugin uses flexible targeting rules allowing you to modify how the campaigns are delivered. If you are trying to grow leads and sales, Icegram is among "must-have" WordPress plugins.
Benefits of Using Icegram Engage
Include contact forms within your pop-ups
Easily create FOMO timers to improve sales
All pop-ups are mobile-friendly
Includes over 50 templates to choose from
Duplicate campaigns and repurpose them to save time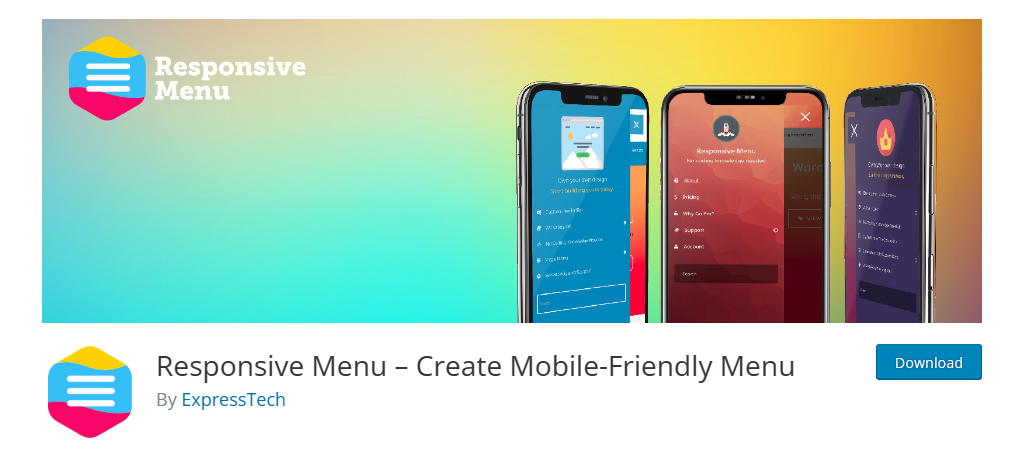 Today, there are more mobile users than desktop users, which is why mobile design has become so important for websites. As a result, a variety of tools have been created to help web developers create stylish options for mobile devices.
And perhaps one of the best is the Responsive Menu plugin. As the name suggests, this tool focuses on creating custom menus that are perfect for mobile users. It offers several styles for your menus, which allow you to customize everything.
This includes being able to change the background imagery, colors, fonts, icons, and much more. Overall, it is the easiest way to create mobile-friendly menus in the WordPress space.
Benefits of Using Responsive Menu
Choose from several animation options
Add custom CSS for even more design options
Offers WPML support for translations
Preview all of your menus before they go live
Control the opacity of your menus
Best Button Builder Plugin: MaxButtons
Building buttons is important for every website, and the MaxButtons plugin provides all of the customization options you'll need to make the best WordPress has to offer. And that's all thanks to the beginner-friendly button editor.
In terms of possibilities, nothing is off the table. You can build simple "Read More" to social media follow buttons.
When it comes to design, you really have no limits. You can choose any color, choose from a long list of button icons, upload your own icons, and even use CSS to create your own unique designs. Not to mention plenty of font options to choose from.
Once you build a button design you really like, you can save the design and keep reusing it throughout your site. Of course, the plugin also has a huge selection of pre-designed plugins that you can use.
Benefits of Using MaxButtons
Supports all major social media platforms (Facebook, Twitter, Instagram, etc.)
Easily search through your button designs by name
Integrates with Contact Form 7, Beaver Builder, and other popular plugins
Choose from hundreds of Google Fonts
Add simple shortcodes to place the button designs anywhere you want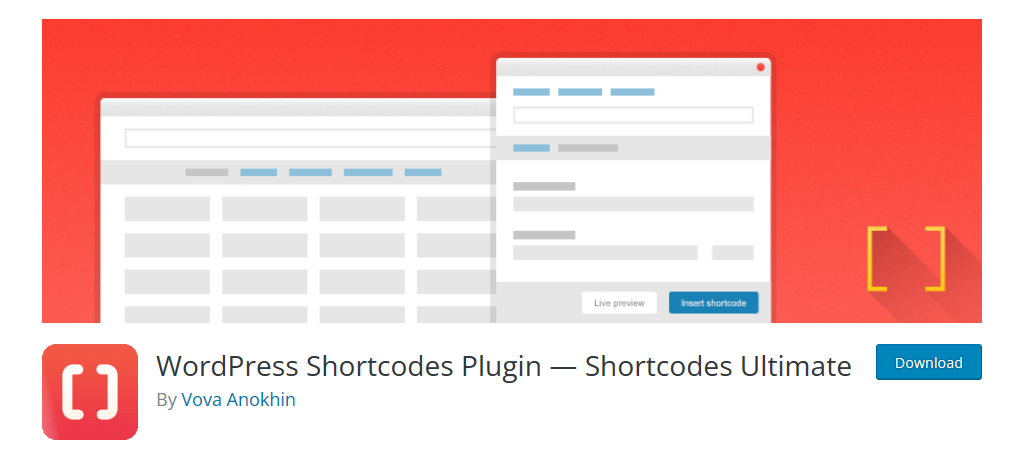 Shortcodes are useful when it comes to developing rich WordPress pages and posts. They can be used to control a wide variety of things such as fonts, colors, image placements, and much more.
Shortcodes Ultimate expands the list of what WordPress can do with these snippets. Buttons, tabs, image galleries and more can be quickly placed on a site without extensive programming or extra plugins.
For example, one such shortcode this plugin adds is the Google Map shortcode, which as you have probably guessed by now, adds a Google Map to a post or page.
There are over 50 shortcodes added, so it has a ton of versatility.
Benefits of Using Shortcodes Ultimate
Create image carousels using shortcodes
Shortcodes are intuitive to use
All shortcodes include a live preview option
Use the custom CSS editor to style them however you want
Everything is translation ready
Best Optimization Plugin: WP-Optimize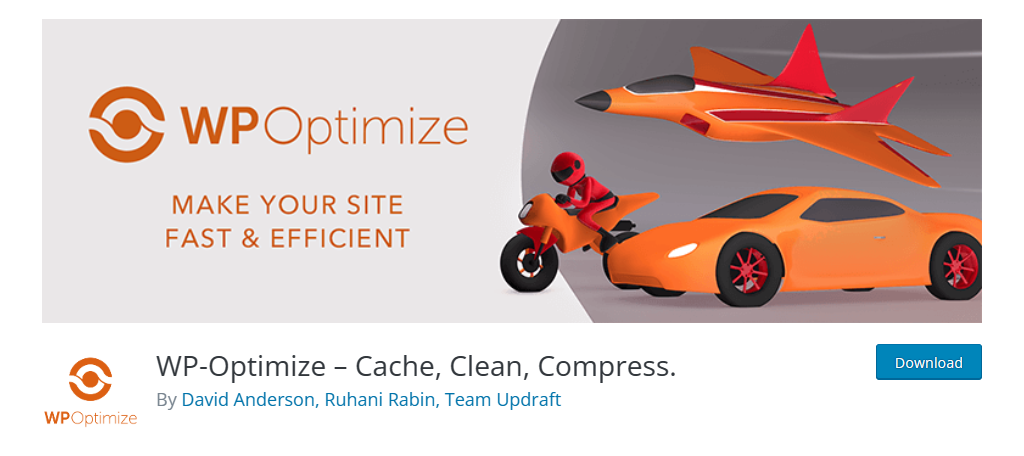 Images are not the only aspect of a website that needs to be optimized. Even the database can cause issues in performance, and oftentimes, this is the underlying problem holding your website back.
WP-Optimize removes the unnecessary data that is no longer needed by the system and de-fragments the MySQL tables for smooth operation. It can be set up for automatic clean-up or done manually with a press of a button.
Reducing the amount of data inside of your website isn't just for performance either. The larger your website, the more expensive hosting services cost and even backup storage options can cost more. It's just a good practice to follow.
Benefits of Using WP-Optimize
Removes everything within the trash and spam folders
Choose what kind of optimization you want to carry out
Choose to retain a specific amount of weeks worth of data
Compression tools for images available in bulk
Utilize Gzip compression on HTML and CSS
User roles are how WordPress associates certain tools with people who are logged in. For example, a contributor may not have access to administrative features in the backend.
The User Role Editor plugin gives you control over what can and cannot be done by those who use your website. This can be useful when customizing accessibility for users.
It is imperative for websites that have multiple staff members to customize site privileges. This ensures that staff members only have access to the features that they need. This helps avoid mistakes and other problems that can arise from unlimited access.
Benefits of Using User Role Editor
Block post or page access for specific roles
View who has access to every page
Set shortcodes to only work for specific roles
Works with custom user roles
Works in a multi-site configuration
Best Translation Plugin: Polylang
Need to build a multi-lingual website? Many people market to other countries around the world, and Polylang may be a good tool to use to engage those individuals. And in other cases, countries use two languages like Canada (English and French).
Failing to do so can cost you visitors, which is never a good option.
This plugin allows translations of posts, pages, and other content related to the website. You can arrange one subdomain per language, which essentially duplicates the site for those specific users.
If you regularly deal with different languages or are looking to enter a new market, Polylang is one of the best translation plugins available. And it just takes a few clicks to get started.
Benefits of Using Polylang
Also translates RSS feeds
Offers compatibility options with many popular plugins like Yoast SEO
Use a block to easily switch the language of a post or page
Translate URL slugs
Easily migrate from WPML to Polylang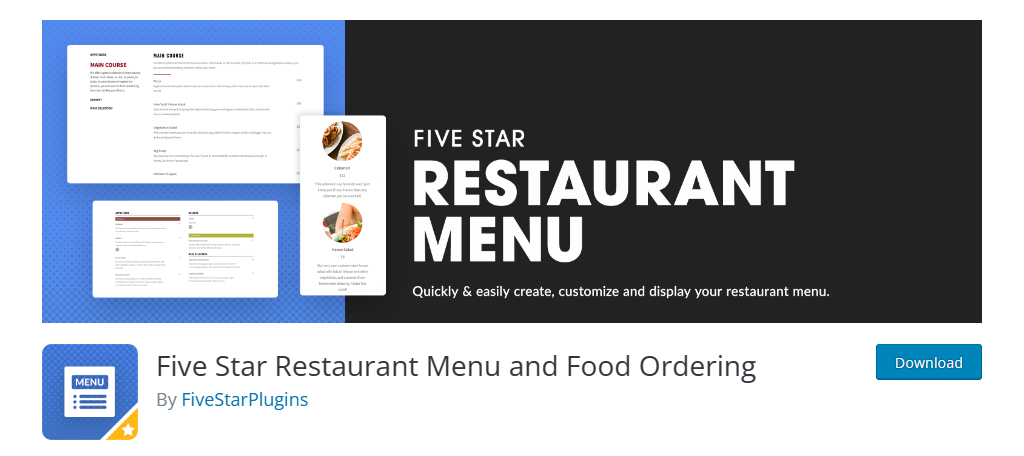 One of the most impressive restaurant-specific plugins has to be the Five Star Restaurant Menu and Food Ordering plugin. It really does meet the needs of any restaurant website, and FiveStarPlugins has a great selection of other plugins you can use.
Perhaps its strongest feature would be the menu creation process itself. You'll be able to add a full menu to any post or page by using blocks in Gutenberg. You can easily add key information like prices, descriptions, and images.
It even ties into the physical location. You can provide a QR code that allows customers to pull up the menu online. Another great feature is dynamic pricing. For example, a menu item may be priced differently depending on the time of day it is.
Benefits of Using Five Star Restaurant Menu and Food Ordering
Add footers to menu items to add legal disclaimers
Use widgets to display popular menu items
Allow visitors to leave reviews on specific items
Accepts both PayPal and Stripe for payments
Add extra fields for customers to add more details like if they want their steak well done or medium rare
How to Choose the Best WordPress Plugins
Consider Your Plugin Needs
While there is some overlap when it comes to the types of buttons a website needs, depending on your niche, the tools your website uses will be different. Thus, you need to first understand the needs of your website.
Generally speaking, every website needs a plugin to bolster security, improve SEO, create backups, send emails, and other integral elements. However, the needs of a restaurant website and a blog are quite different.
A restaurant site would probably need a menu builder, reservation tool, Google Maps to help visitors find your location, whereas, a blog wouldn't need these tools. Thus, you can easily see that what plugins you need depends on the kind of site you build.
Update Your WordPress Version
As the world's most popular CMS, WordPress sadly has a huge target on its back. Since so many people use WordPress, it means that hacks are looking for a way in, and while WordPress is very secure exploits are found.
And that's why it is important to always update your WordPress version. Failing to do so can expose your site to known security vulnerabilities, which can compromise your entire website.
Staying up to date also has a huge impact on plugins. Popular plugins update alongside the WordPress core files, thus, updating one and not the other can lead to compatibility issues. These can cause your site to stop working.
Sometimes the effects are not clearly visible and can be quite minor, thus they can be hard to identify. Staying up to date helps avoid this.
Using WordPress to Search for Plugins
Once you are logged into the administration panel of WordPress only a few clicks are required to begin searching for plugins.
Hovering the "Plugins" section to the left once you are logged in gives you the ability to view installed plugins, delete plugins and even search for WordPress-approved plugins without having to leave your site altogether.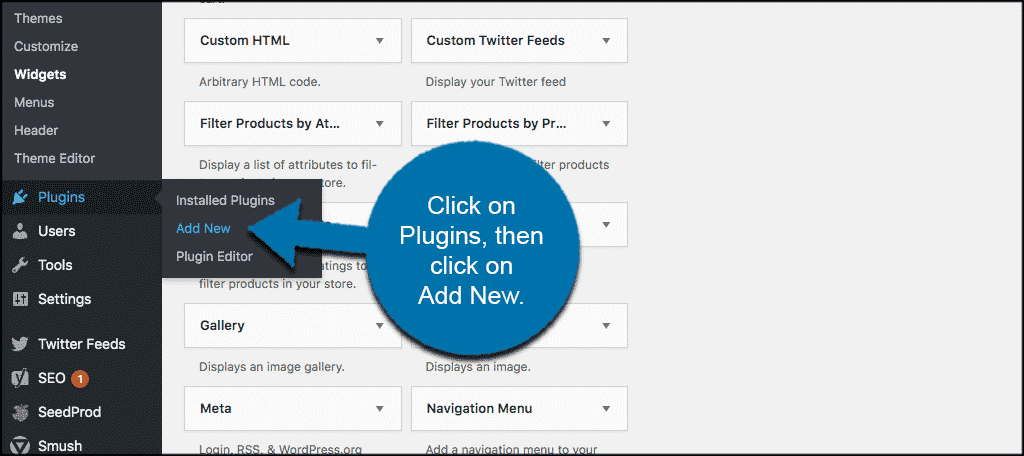 Using the built-in search engine for WordPress is ideal to find plugins that are compatible with your current version of WordPress. The WordPress plugin directory also provides the most popular keywords that are searched.
This will help save time if you are unsure of how to find a plugin that suits your needs.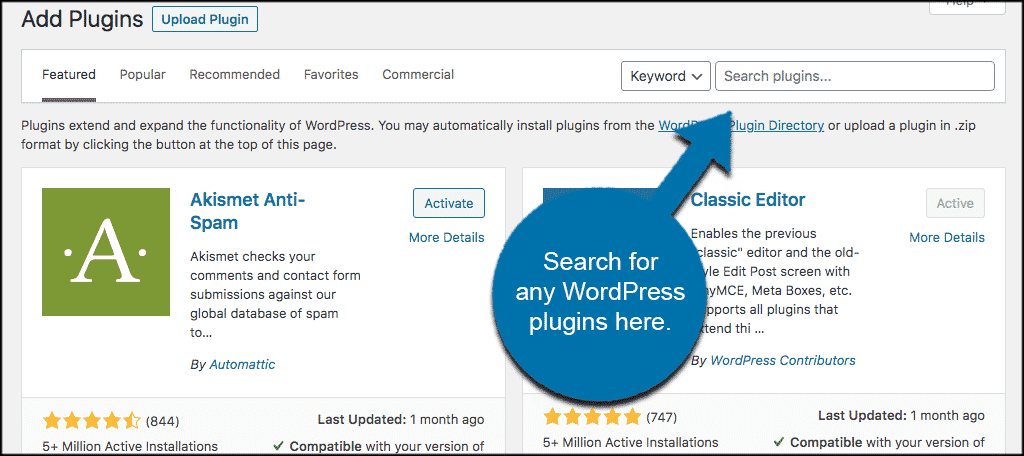 Top WordPress plugins available are often ideal for improving SEO, or search engine optimization in addition to implementing social media modules to broaden the audience you are capable of reaching any time you update and share a post to hundreds and thousands of users simultaneously online.
It's also worth pointing out that you can view the plugin directory without being logged into your website to search for plugins.
If you are in the market for premium WordPress plugins, these tools often have their own website with all of the details.
Note: When viewing the plugin directory, some plugins may use the word "add-on." This means the plugin is not a standalone tool and requires another plugin to function.
Compare Similar Plugins for WordPress
While this list just looks at the single best plugin for specific purposes, there are a ton of plugins to choose from in each category at varying price points. Thus, you should always be looking at multiple options.
Compare similar plugins even if you believe you have discovered a plugin that is right for your WordPress site. Do this even if the plugin is not listed and available within the actual WordPress plugin directory.
Take time to search using well-known search engines to seek out similar plugins that provide the same features with various tools and functionality.
Comparing different plugins that complete the job you are looking for is a way to gain insight into how plugins work and which solutions are ideal for the site or blog you want to launch live.
Follow Popular WordPress Blogs and Communities
Another way to choose the very best WordPress plugins is to follow certain blogs and websites. Find the ones that dedicate themselves to sharing WordPress tips and tricks.
Getting involved with larger WordPress communities gives you the chance to learn more about the usability and reliability of various plugins available in the marketplace.
This can give you a better idea of what you are in store for before installing the plugin yourself.
Reading in-depth reviews of WordPress plugins helps to ensure you are making the right decision before utilizing them on your own blog.
This helps you avoid errors and the inability to put the plugin to use once the site is live.
Read Reviews and Testimonials
WordPress is a really popular platform, to say the least. As such, it has a huge library of plugins to choose from, yet not all of them are created equal. In fact, it's fair to say that a sizable percentage of them are out-of-date.
Luckily, when you have a platform as large as WordPress, the other users can help you find the right tools for the job.
The plugin directory of WordPress has a built-in review system. Users can give any plugin a rating of up to five stars. They can also explain why they gave the score they did, which should be taken into consideration when installing a plugin.
However, the resources at your disposal go much deeper. Plenty of websites will review plugins or create lists of the best plugins, like this one. They can also help you find the best tools for the job and are widely available.
It's also worth pointing out that premium plugins often have testimonials on full display. They can be quite helpful when trying to find out if a plugin is worth your time.
Spend some time looking at user reviews before installing anything on your site.
Check Plugin Screenshots
When viewing a plugin in the WordPress directory, you can see a full list of features that the plugin provides. And at the bottom, most plugins include a series of screenshots that show off the interface or features of the plugin.
These screenshots can give you a great idea of the interface and help you decide if the tool is right for you. This can help you avoid tools with bad interfaces in favor of tools that are easier to use.
It's also worth pointing out that many plugins have extensive documentation available on their website or in PDFs. These are absolutely worth checking out and are a great resource to take advantage of when first using a plugin.
Support for Plugins
Any time you are looking to install new plugins finding a plugin that offers support and assistance is key. Reach out to a support team if you run into any issues or errors when utilizing a plugin. They developed the plugin; they are the ones to talk to.
Having support available for the plugins you are most interested in is vital to keep your website running smoothly. You don't want issues and interruptions during a user's visit to the site while attempting to use it.
It's worth pointing out that more dedicated support options are usually locked behind premium versions of a plugin. This is actually a huge selling point for many users as being able to get immediate answers can have a huge impact of design.
Testing Your WordPress Plugin Before Going Live
There are many ways to test a WordPress plugin before launching it live on your own site. One of the most common ways is to create a "dummy" WordPress site that is simply a clone of your actual site.
With it, you can test a plugin like it was your actual site. And if you are happy with the changes, you can quickly copy them over to the site. This technique is not just for plugins either, and it is widely used when testing designs.
Oddly enough, there are also plugins that exist that can help you test other plugins privately. These generally include administrative controls that allow you to make certain pages invisible to users and search engines.
Thus, you can use these pages to test how well a plugin works on your site.
Premium Vs. Free WordPress Plugins
One of the biggest questions for most beginners is if it is worth paying for premium WordPress plugins.
In most cases, premium plugins do offer more features, higher levels of support, and cleaner code. This often makes the premium tool a much stronger option than a free one in the same niche. However, it's not always the case.
There are plenty of examples where free plugins are better than premium plugins in WordPress. It really comes down to what your site needs, which is quickly becoming a downside to premium plugins.
If you have ever taken the time to read the full list of features and add-ons included in a premium plugin, it is truly staggering, and in most cases, you don't even need half of what the tool provides. This is a side effect of how crowded the plugin market is.
When a user is comparing tools, they will often go with the one that offers the most. That's why premium plugins keep adding more bells and whistles. This can often lead to confusing interfaces, slower performances, and other issues.
Free tools are often simpler and focus specifically on one thing. This is a huge plus for many users.
Overall, both premium and free WordPress tools are great options.
Use the Best WordPress Plugins For the Best Results
Without a doubt, your website is more likely to find success if it is using the best plugins the platform has to offer. Yet, as you can see from this list, there are a ton to choose from and this is really just scratching the surface.
You might also want to be more specific. For example, look for the best search plugins if you are trying to improve the search feature on your website. The good news is that there is a plugin for everything, but that makes finding the best one more difficult.
What are some of your favorite WordPress plugins? How many plugins do you have installed?