In the real estate market, there is no shortage of leads, and it can be hard to keep track of your potential customers. That's where real estate CRM software comes in. This software is built for real estate agents to help them keep track of customers and boost sales.
However, like most software, there are a lot to choose from. Therefore, I have constructed this list of the best real estate CRM software in 2023.
What Is Real Estate CRM Software?
Real estate CRM, or customer relationship management software, is a contact management system that allows realtors to store their customer information in one location. This allows realtors to save and view important behavioral traits, contact information, price ranges, and other important information.
This type of software helps realtors turn leads into sales.
It is also extremely important in a real estate office setting. While most will be sad to lose a customer to a co-worker, it happens. Storing this information in an accessible location so the real estate company can benefit from it is a boon for business.
In many cases, this software can even automate the marketing aspect of real estate. Did a house just go on the market within a customer's price range? If so, some software can send out alerts to entice customers to give you a call.
Here are some of the best CRM for realtors in 2023:
The Best Real Estate CRM Software
1. RealOffice360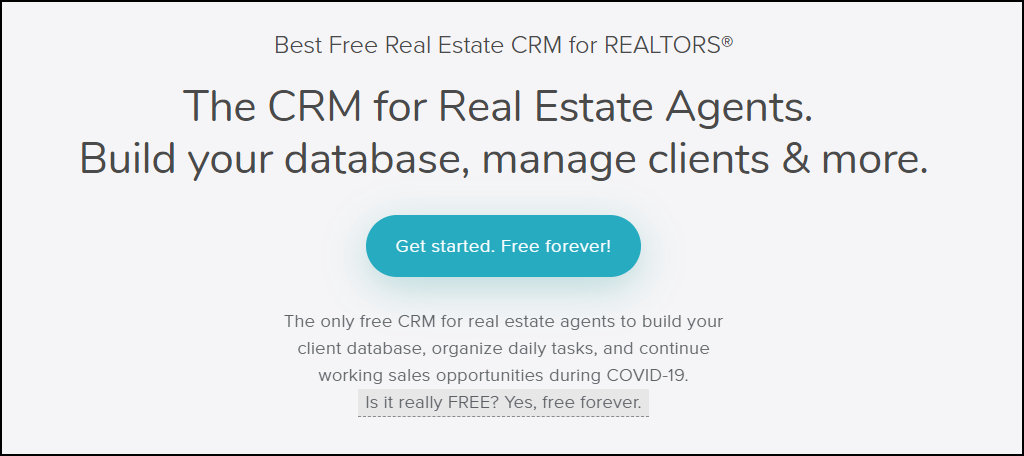 RealOffice360 is the perfect choice for real estate agents who work solo. Not only is it feature-rich, but it even offers a free plan. That said, if you plan on growing your real estate business, it is worth pointing out that this software is not team-based.
So, you would have to switch to another software.
One of the biggest advantages of this software is its integration with MailChimp. Email marketing is extremely important for real estate agents, and this CRM can handle everything. This can save realtors a tremendous amount of time.
As I'm sure you are aware, a lot of real estate work involves traveling. And as a result, you're going to need a CRM with a mobile app. RealOffice360 has you covered. The app allows you to review customer data so your ready to go at any time.
Benefits of RealOffice360
Support is available for in-app help
Add an unlimited amount of clients in the free version
The paid plan offers 50GB of online storage
Price of RealOffice360
A free version available for use
The Premium starts at $19 per month
2. Follow Up Boss
Follow Up Boss is one of the best CRMs for real estate companies on the market. And that is all thanks to its powerful toolset that handles everything from marketing to direct communication with customers. It does everything you need and so much more.
However, it is one of the pricier options available, which can be an issue for new realtors.
A huge benefit is the communications aspect of this tool. You can call and even text leads through the CRM itself. And you can also set up a team inbox to ensure all phone calls and inquiries are answered by your team as soon as possible.
One of the strongest aspects of this software is the mobile app. It has a host of useful features every agent dreams of having. For instance, while you're on the phone with a client, you can pull up a full view of the property to answer questions regardless if you're in the office or not.
It's the ultimate tool for realtors.
Benefits of Follow Up Boss
The first two months are free, so give it a try
Automates bulk emails to customers
Integrates with MailChimp, Zapier, Bomb Bomb, and more
Price of Follow Up Boss
Grow plan starts at $69 per month per user
Pro plan starts at $499 per month and supports 10 users
Platform plan starts at $1000 per month and supports 30 users
3. Wise Agent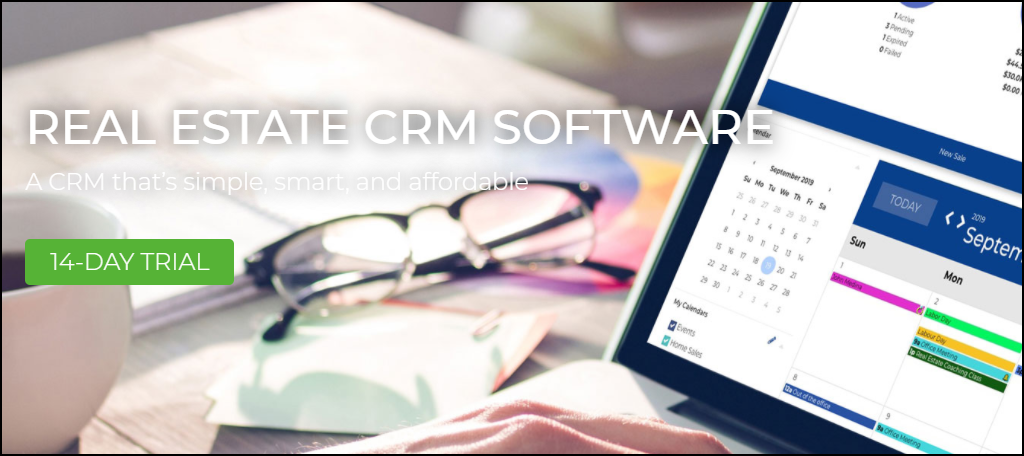 Wise Agent is another excellent choice if you are looking for an all-in-one CRM tool that was built for team usage and at a reasonable rate. Unlike other CRMs on this list, this one natively supports 5 users with the base subscription.
Thus, it's cheaper than most CRMs that charge on a per-user basis.
While the user interface isn't as user-friendly as some of the other options on this list, you do have 24/7 access to live support. On top of this, paying for the product includes complimentary one-on-one onboarding. The level of support is the best offered out of any real estate CRM.
Without a doubt, the strongest aspect of this software is the transaction management tools. With them, you can store client documents alongside their transactions, view all of the property details, view Equifax data, lockbox tracking, and much more.
It's a one-stop-shop for everything sales-related.
Benefits of Wise Agent
The marketing tools take care of bulk emails
Customize each agent's login screen to properly assign work
Automatically pull social data from any collected emails
Price of Wise Agent
Monthly plans start at $29 per month
Annual plans start at $299 per year
Enterprise plans are available upon request
4. Freshworks CRM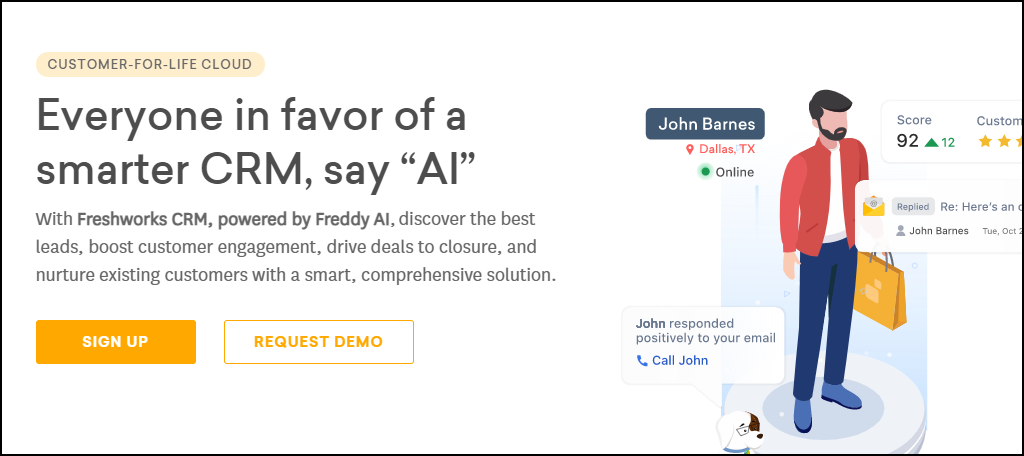 While it wasn't built exclusively for real estate, Freshworks CRM offers a plethora of impressive features. And most importantly, you can use it for free, which makes it perfect for brand new real estate agents looking to save a few bucks.
Of course, its toolset can perfectly accommodate the needs of real estate.
One of the most important traits of this CRM is the teamwork aspect. It offers a variety of tools for teams including task management, auto assigning leads to agents, automate some of the sales processes, generate workflow maps, send out notifications, and even integrate with services like Slack.
It's perfect for a team environment.
Not only can you easily communicate with staff members, but customer communication is a breeze. This CRM software will allow you to manage email, phone, live chat, WhatsApp Business, Apple Business Chat, and send SMS messages to customers. You can reach clientele with all of these tools.
Benefits of Freshworks CRM
Improve your emails conversion rate with analytical tools
Build custom reports to analyze specific parts of your business
The mobile app integrates with Google Maps, so you can find houses with ease
Price of Freshworks CRM
A free plan is available
Growth plans start at $29 per month per user
Pro plans start at $69 per month per user
Enterprise plans start at $125 per month per user
5. BoomTown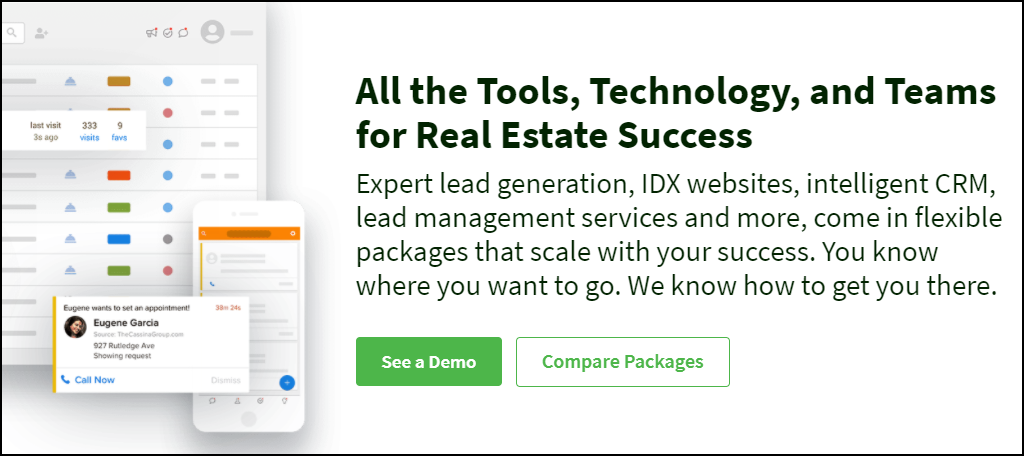 BoomTown was designed for larger teams looking for a powerful set of tools to carry out day-to-day activities. It does everything from lead generation to providing a real-time view of market updates in your area.
As a result, it's one of the best pieces of real estate CRM software you can choose.
The NOW mobile app is a terrific tool that every agent should have on their mobile device. This app allows you to easily collect lead information and make calls on the go. And this can be extremely handy when you travel to locations that are not close by.
And like almost all dedicated real estate CRM software, you can easily communicate with leads in a variety of ways. This includes phones, text, and email. And when combined with the mobile app, you will never miss another lead. And customers like quick responses, so make sure to be ready no matter where you are.
Benefits of BoomTown
Automate lead communications to get them interested in speaking to an agent
Display MLS listings directly on your website
Actively track which agents are getting the most sales
Price of BoomTown
BoomTown does not make its pricing public. You must contact them for a quote.
6. LionDesk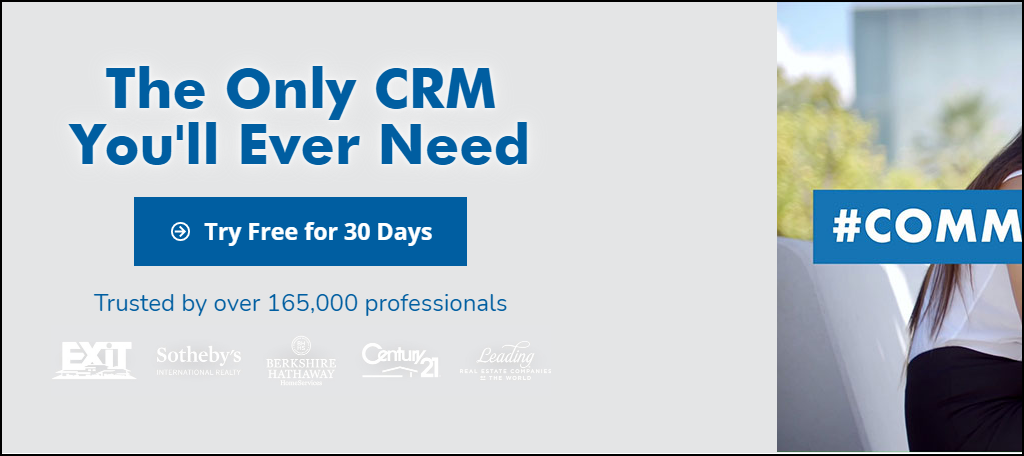 Another popular choice in the world of real estate CRM is LionDesk. And as you might expect it handles lead generation, communication, and allows your real estate business to operate smoothly on a day-to-day basis.
And you can test the service for yourself with the free 30-day trial with no credit card required.
One of the best parts about LionDesk is its integration options. You have well over 70 options to choose from with some of the most prominent being Zillow, ELP, iFoundAgent, My Home Equity, Agent Shield, and many more.
If you already use a real estate tool, odds are it integrates with LionDesk.
And without a doubt, the lead generation component of the software is excellent. You can create ads using templates that have a proven track record with the Ad Portal. If this is your first time creating ads, don't worry, LionDesk has an assortment of helpful FAQs to answer all of your questions.
Benefits of LionDesk
Streamline your businesses transaction process with an assortment of easy-to-use tools
Automate the client communication process
The Power Dialer feature allows you to communicate with multiple clients at once
Price of LionDesk
Starter plans begin at $21 per month
Pro plans start at $42 per month
Elite plans start at $83 per month
When Should You Purchase CRM Software?
If you're brand new to real estate, you might not have a lot of customers. And in those situations, you can make do without these benefits. However, just because you can do something, doesn't mean you should.
In reality, I recommend purchasing it as soon as possible.
This software offers a host of advantages and at quite a low price. Mismanaging your customers can quickly end your career in the real estate business. Yet, with this software, you can improve your chances of leaving your customers happy, and having them spread the word.
After all, word of mouth is still the most prominent way a real estate agent finds new clients.
Improving Customer Relations and Sales
The best CRM for real estate agents can make a huge impact on sales. And even if a client decided not to buy, if they had a good experience, they will definitely be back. This software allows you to build long-term customer relations, boost sales, make it easier to respond to leads, and much more.
If you plan to be successful in real estate, your going to need the right software for the job.
What real estate CRM software do you use for business? How much time has using this type of software saved you?