Collecting feedback is one of the most important things a business should do. And online survey tools are the best way to do it. Luckily, there is no shortage of tools to choose from, which provides businesses with a lot of options. Thus, I have assembled a list of the best online survey tools for 2022.
What Is An Online Survey Tool?
An online survey tool allows businesses to build surveys in a variety of forms and present the information in an easy-to-read format. These tools aid businesses in collecting information from their userbase and help them improve the customer experience for existing products and services.They also help businesses find new opportunities and create content their customer base is interested in.Surveys come in a variety of forms that include customer satisfaction, event/conference, product, human resource, net promoter score, and much more. As you can tell from this list, surveys are not only for customers but for employees as well.The most important aspect of these tools is how they collect information. Being able to perform market research after the results have been collected is the entire point of an online survey tool. As such, you can expect a plethora of data collection and parsing features.
The Best Online Survey Tools For Your Business
1.  SoGoSurvey
SoGoSurvey
is one of the best online survey tools for small businesses that are looking to create surveys for the first time. The toolset it offers is easy to use and offers great analytical tools that help you track and analyze the results.After all, the data you collect is useless if you can't use it.One of the best parts of this tool is its incredible UI, which is there to help you every step of the way. It lists the steps you will need to design and distribute your survey to the world. Everything from the creation process to the analytics side is easy to use and straightforward.One thing that may seem simple, but is often overlooked, is this tool's ability to allow you to switch between reports. This makes it simple to compare the results from multiple surveys all at once, which can be extremely important if you run a variety of similar surveys.
Benefits of SoGoSurvey
Perfect for beginners and small businesses
View multiple reports at once
Export results to Microsoft Excel
Price of SoGoSurvey
Plus plans start at $25 per month
Pro plans start at $66 per month
Premium plans start at $99 per month
Enterprise options are available upon request
2. Google Forms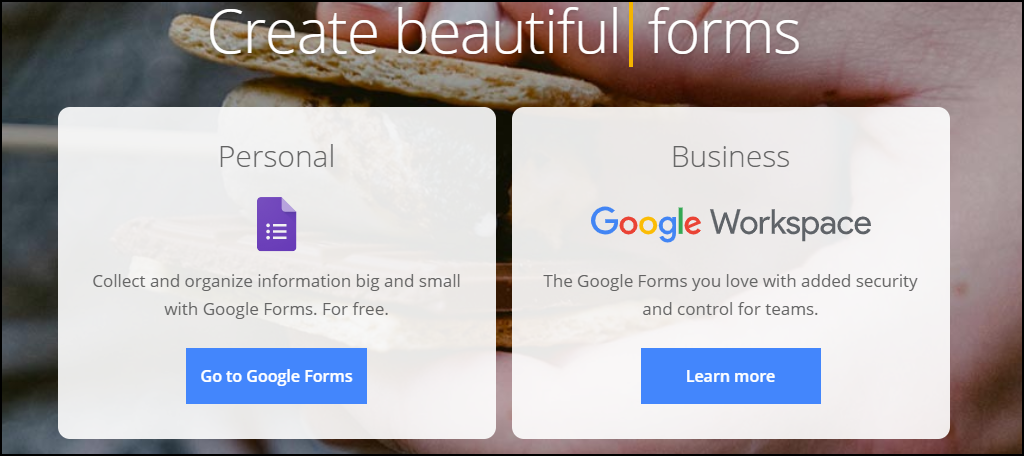 When it comes to online survey tools, many businesses expect them to break the bank, but that isn't true. There are many free survey tools to choose from, and
Google Forms
is one of the best ones. In fact, its features can compete with premium tools.And as you might expect, it works with other Google features.Google Forms provides everything you need to build terrific forms for your business including a variety of theme options, the ability to add custom logos, insert images and videos within a survey or poll, and directly embed the survey on your website or in an email.As a result, putting forms together has never been easier. And unlike many free options, there are no restrictions on the number of surveys you can build or the number of responses it will receive.Thus, it's just as powerful as any premium option.
Benefits of Google Forms
All responses are neatly organized
Create forms with other collaborators
Forms work on any device
Price of Google Forms
3. Qualtrics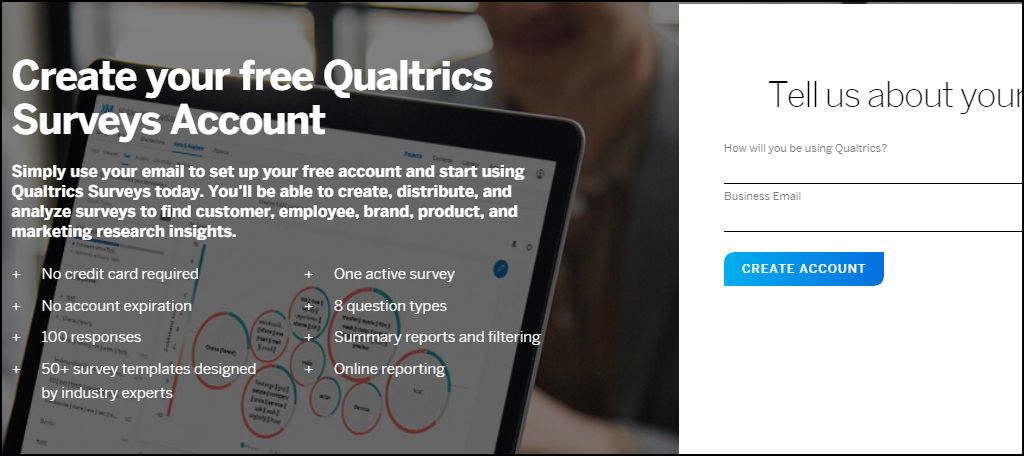 Qualtrics
was built for research use in the academic field, but can easily meet the needs of larger businesses. As a result of the intended audience, the pricing is not standard and is far pricier than other options on this list.However, the services it offers are top-notch.One of the best ways to explain the versatility of this tool is to highlight the fact that you can create 8 different question types. These include a standard text question, displaying a graphic, multiple-choice question, matrix table, text entry, using a slider (perfect for on a scale of 1 to 10 questions), rank order, and side-by-side questions.As a result of these options, you can ask your question in any form. All of the data can then be analyzed through the powerful analytical tools this service offers. You can view all of the information in a variety of charts, which makes sorting through surveys a breeze.
Benefits of Qualtrics
Extremely powerful and perfect for large market research
Over 50 pre-built survey templates
Filter through reports to compare with others
Price of Qualtrics
Pricing is not made available on their website
4. Formidable Form Builder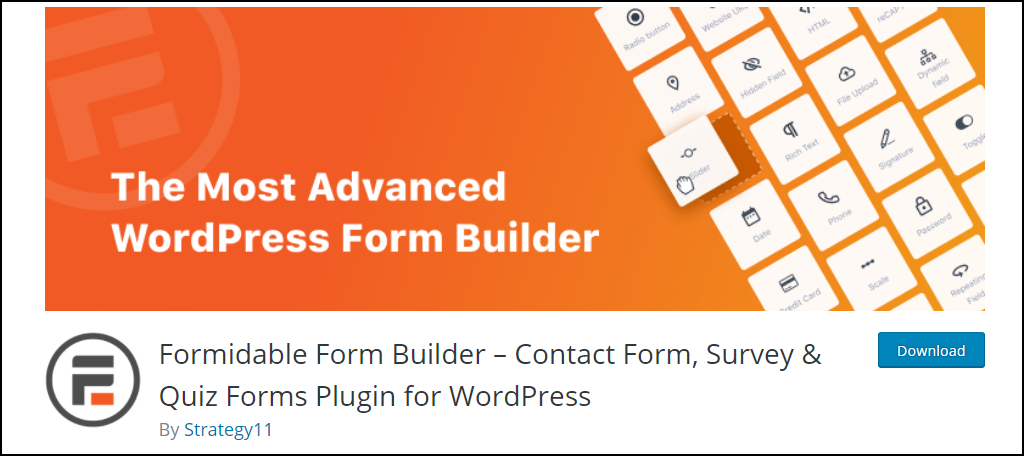 If you utilize
WordPress
for your website, then you should take a look at the plethora of free survey
plugins
available. And among all of these, the
Formidable Form Builder
plugin is a terrific choice to build a wide array of surveys.And let's not forget its main focus, building contact forms.Unlike all of the other tools on this list, Formidable Form Builder allows you to view the results of your surveys directly from your website. For most business owners, this can save a huge amount of time from not have to visit another website to check on the results.All of the data is neatly organized and can be viewed in a variety of ways including graphs. You can even export this data to Microsoft Excel to further analyze it. There is also a pro version of the plugin that grants more features.
Benefits of Formidable Form Builder
It builds a variety of other forms, not just surveys
Fully complies with GDPR regulations
Drag and drop interface makes survey creation a breeze
Price of Formidable Form Builder
A free WordPress plugin is available
Basic starts at $74 per year
Pro starts at $149 per year
Business starts at $299 per year
Elite starts at $599 per year
5. SurveyMonkey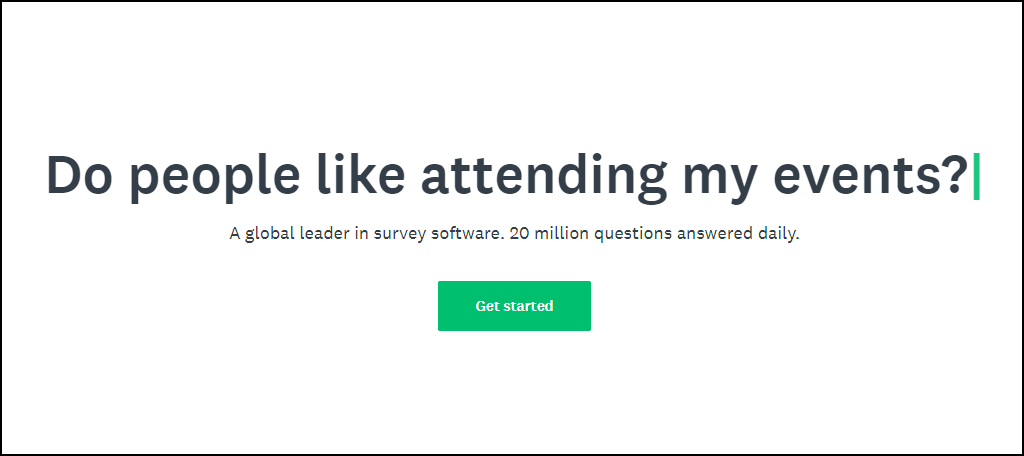 SurveyMonkey
is one of, if not the biggest name in the online survey tools industry. It offers a strong product that is easy to use, and you can even try it with the free version.  Just keep in mind it is limited in scope compared to the paid version.However, for what SurveyMonkey is offering, it's worth the price of admission.This tool streamlines the survey creation process by providing a clear and concise order. The tool is there every step of the way to make sure you never get lost. It has plenty of pre-built templates and most notably, a huge question bank to speed up creation.You might even find some questions that are presented better than your own. All of the data can be analyzed through various lens and filters including pie charts, line charts, and other report filtering options. It's an all-in-one tool that excels at surveying.
Benefits of SurveyMonkey
Supports exporting data to Microsoft Excel
The UI is customizable to make it more user-friendly
Used by 98% of Fortune 500 companies
Price of SurveyMonkey
A free version is available
The Team Advantage plan starts at $25 per user per month
The Team Premier plan starts at $75 per user per month
Enterprise options are available upon request
6. Quiz and Survey Master
Another great WordPress plugin to consider using is the
Quiz and Survey Master
plugin. It is a free survey creator and is solely focused on creating surveys and quizzes to help website owners and businesses understand their userbase.And it's completely free to start, with paid add-ons available.This plugin supports a variety of question types that include multiple-choice, radio buttons, true or false, drop-down boxes, checkboxes, fill in the blank, and many more. As a result, you can collect data about the same topic in a variety of ways.A nice feature the plugin offers is sending a follow-up email to visitors that take part in a survey or quiz. You can use this to display a result for a quiz or to say "thank you" for participating. It's also a good place to add any rewards for participating, like a discount code.
Benefits of Quiz and Survey Master
Integrates with other services like MailChimp
Has a variety of features to make quizzes more exciting, including leaderboards
View survey results in WordPress
Price of Quiz and Survey Master
A free WordPress plugin is available for use
There are a variety of premium add-ons to consider
7. Zoho Survey
Closing out this list is
Zoho Survey
, but don't let its placement fool you. It's one of the best on the market. Zoho offers a wide variety of different options to collect information and, most importantly, it's easy to use.It also offers a robust collection of analytical tools to examine data.The creation process is very simple thanks to the UI. As a result, even if this is your first time, you should have no trouble creating an awesome survey. It utilizes a drag-and-drop format, and the tool supports up to 25 different question types.This survey tool also supports team collaborations. You can build surveys in a group and have members give their input and check them for typos. After all, if customers catch a typo in a survey, they may question if they should answer.
Benefits of Zoho Survey
Supports multilingual surveys
See responses in real-time
Supports pop-up surveys
Price of Zoho Survey
A free survey maker is available
Plus plans start at $20 per month
Pro plans start at $25 per month
enterprise plans start at $60 per month
Understand Basic Statistics and Graphs
For the most part, these tools do a fantastic job of displaying the information you gather from the surveys.However, even in its most basic form, this information may not help everyone. Analytical experts analyze this data in a variety of ways, which is how they are able to make great choices. Even doing just a little research can go a long way.A great resource I recommend checking out is the
Qualtrics analysis of statistical analysis methods
. It goes over just about everything you need, and it's easy to understand.If you don't understand what the information is telling you, you could end up coming to the wrong conclusion.
Don't Be Annoying
I have no doubt that at some point, you were asked to take a survey. For many people, it's annoying.Of course, for a survey to be successful, people do need to take it. But you can easily drive away customers by constantly asking. For example, one of the most annoying things a company can do is constantly send emails that specifically ask you to take a survey or provide feedback.Instead of being annoying, you need to get creative.Make sure to include links to feedback surveys with every receipt or invoice you send. It provides the information they want to see and it makes sense to include the link. It is also common to offer a reward by taking a survey, such as a small discount code.Keep in mind that you should also
have a feedback page
on your website, which can be a useful link to share on social media.
Understand Your Customers
Survey tools exist to help businesses, big and small, learn about their customer base. If you understand what they are looking for and how to provide a better experience, it can help ensure customers keep coming back.It can also open up new business opportunities that you can examine.What online survey tools do you use?