Taking photos has never been easier thanks to the popularity of smartphones. These images can be shared with friends and family via text messages or on social media platforms. However, don't think for a moment that actual photo printing services no longer exist.
Each year over 1 trillion pictures are taken and some of them are truly spectacular. However, many of these images are lost due to phone owners not uploading them to a PC, the phone breaking, or the image getting deleted.
To preserve them forever, you are going to need a quality photo printing service and the good news is that there are a ton of options to choose from. As a result, you can find a high-quality printing service for a very affordable price online.
Even With Social Media, Physical Photos Are Still Popular
While social media has changed the way we consume and share images with friends and family, make no mistake that physical photos are still popular.
In particular, most families will go the extra mile to print out trip photos to display around the house or special events like birthdays, holidays, weddings, and more to make sure they have them forever. After all, physical photos can last well over 100 years.
Can you say the same for your hard drive? Or how long your favorite social media platform will survive?
However, most families will typically rely on local options for photo printing like CVS or Walgreens, but photo printing has come a long way over the years. Ordering quality prints online can really make a difference and the more important the photo, the better the service you want to use.
It has also become very popular to add family photos as a decoration to coffee mugs, phone cases, shirts, and other apparel. They make a great gift for holidays and birthdays, especially for parents.
Here are the best online printing services you should be using
The Best Online Photo Printing Services
1. Printique
Printique has been around for over 20 years and they know how to print high-quality photographs. Before constructing this list, I spent a lot of time looking at reviews and Printique was at the top of nearly every list.
It excels at providing a host of printing options including photographs, book covers, coffee mugs, acrylic, and canvas prints, calendars, and so much more. If you want to add your photo to a specific object, odds are Printique can do it.
One of the biggest concerns people have about ordering photos online is the delivery process. After all, you don't want your photos bent, but that's not a concern at Printique. All photos are delivered in a cardboard package to ensure nothing is out of place.
Benefits of Using Printique
Great print quality
High-grade print paper
TIFF file support
Protective shipping container
Fast shipping
Photo editing
Printique Pricing
Standard 4×6 photos: $0.31
Canvas 8×12 prints: $32.99
Metal prints starting at $16.49
2. Snapfish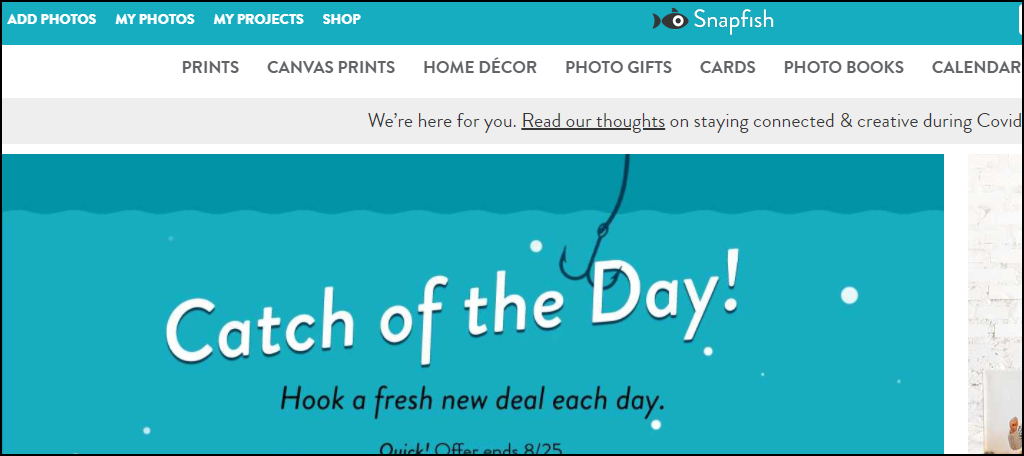 Snapfish is one of the most affordable printing services around, but don't let its cheap prices fool you, their prints are great for the price. It is one of the most popular printing websites around and you can even pick up your prints in person at a local CVS, Walgreens, or Walmart.
It provides a host of printing options that you can choose from including cards, hardcover books, matching blankets and pillows, coffee mugs, reusable shopping bags, custom facemasks, and more. If you want a photo on a specific object, they can do it.
The biggest advantage is the shipping options. Unlike many other online photo printing services, this one has physical pickup options and since most neighborhoods have access to a CVS, Walgreens, or Walmart, this is available around the country. It is a great way to save on shipping!
Benefits of Snapfish
Very affordable
Print on most surfaces
In-person pickup available
High image quality
Great phone app
Online gallery support
Snapfish Pricing
Standard 4×6 photos: $0.09
Canvas printing starting at $19.99
Printable sheets starting at $59.99
3. CanvasChamp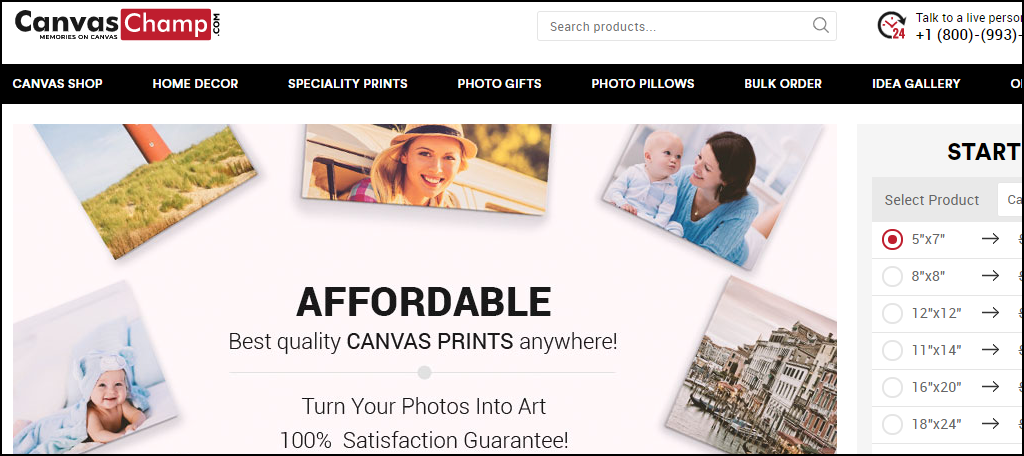 CanvasChamp has been around since 2012 and has printed over 2,000,000 photos to date. As its name suggests it specializes in canvas prints that allow you to spectacularly enlarge your best images but offers plenty of other options to choose from.
These include pillow prints, coffee mugs, photo blocks, metal prints, a variety of collage options. acrylic prints, and much more. However, its best offering comes from its canvassing which allows you to go huge (up to 36×72).
The website is really user friendly and allows you to upload images straight from your PC or favorite social media account including Facebook and Instagram. The cropping tools are easy to use, which makes it ideal for anyone to use.
Benefits of CanvasChamp
Best photo printing website
Extremely large canvas options
A great selection of printing surfaces
Reasonably cheap
Easy to use cropping tools
Great print quality
CanvasChamp Pricing
Canvas printing starting at $4.20
Metal Prints starting at $24
Magic mugs starting at $10.19
4. Nations Photo Lab
Nations Photo Lab has been around since 2005 and is a terrific option if you are looking for high-quality photo printing services. The quality of the photo prints is top of the line with a color correction option available.
It covers a wide variety of print surfaces that include lustre, metallic, glossy, and linen, while also offering a variety of photo books and albums to choose from. This is perfect for a family album or to capture an entire event like a wedding or holiday.
When it comes to shipping, no other online printing services match the protective shipping containers. Your photos will come in a double-layered cardboard container that makes it nearly impossible to receive bent photos in the mail. Alternatively, if you live by the store you can pick them up for free on the same day.
Benefits of Nations Photo Lab
The best shipping containers
Amazing photo quality
TIFF file support
Multiple print surface options
Multiple picture shapes
Nations Photo Lab Pricing
Standard 4×6 photos: $0.32
Album99 starting at $99
Photobooks starting at $36
5. Walmart
Walmart has built a reputation for selling their products cheaper than the competitions and when it comes to printing photos, they are one of the cheapest options around. However, while large retail chains are not always the same quality-wise across stores, Walmart does a pretty good job at it.
As you might expect from the superstore, it offers just about everything when it comes to photo printing including photo books, posters, t-shirts, calendars, coffee mugs, and just about anything else you can imagine. If you have ever wanted a photo on something, they can probably do it.
The website is extremely simple to use and allows you upload from your computer, Facebook, Instagram, Flickr, and Google, Photos, You can have the photos shipped for free with orders over $25 or pick them up at a store near you.
Benefits of Walmart
Offers some of the cheapest prices around
Has over 4,700 stores in just the United States
Shipping is free on orders over $25
Uploading photos is a cinch
You can add a photo to just about anything
Great photo quality
Walmart Pricing
Standard 4×6 photos: $0.09
Reusable water bottle starting at $16.42
T-shirt prints for $15
6. Amazon Prints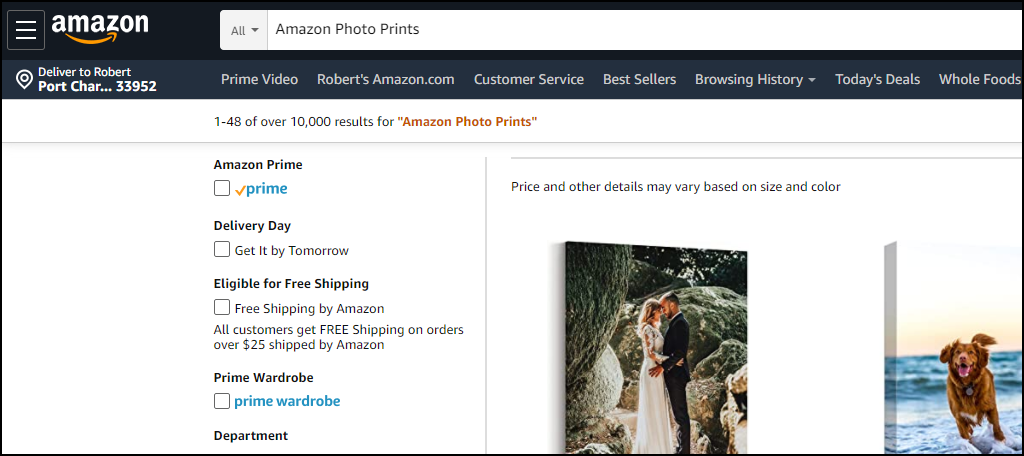 There is almost nothing that Amazon doesn't sell and photos are no exception. Amazon Prints produces quality photo printing at an affordable price point. And since it is on Amazon, you can expect shipping to be very quick, especially with a Prime membership.
The best part about this service is the Amazon Photos app. It is available on both Android and IOS and allows you to select images straight from your phone for printing. You can put the photo on a variety of surfaces and objects much like any other photo shop.
It is worth noting that any touchup or photo editing options are not available on the platform. The quality of the prints is very solid for the price and the majority of print options are some of the cheapest you can find.
Benefits of Amazon Prints
Fast delivery, especially with Prime
Great phone app
Multiple print surfaces and objects
Very affordable prices
Good photo quality
Amazon Prints Pricing
Standard 4×6 photos: $0.12
15 oz coffee mug $23.99
Metal prints for $24.99
7. Mpix
Mpix is one of the most well-known photo printing services available. It is known as a high-end photo printing service that appeals to professional photographers. It is important to point out it has limited options for a 4:3 ratio that all smartphones use. Thus, that might be a deal ender for some.
However, it has a really nice phone app that allows you to print in a variety of sizes. You can print the photo immediately after taking it on your phone, which is great for those that don't like to wait. However, you can also use the website to upload straight from your computer.
The website is also very sleek and intuitive to use, which is great for all users. When it comes to shipping you can rest easy knowing that your photos will be delivered in a cardboard container which will protect it from getting bent on the trip.
Benefits of Mpix
Some of the best packaging available
Great photo quality
Terrific website interface
Invite others to view your online gallery
Free shipping on orders $35 and up
Mpix Pricing
Standard 4×6 photos: $0.33
Hardcover photo books starting at $39.99
Canvas printing starting at $57.75
8. Shutterfly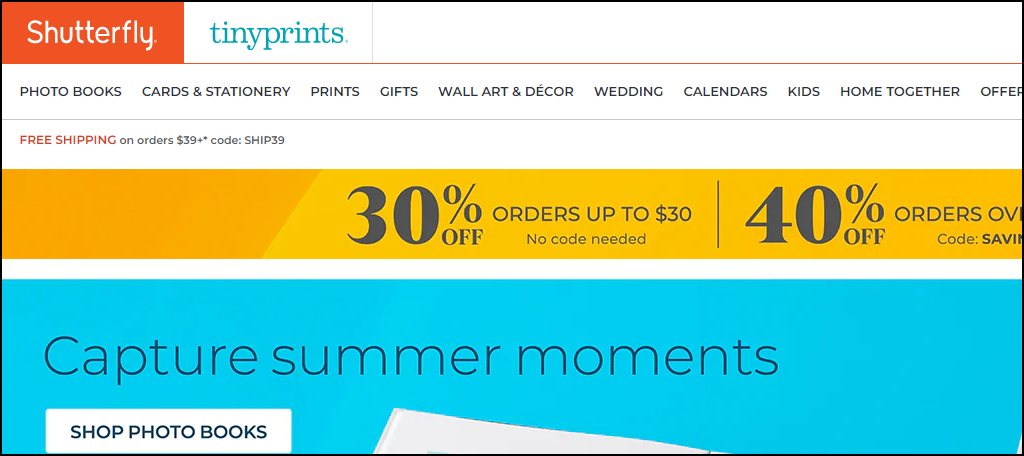 Shutterfly is one of the more popular photo options available and has a host of features and printable surfaces to choose from. It uses very solid packaging, but not quite as good as some of the others on this list. Itis also the only service on this list that lets you print words on the back of photos.
You can print photos onto a variety of objects which makes it perfect as a gift service. These include iPhone cases, calendars, jigsaw puzzles, blankets, canvas, magnets, and so much more. If you are looking to turn a family photo into a present, this is the place to do it.
You can do all of this from the comfort of your phone. It is available on both android and IOS and allows you to print any photo on your phone. You can even add them to any of the mentioned gift items. This is perfect for mobile photographers.
Benefits of Shutterfly
The best selection of gift items
Lets you add text on the back of photos
Online gallery sharing for PC users
Above-average delivery packages
Very reasonable prices
Shutterfly Pricing
Standard 4×6 photos: $0.18
A great selection of iPhone covers starting at $44.99
Canvas printing starting at $69.98
Be On the Lookout for Deals
Photo printing is a pretty competitive business and as such, there are often deals you can take advantage of that can save you quite a bit. In some cases more expensive services may end up being cheaper if the right deal is active, so make sure to do some shopping.
You might also find discount codes and coupons available online for many photo printing services. These are great to pair with big orders.
So be on the lookout for deals!
Photos Are Great Memories
Photos are a great way to capture your happiest moments with friends and family. As such, photo printing is very popular and there are a lot of options to choose from. And as a result, it is no easy task to find the best place to print photos.
There are many factors to consider when including quality, price, shipping, materials used, and much more. You may find that a different printing service is better at a particular task after you use a few. It really does come down to what you are looking for.
If you take a lot of photos on your smartphone, I highly recommend using a service that includes a phone app. While you can upload the photo to other platforms, it is far more convenient to just do it from your phone. Many photo printing services also support images on social media, so make sure to give it a try.
What is are some of your favorite photo printing services? Do you prefer printing photos from your smartphone or computer?