Managing payroll is the most complex part of small business accounting, but also the most essential. For this reason, just about every business with a few employees utilizes some type of online payroll software to help simplify the process. Luckily, there is no shortage of small business payroll software to choose from.
Thus, I have assembled a list of the best online payroll software in 2022.
What is Online Payroll Software?
Online payroll software is a type of software or application that automates employee payments directly to bank accounts and tracks all records. Most software supports paying employees (W2 workers), wages by commission, contractors, and freelancers, which can get very complicated when trying to do this manually.
These types of software ensure that the proper amount of taxes are withheld, which helps you avoid hefty fines. And they can also easily manage overtime and holiday hour calculations.
For businesses with international workers, many payroll software work with international settings. This helps you ensure you are not breaking your home or foreign country's laws in regards to employment.
And of course, payroll software can save you a lot of time.
Best Online Payroll Software for Small Business
1. Gusto
When it comes to the needs of small businesses, Gusto stands above the competition. It does this by providing a full-service payroll experience that's easy to use and at an affordable price point for small businesses of any size.
And it even offers a full contractor plan for businesses that exclusively use them.
One way this tool goes above a lot of other payroll software is that it doesn't just calculate the taxes to withhold, it actually files them with your government.
That's right. Local, state, and federal taxes are handled in one fell swoop and filed. As a result, your tax season just got a lot simpler.
Gusto goes far above just a simple payroll tool. It also has other features like insurance tools to help get coverage for employees, HR tools, time tracking, hiring and onboarding tools, and so much more.
It's a really smart purchase for businesses of any size.
Benefits of Gusto
Most of the payroll process can be automated to reduce your workload
Contractors and freelancers are fully supported at no extra cost
The view from the employee's side of things is excellent
Price of Gusto
Basic starts at $19 per month plus $6 per person
Core starts at $39 per month plus $6 per person
Complete starts at $39 per month plus $12 per person
Concierge starts at $149 per month plus $12 per person
Contractor plan available
2. Paychex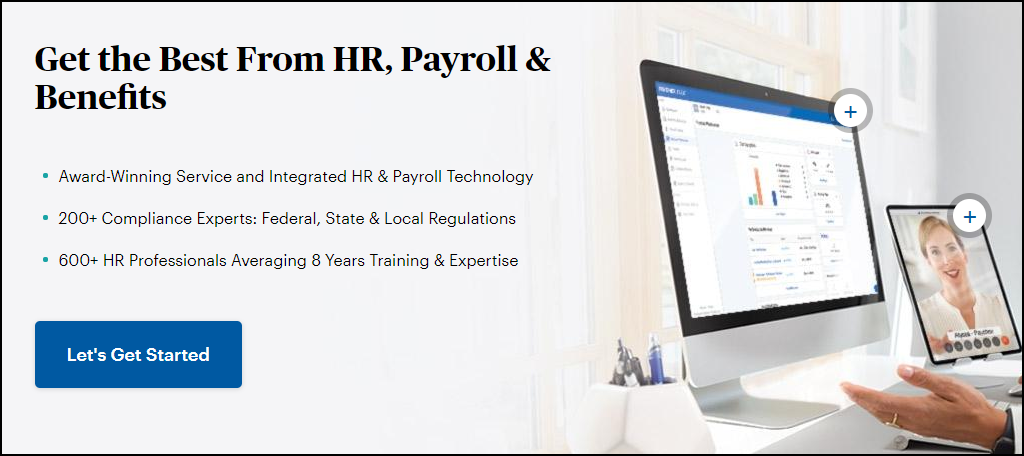 Paychex is one of the biggest names in payroll software and it does an excellent job at providing its services to small businesses. The services involve access to their cloud-based payroll software and some plans even include HR software tools.
Thus, Paychex is more than just a payroll platform.
However, by far, the best part about Paychex is its mobile app. For once, it's not just the employee who gets to enjoy a sleek mobile app, but the employers as well. You can manage payroll elements on the go with an easy-to-use app available on both Android and IOS.
It's simply the best payroll app for employers.
The other major advantage of using Paychex is its incredible reporting capability. This tool can generate over 160 types of reports to help you analyze your business. However, these are in-depth reporting options only available on the most expensive plans.
Benefits of Paychex
Automatic payroll tax filing
Plans are adjustable to meet the needs of small businesses regardless of their size
More than just a payroll tool
Price of Paychex
Paychex Go starts at $59.99 per month plus $4 per person
All other plans require you to contact Paychex for a quote
3. OnPay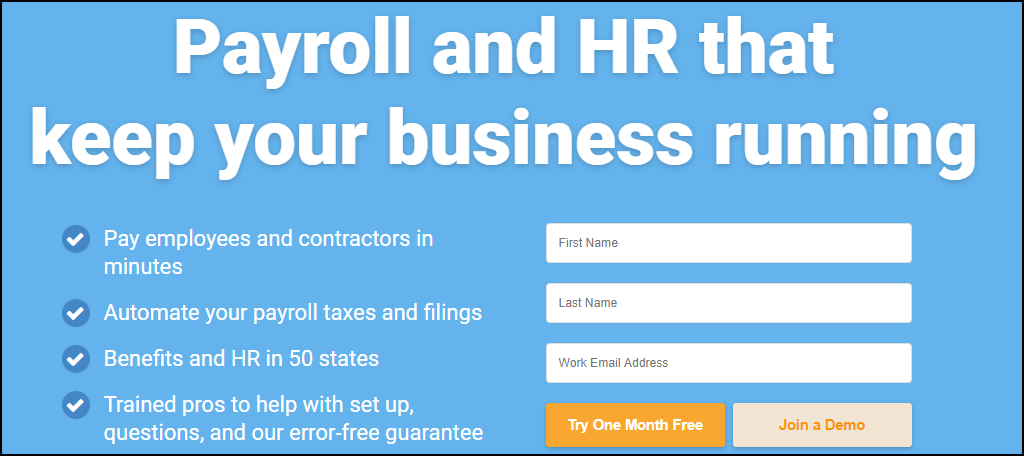 OnPay has been improving its services over the years, and it has really become one of the best for small businesses. The software is flexible, powerful, fast, and the plans are simple and affordable for small businesses of all sizes.
And it works in all 50 states, to boot.
One of the biggest additions, which you might notice a trend on this list, is the inclusion of HR software. These tools are now built-in and available for customer use at no extra charge. Some of the features include automatic PTO management, org charts, and many other useful tools.
This online payroll software is also quite easy to use. The UI has been simplified and divided into 8 simple sections that make it perfect for beginners. And if at any point you need assistance, they have an excellent FAQ to take advantage of, or you can contact their talented support team.
Benefits of OnPay
No limit on the number of employees
This tool offer support for 1099 workers at no additional charge
Adding benefits is very simple
Price of OnPay
There is a 1-month free trial available
The plan begins at $36 per month plus $4 per person
4. Square Payroll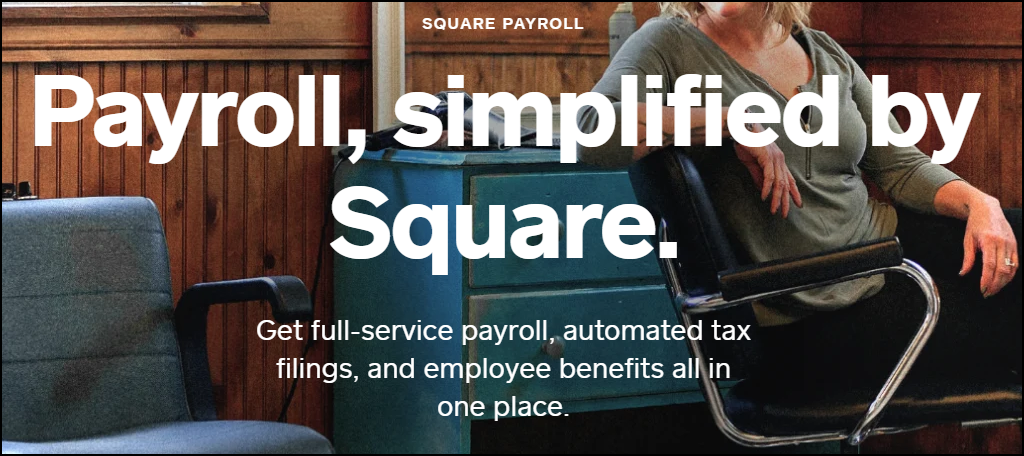 For many new businesses, hiring employees might be too expensive, and instead, you may opt for hiring contractors or freelance workers that use the 1099 form. For those small businesses, Square Payroll is one of the best options available.
And that's because it has the cheapest plan available for contract workers.
Instead of traditional plans charging a base fee, the contractor plan does not. Instead, you only pay on a person-basis. That said, it also has plans available for traditional employees that support contractors as well, meaning there is something for everyone.
Some of the other key features to consider include seamless integration with other Square products and services, automatic tax filing for both quarterly and annual reports, mobile-app support, and import timecards to simplify the process to name a few of the features.
Benefits of Square Payroll
Talk to live support whenever necessary
No limit on the number of employees or contractors
Manage benefits for all employees
Price of Square Payroll
The Contractor plan costs $5 per person with no base fee
The Employee & Contractor plan starts at $29 per month plus $5 per person
5. Intuit QuickBooks Payroll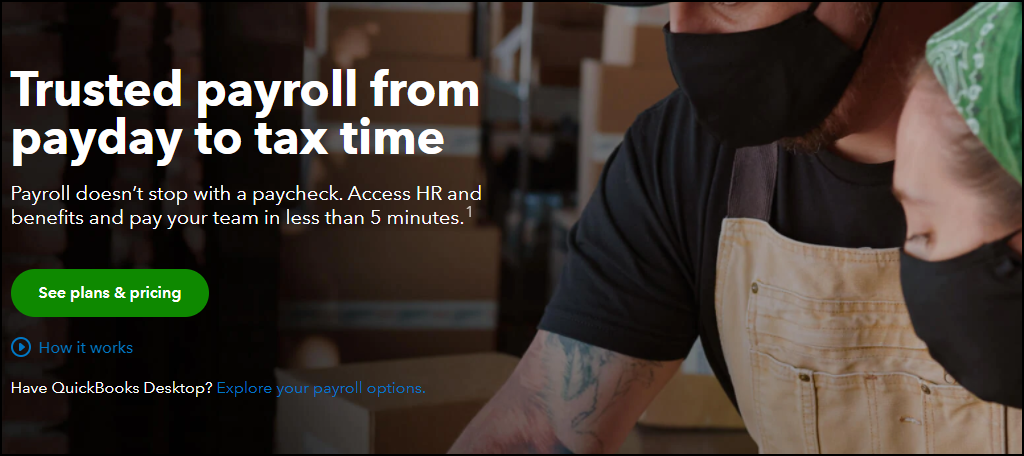 Intuit is one of the most recognizable names when it comes to taxes and small business help. Thus, it shouldn't be a surprise that they have their own payroll tool, Intuit QuickBooks Payroll. And of course, you can expect it to fully integrate with other Intuit software.
If you already use QuickBooks, using the payroll extension is a no brainer.
After all, it offers customers a full payroll tool that can fully automate the entire process after some setup. On top of this, you get up to $25,000 in tax penalty protection…talk about peace of mind. And there are a variety of other features to benefit from.
One of the best parts about this online payroll software is the integration aspect. No other payroll tool comes close to integrating payroll software and accounting books. And you can even add other services like HR and seamlessly upload tax filing to TurboTax, another member of the Intuit family.
Benefits of Intuit QuickBooks Payroll
The UI is very easy to navigate, which makes it perfect for beginners
Support available to ensure setup is quick and easy
Use the mobile app to see a quick view of your account
Price of Intuit QuickBooks Payroll
Core starts at $45 per month plus $4 per person
Premium starts at $75 per month plus $8 per person
Elite starts at $125 per month plus $10 per person
6. SurePayroll
SurePayroll is another amazing piece of software for payroll, and it has been around for over 20 years. Over the years, it has been able to refine its product and make it accessible to small businesses.
And it is currently offering a two-month free trial!
Some of the main features include calculating 401k, workers comp, handling health insurance benefits, monitoring pre-employment screening, the ability to run the payroll on the go by using the mobile app, and access to live support 7 days a week.
One unique aspect of this tool is the focus on nannies. Did you know that if you hire a nanny, you are technically a business? According to the IRS, if you pay your nanny over $2300 a year, you need to file payroll taxes. This software can fill that very specific niche.
Benefits of SurePayroll
Setup is quick and easy
The payroll process can be automated
HR options are available
Price of SurePayroll
SurePayroll does not make its pricing public. You must contact them for a quote.
7. Zenefits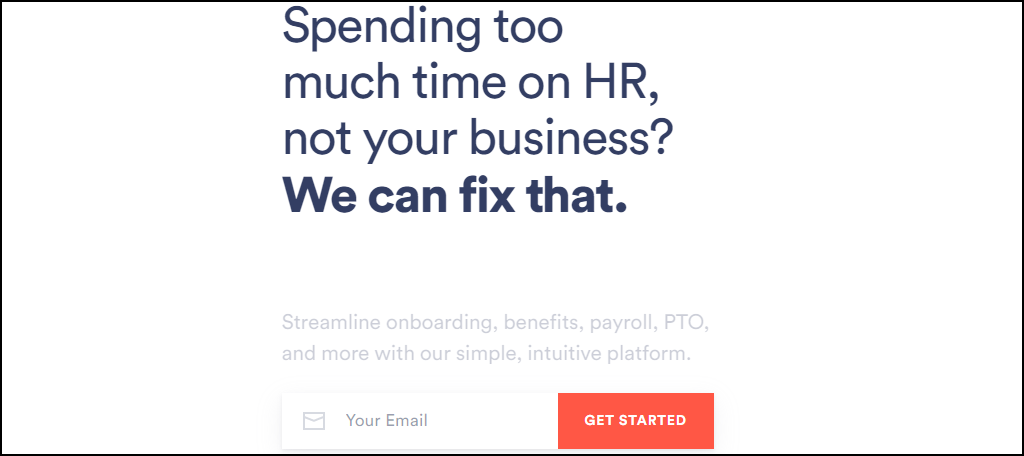 Zenefits is a streamlined payroll software for small businesses that has one of the best designs out there. And it is one of the most affordable options to pick when looking for a full payroll package at just $10 a month.
That's right, not only will it save you a lot of time, but it will save you a lot of money.
One of the biggest advantages of choosing Zenefits is that it integrates with so many options. Some of them include Asana, G Suite, Salesforce, Slack, Zoom, Greenhouse, Intuit QuickBooks, and many more business-related tools. This means it can fit into almost any business.
It's also no slouch when it comes to payroll features. A few of the major ones include direct deposits, tips reporting, allow employees to access their account even after exiting the company, create a tax liability report, and, of course, automatic tax filing for both state and federal levels.
Benefits of Zenefits
Supports contractor payments at no extra cost
Preview pay before approving them to avoid mistakes
View the cost of labor on a position basis
Price of Zenefits
Essentials starts at $10 per month per employee
Growth starts at $18 per month per employee
Zen starts at $27 per month per employee
How Soon Should Businesses Adopt Online Payroll Software?
Day 1.
Seriously, even if you only have one employee under you, the penalties for a simple mistake can cost you dearly. Did you know that 40% of small businesses make a mistake when it comes to payroll and the average cost of them is over $800?
And these are just simple mistakes. A major one can cripple a business.
You might not even have any employees, but you might still want to consider payroll software. Did you know it's not that simple to pay yourself as a small business owner? It's just as difficult, or even more difficult in some cases, to pay yourself than paying your employees.
Don't Waste Time
Businesses that do not utilize payroll software spend between 6 and 10 hours dealing with payroll calculations a month. And the more employees you have, the longer it takes. This is precious time that can be spent managing other parts of your business.
One thing that every business owner quickly realizes is that it takes a lot of time to manage a business.
Payroll software is one of many types of software that can shave hours off of your work schedule. You may want to consider others like HR software, tax software, and many others. Utilize software to make your life easier and save time.
Which payroll software does your small business use?