It may be a great year for learning a new language or increasing your fluency in another. If you've got some time on your hands and you're looking for language-learning software, we've got you covered. Don't invest in any language programs until you read this guide!
There are a wide variety of approaches when it comes to online or software-based language learning. They vary in the number of languages they teach and the cost of the courses. Some programs or services go as far as offering tutoring from live people or live-streamed classes.
In this article, we'll take a look at the best programs you can use to learn a language. We'll detail features and costs so you can get started learning a new language in the comfort of your home.
What Is Language Learning Software?
Language learning software is programs or online language courses that provide self-guided or self-study methods of language acquisition. Unlike traditional teacher/student instruction or book study, language software allows someone to learn at their own pace. It also uses audio and/or video to let the student hear proper pronunciation and inflection.
Here are the language learning software and services covered in this article:
The Best Language Learning Software List
We're looking at these language programs from an English-speaking point of view. So if we say a service offers 12 languages, that means 12 languages other than English (which they probably teach as well).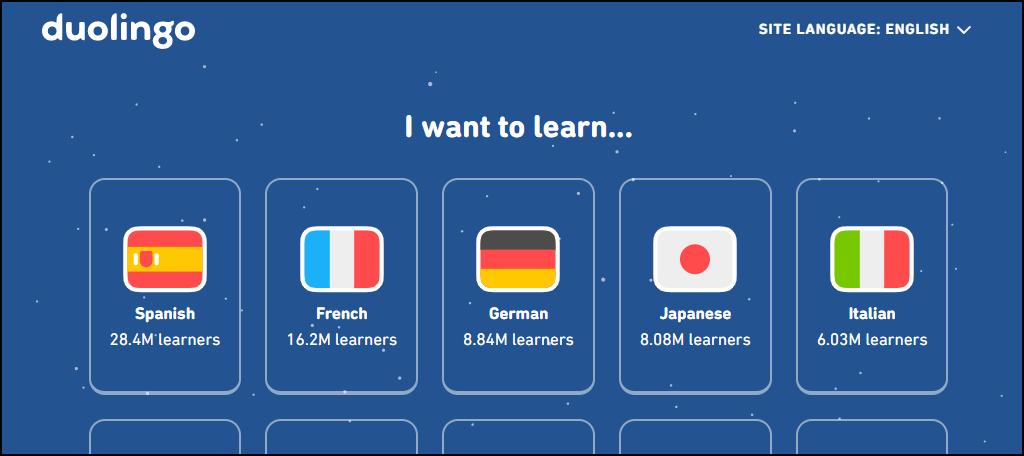 We'll kick off this list with Duolingo, because who doesn't like free stuff? Duolingo will teach you 37 languages for free (if you don't count Klingon, it's 36). It makes clever use of gamification to keep you coming back to lessons.
Other apps claim to be free, then require paid subscriptions for essential features. Duolingo does offer a paid premium (ad-free) service, but the free service doesn't block important features.
If you benefit from the program and find it useful, pay for a few months of the premium service. It's a good way to show your appreciation (and contributions help keep free things free).
Key Benefits of Using Duolingo
Gamified learning to maintain interest over time.
Learn through stories (Duolingo Podcast and Duolingo Stories).
Large, active online community.
Duolingo Pricing
Free!
$6.99 per month for an ad-free experience, as well as offline courses and progress tracking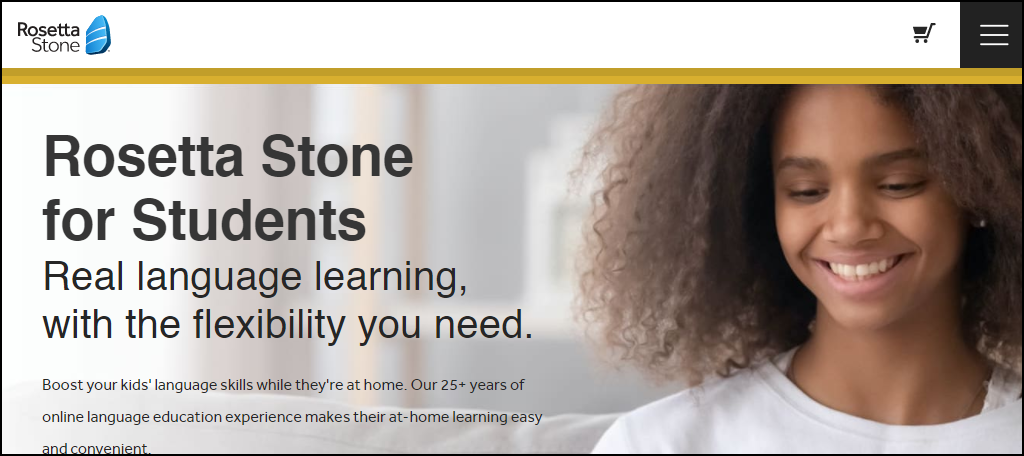 Is Rosetta Stone the best language learning software? Many online reviews would say 'no.' But there are a couple of things about Rosetta Stone that are unique and helpful. The lack of grammar context, for example. It sounds like a bad thing, but it's actually a good thing.
They have courses for 23 languages, which is right around the average where language learning programs are concerned. But their lifetime plan ($199 to learn every language they offer) is the best bargain anywhere for a language junkie.
The actual Rosetta Stone that the software was named after was quite a find. Before it was uncovered in 1799, no one could decipher Egyptian hieroglyphics. But the stone had a Greek translation of an Egyptian decree. So people used the Greek that they knew to read the hieroglyphics that they didn't know. Pretty cool.
Key Benefits of Using Rosetta Stone
TruAccent™ speech recognition technology.
The use of conditional sentence structure and grammar makes for more intuitive and natural speech.
Rosetta Stone Pricing
$35.97 for three months, one language
$169 for one year, unlimited languages
$199 lifetime, unlimited languages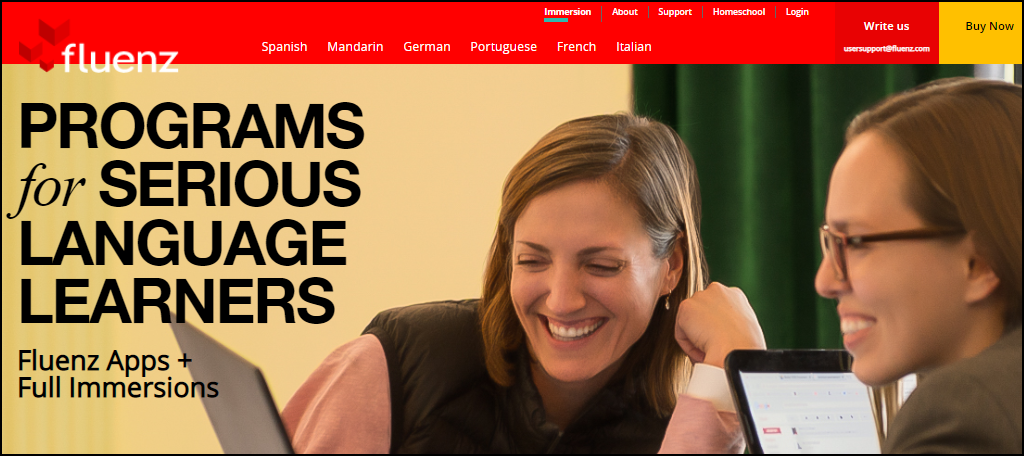 One of the common criticisms leveled at Rosetta Stone is its lack of explanations. That's not a complaint you'll ever hear about Fluenze. It offers courses for seven languages, and the thoroughness with which everything is explained is impressive.
Where Duolingo has made gamification a cornerstone of their method, Fluenze takes a more staid, academic approach. It can feel slow for those used to a fast-paced app like Duolingo. But if slow is your thing, Fluenze may be the best program to learn a language.
Key Benefits of Using Fluenze
Comprehensive and thorough (for most of their languages – Mandarin may be an exception).
Video tutorials.
A slower pace for those who prefer to work that way.
Fluenze Pricing
Prices are different for each language, and the pricing structure is…odd. But as an example, here is the pricing for the French course:
Level 1 $187
Level 2 $187
Levels 1 and 2 $258
Level 1, 2, and 3 $308
Level 3, 4, and 5 $320
All levels: 1, 2, 3, 4, and 5 $378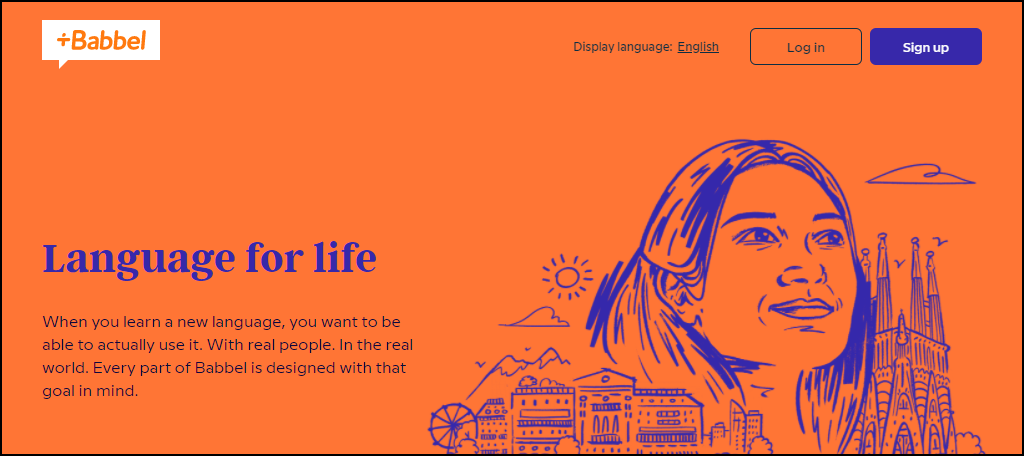 Babbel offers 13 languages and has a reputation for having some of the more difficult language learning software courses. It's also one of the most popular language courses, so many people must appreciate the approach.
It's very user-friendly, and the lessons are broken up into digestible 15-minute chunks. You can learn at your own pace, but advanced students may feel like it doesn't always go far enough. That being said, Babbel is among the more affordable options.
Like Rosetta Stone, Babbel takes its name from language history. Or biblical history, anyway. The Tower of Babel represents the move from one common language to the many languages we now use. Whether that's historically accurate is up for debate, but it's a good story. 😉
Key Benefits of Using Babbel
You'll get a good foundation of the basics.
Offline learning is convenient.
The quiz-style approach is familiar and effective.
Babbel Pricing
$13.95 per month
$29.85 for three months
$50.70 for six months
$83.40 for one year
Pimsleur is run by publishing company Simon & Schuster and has courses for 50 languages. It can be one of the pricier services unless you're a quick learner.
Pimsleur is based on pre-internet learning methods, so it can seem a little old fashioned compared to game-y apps. But the old methods worked for hundreds of years, so they can't be discounted.
Key Benefits of Using Pimsleur
It's listening-based, so you can learn while doing other things.
"Suggested context" helps teach real-world grammar.
Repeats previously learned material to reinforce a comprehensive grasp of the basics.
Pimsleur Pricing
Pricing varies depending on the language, but as an example, the interactive French course is $19.95 per month. As a general rule of thumb, the pricing is:
$14.95 per month for the audio-only version.
$19.95 per month for Pimsleur Premium, which includes interactive exercises.
Some languages are available for an annual fee of $149.95.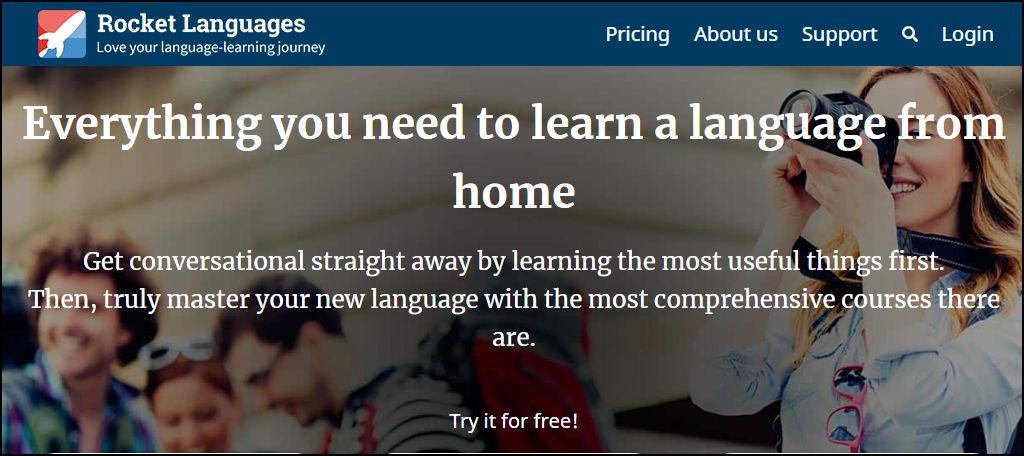 Rocket Languages only offers 12 languages, which is on the low side. But the courses they do offer are comprehensive. The dialogues used are based more on real-world interactions and less on strictly academic rules.
There is an element of gamification built in to make the lessons engaging. The advanced lessons take you further than some other programs, so for anyone craving a deep dive, Rocket Languages delivers.
Key Benefits of Using Rocket Languages
Good voice recognition.
Level testing to improve retention.
Unique "flashcard" app.
"Lifetime" prices let you know upfront what your total costs will be.
Rocket Languages Pricing
Prices are different for each language. As an example, here is the pricing for the Spanish course:
Level 1 (beginner) $99.95 lifetime
Levels 1, 2 (beginner and advanced) $249.90 lifetime
Levels 1, 2, 3 (beginner, advanced, and more advanced) $259.90 lifetime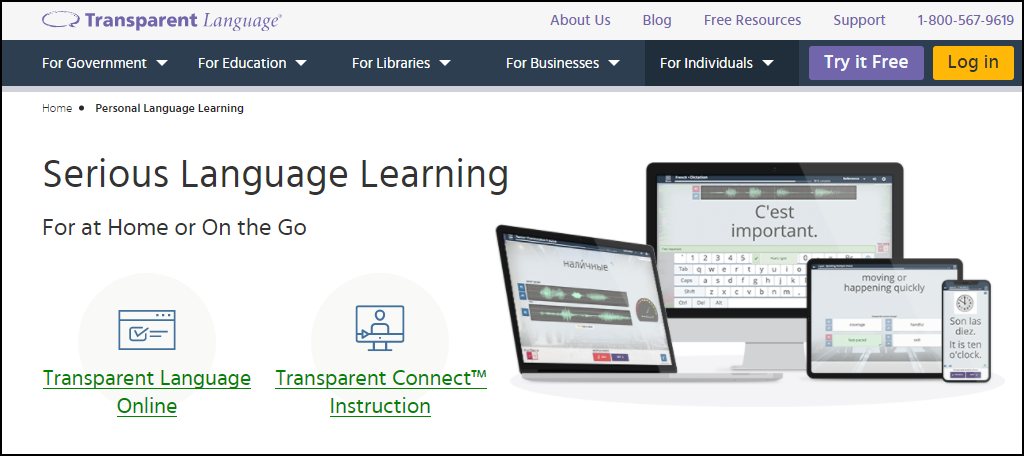 Transparent Language Online offers the most comprehensive collection of online language courses, with over 100 languages represented.
Do you want to learn Dakota, Tajiki, Pashto, Denesuline, or Icelandic? Don't go to the big-name language courses. They can't help you. But Transparent Language Online can.
It's not one of the big names in language learning software, but the sheer number of languages offered is impressive. While some of the more obscure languages may not be extremely comprehensive, it's great for the basics.
The only alternative for many of the languages would be in-person training, so the lack of advanced courses is excusable.
Key Benefits of Using Transparent Language Online
Learn languages you can't learn anywhere else.
Different activities to work your way through keeps things fresh.
Each course contains a minimum of 2,300 words and phrases.
Transparent Language Online Pricing
$24.95 per month (single language)
$149.95 per year (single language)
$49.95 per month (all languages)
$249.95 per year (all languages)
Language Learning Software Can Give You a Leg Up
Any of these programs can give you a solid base in a new language. Some of them can take you further than others, but they should all be seen as stepping stones.
If you've ever tried to learn a new language, you know that books, apps, and personal study can take you a long way. But to become conversant or fluent, you'll eventually have to talk to other people speaking the language. That's why immersion courses are so effective.
But language software serves a valuable purpose by giving you a foundation in a new language at your own pace and for a reasonable price. You can access the courses anywhere, on any schedule.
And with the current restrictions placed on face to face meetings, online language software may be your best bet.
And any of the programs mentioned here make great supplements to in-person training. I say any of them because it's difficult to name any one of them the "best."
Learning is a personal thing, and we all respond to different methods. What works for you may leave me confused and discouraged. The only way to know if a language program is a good fit for you is to try it.
The good news is most of these programs offer a free trial period. You can try them on for size and see which one works best for you. But as you may have noticed, the pricing can be tricky. When you decide on a program make sure to look closely at the pricing options.
The option being featured may be good for the company, but not so good for you.
That applies to a lot of services, not just online language courses. I don't want to single these companies out. They're all fine, reputable firms. But the more complicated a service's pricing structure is, the more you have to investigate to make sure you're buying a plan that meets your needs (and no more).
Learning Another Language Is Not Easy!
When we're kids, we learn by listening. And over time, we absorb the nuances of the language spoken around us. But for those of us who haven't been kids for a long time, new languages are challenging.
When you have a job and a family, it's not easy to find the time necessary to learn new words, grammar rules, and the proper contexts to use them in. That's where programs, like those we've talked about here, can make learning a new language possible.
They allow you to continue to study in shorter blocks when free time is available.
But persistence is important. And apps like Duolingo and others that incorporate gamification do a good job of encouraging us to maintain a schedule. For instance, Duolingo will show you your "streak," the number of consecutive days you've used the app.
That simple positive reinforcement can help you stick to your course, even when time is tight.
We've given you the lowdown on seven of the best programs, now it's up to you to take the next step.
Vejo você do outro lado!