Encryption is a very essential and important part of any plan that is put in place for digital security and privacy. As such there's a wide selection of encryption software you can choose from.
If you are serious about protecting your data, then you need to know about the best encryption software available today.
What is Encryption Software?
Encryption refers to the means of sending information so it can't be read by third parties. We live in the computer age, so this is very important. To break it down even further, encryption runs your data through a very complex algorithm on both ends: sending and receiving.
You accomplish this by using the best encryption software out there. This software uses a very long string of numbers that operate as a key to lock and unlock data. You see, when you encrypt a file, the information is scrambled by highly complex math using that key.
The information sent can't be read again until it has been decrypted by the same device, or by another device that also has the key.
We use encryption programs to send important data that needs a high level of security to protect it. We can also use it to keep individual files, or an entire disk, safe on a device that might fall into the wrong hands or get stolen.
There are even a lot of free encryption software programs available to use. They also provide excellent security, as it will require hackers to decode and unravel a very complex web of numbers, instead of just trying to figure out a string of 8-24 characters.
It may seem like encryption software is hard to use, but truth be told, it is actually very easy. Let's take a look at some of the best encryption software available today.
Best Encryption Software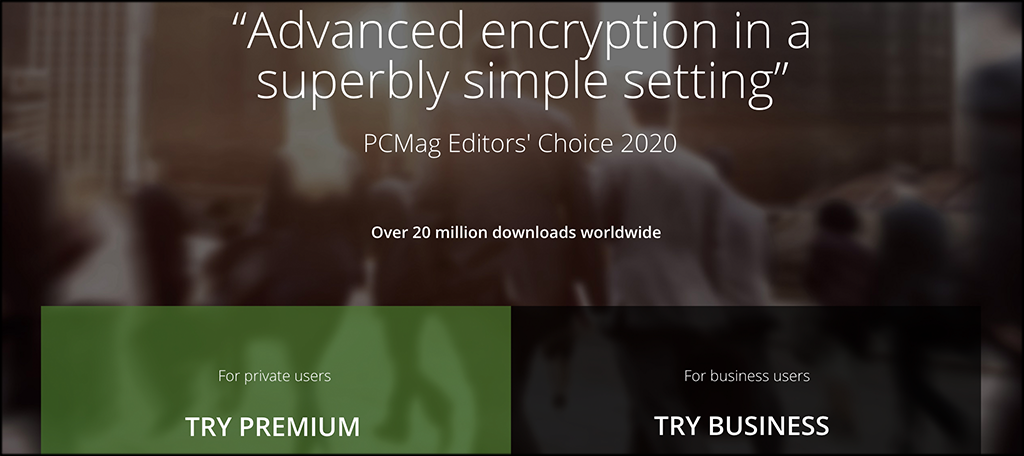 AxCrypt was designed specifically for individuals and small teams within businesses. The product is reliable and very powerful. It gives you all the tools you need to secure and protect files.
Files are protected with either 128-bit or 256-bit AES encryption, which should stop any intruders fairly easily. They also provide cloud storage capabilities as part of their service.
This software will automatically protect files saved on services such as Google Drive and Dropbox. This is a nice bonus, as files not on your machine are also protected with AxCrypt.
It is fully multilingual and already works with over a dozen different languages, with more in the pipeline.
Finally, there is also passport management, as well as a very capable app that you can manage all your files. There is a free encryption software version of AxCrypt, but it is pretty limited.
However, as far as overall paid services go, you will be hard-pressed to find anything better.
Pros
Strong encryption
Free version available
Very easy to use
Edit encrypted files
Secure sharing using public-key cryptography
Secure file deletion
Online password storage
Cons
Mostly mobile
Risky if you don't tighten up the security of your PC locally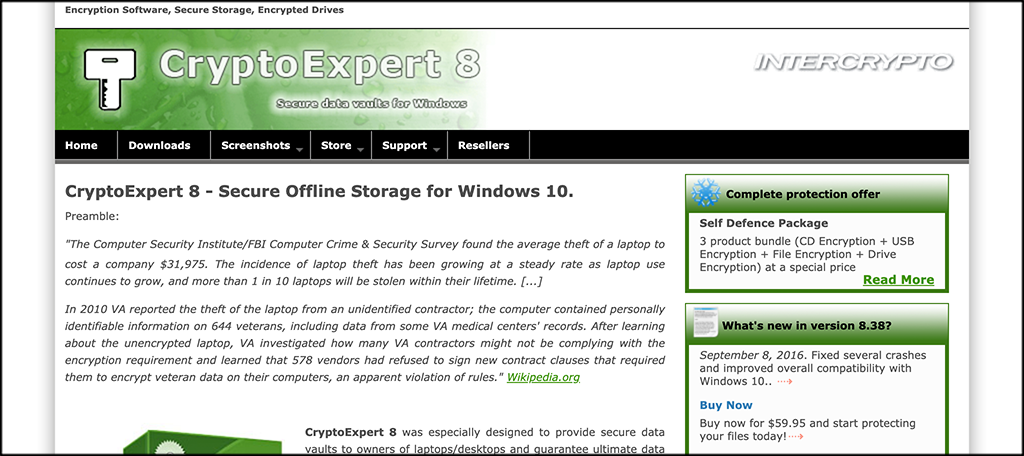 For Windows desktop software security, you won't find better encryption software that CryptoExpert. It offers secure vaults for all of your data and ensures that it stays protected from all potential breaches.
CryptoExpert does provide perhaps the most powerful encryption of all the software on this list. It provides fast, on-the-fly protection that is highly sought after. The system will allow you to backup a pretty wide range of files, including certificates, Word, Excel and PowerPoint files, multimedia files, and email databases.
Perhaps the most appealing thing about CryptoExpert is that it is able to secure vaults of any size. It uses Blowfish, Cast, 3DES, and AES-256 encryption algorithms.
Again, for Windows, this should definitely be one you look at. It works with 32-bit and 64-bit versions of Windows 7, 8, and 10.
Pros
Multiple encryption methods
Powerful encryption
Easy to use
Two-factor authentication
Creates secure storage for sensitive files
Cons
Lacks secure deletions
Might get some odd error messages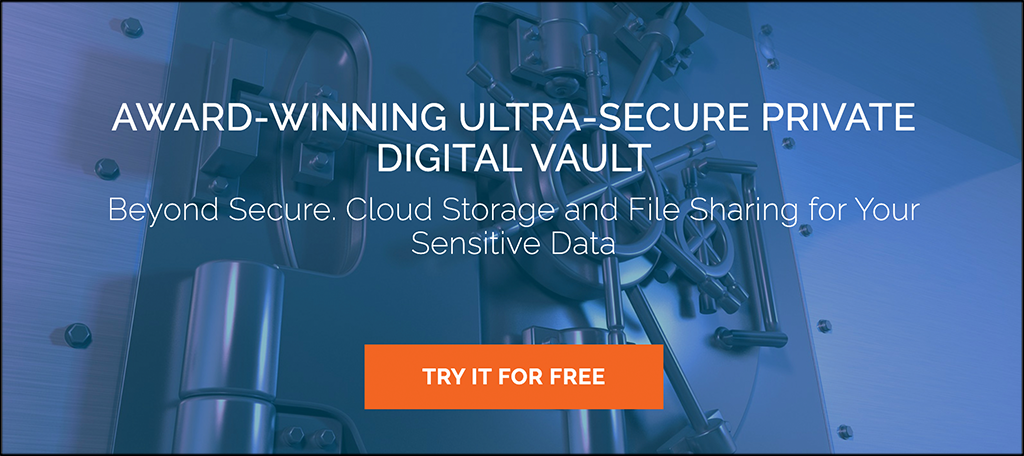 Coming in third on this list of the best encryption software available is CertainSafe. They provide highly effective, cloud-based encryption that will help you mitigate all aspects of risk. They are also compliant with all industry regulations.
Store documents, share dockets, private messages, photos, videos, and other files. All of this without any worry of exposing anything to any third-party sources. CertainSafe also allows you to collaborate and communicate with others through their system.
Yes, every bit of correspondence is fully encrypted.
Another great thing about CertainSafe is they add automated security for business databases and applications. This means you don't have to always perform all tasks manually.
Pros
Completely cloud-based
Secure file sharing
Free trial available
Retains past file versions
Cons
Cloud-based isn't for everyone
Somewhat expensive
Forget password or security answers and lose all access
No office integration available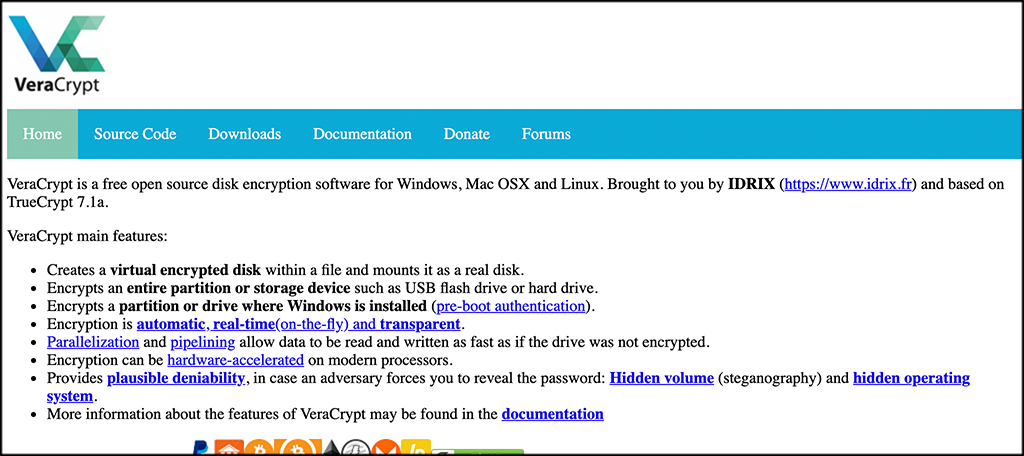 If you are looking for top-of-the-line free encryption software, then VeraCrypt is definitely one you will want to check out. They provide a high-end service of free encryption for everyone. They have one of the most popular security tools around, as it provides you with enterprise-grade encryption for important data.
VeraCrypt has a basic version that is totally free and very solid. It is very easy to use and understand as well. All it really does is add encrypted passwords to your data and partitions.
Give the software a few details about your data, like volume size and location, and let it do the rest.
It is fully immune to brute-force attacks, so there is no need to worry about hackers decrypting your passwords and other sensitive data. Give it a look if you are on a tight budget.
Pros
Basic version is completely free
Immune to brute-force attacks
Very effective encryption
Easy to use once downloaded
Cons
Selective approach
Initial download is a little confusing
Provided by NewSoftwares, Folder Lock provides bullet-proof data encryption services for individuals. Furthermore, Folder Lock is an excellent choice if you are trying to add encryption to your mobile devices.
This service will allow you to add encryption to any device that stores critical data.
The app will protect your personal files, photos, videos, contacts, wallet cards, notes, and audio recordings stored in your handset. It also provides you with some other great security features as well.
Not only do you get access to the encryption software, but you will also have the ability to set a decoy password, hacker deterrents, log unauthorized login attempts, back up all your passwords, and get notified on potential brute-force attacks.
As you can see, for mobile protection and tons of security extras, Folder Lock is a must-see. Give it a peek and see if it is right for you.
Pros
Encrypted lockers that protect files and folders
Secure online backup
You can lock files and folders and make them invisible
File shredding
Self-decrypting files
Tons of bonus security features
Cons
Product serial number is the master password by default
Locked files are not encrypted
Secure backup requires a separate subscription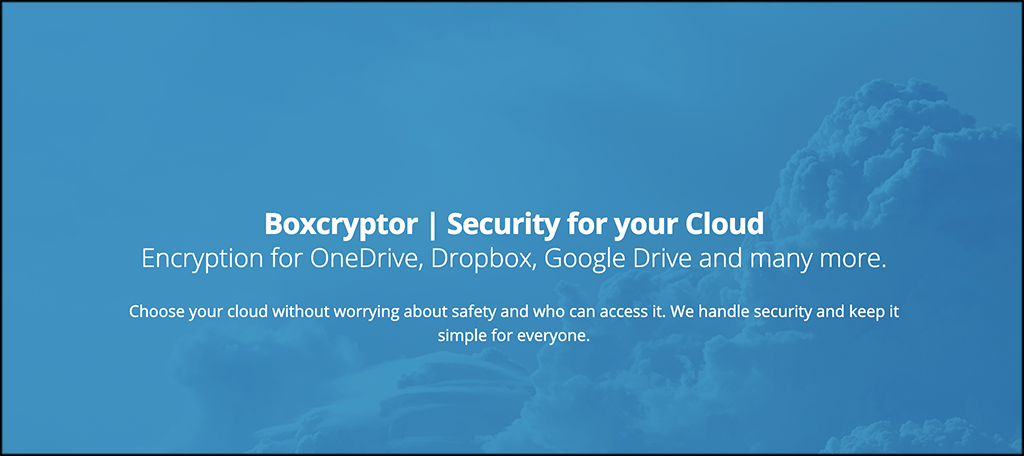 Boxcryptor is another one of the best encryption software available today. It provides end-to-end encryption for cloud storage services. If you are an individual or have a business that mainly uses cloud storage rather than on-premise services, then Boxcryptor should be a service that you take a long look at.
What Boxcryptor does that other encryption software services don't do is they provide cloud-focused encryption software for 30 of the most popular cloud services around. These include services like Dropbox, Google Drive, and Microsoft OneDrive.
They do this by using a combination of AES 256-bit encryption and RSA encryption. The main point of Boxcryptor is that they want to make it as easy as possible for you to allow encryption across multiple services and mobile devices.
Wondering about how passwords, file keys, and password keys work? They are all kept on user devices at the same time. Business user keys, group keys, and company keys are encrypted and stored on the Boxcryptor server.
Boxcryptor also provides a limited free option that you can use on two devices. Give it a look if you are interested in cloud storage protection services.
Pros
Cloud-focused encryption
Cover 30 of the most popular cloud services
Passwords and keys kept on user devices
Free option available
AES 256-bit encryption and RSA encryption
Cons
Free option only good on two devices
Zero-knowledge provider
Not suitable for on-premise services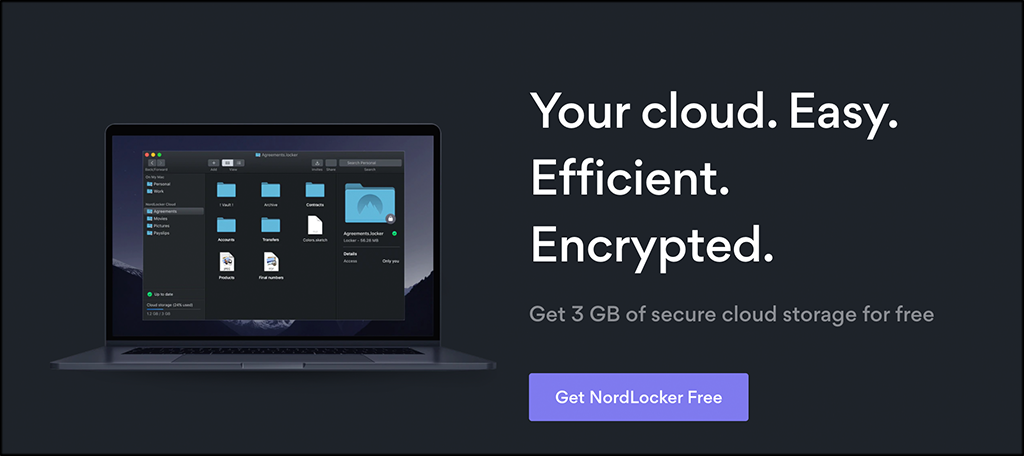 You may have heard this name for other services. They are also the makers of the popular NordVPN Virtual Private Network. Their encryption tool is easy to use. While it lacks a few of the bells and whistles of some other encryption software services on this list, it is still one of the best out there.
NordLocker is a file encryption app for macOS and Windows. They use the two most powerful forms of encryption that are available today, AES-256 and 4096-bit RSA. The product is easy to use and has a very intuitive interface.
The app works across multiple platforms and protects information that is stored on your device or with any cloud service.
Use a drag-and-drop feature that is built-in to add or remove files from an encrypted NordLocker folder. Definitely give them a look, as Nord has long been a trusted name in the security field.
Pros
Easy to use
Users can securely share encrypted files
Free edition available with capacity limits
Dropbox integration
Cons
No secure deletion of unencrypted files
Does not have two-factor authentication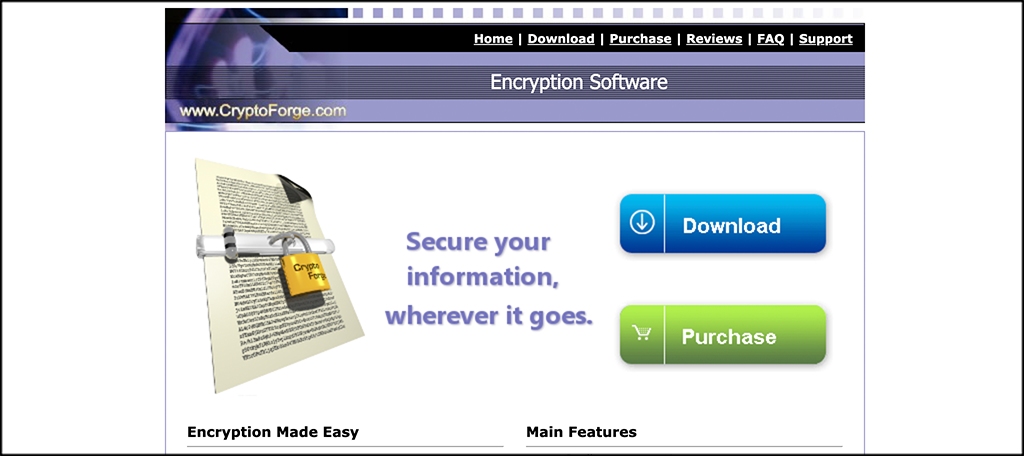 Another amazing piece of encryption software to consider is CryptoForge. Their website might not look like much, but they offer an excellent product that you should definitely take a look at.
CryptoForge offers a simple, context-menu-based approach to encryption and secure deletion. They also handle text-only encryption. They are a solid choice for keeping your files safe.
The product can be installed quickly and easily and offers a fairly straightforward interface that simply provides you with a settings dialogue. Features can be easily accessed through the context menu using the right-click option.
Give this encryption software a look and add it to your list of possibilities.
Pros
Ability to layer 1-4 encryption algorithms
Simple to use with a context-menu-based operation
Can keep passphrase in memory
Secure deletion
Text encryption
Filename encryption
Cons
Passphrase memory can be a security risk if you are careless
Fewer features than some of its competitors
Rounding out our list of the best encryption software available today is Advanced Encryption Package. This software was made for Windows 10 and 11, so Mac users will need to look elsewhere.
In terms of usability, it's rather simple. Users can create a password to access the file and choose which encryption algorithm to use. There are over 15 of them to pick from, so there are plenty of options.
Decryption is just as easy. Just right-click on a file, and select the Decrypt Here option. You'll need to enter the password and presto, you'll be able to access the file.
More advanced users can utilize the command line as well.
Pros
The interface is very simple and blends into Windows
Includes a password generator to help you make strong passwords
Grants the ability to encrypt the text you copy to a clipboard
Free to use
Cons
No Mac support
While the interface is simple, it lacks any form of style
Why You Need Encryption Software
Data breaches are commonplace in the world we live in today. While that isn't ideal, there are ways to protect yourself. Individuals and businesses must now educate themselves and learn how to employ encryption software to enhance and protect their important data.
The best encryption software can help protect information stored, received, and sent.
With the popularity of cloud storage becoming more and more prevalent, people don't even think twice about leaving their personal files out in the open. This carries a risk of your information being stolen.
This includes sensitive financial data and other personal details that could be used for identity theft.
Whether it is for personal or business use, encryption software will allow you to enjoy all the convenience of online correspondence and communication without having to worry about brute-force attacks, hackers, and general snoopers trying to see your private data.
Install An Encryption Software Today
Choosing the encryption software that is right for you does not have to be difficult. Just take your time and go over the pros, cons, and pricing of all the ones you are interested in. The list above gives you a great place to start. You can't go wrong using any of the encryption software programs on this list.
The one you choose will be based a lot on personal opinion, as well as what may be right for your business based on what you need. Either way, enjoy your journey.