When disaster strikes, who ya gonna call? Hopefully, you give your Disaster Recovery as a Service (DRaaS) a call. These solutions specialize in minimizing the impact of any disaster on your business.
In the past, these services have been for larger companies, but in today's modern world, even small to midsize businesses need help with recovering from data loss.
Thus, I will share with you some of the best disaster recovery as a service, or DRaaS, solutions on the market.
What is A Disaster Recovery Service?
Disaster recovery as a service (DRaaS) allows businesses to backup data and IT infrastructure in the cloud. Thus, when a disaster strikes, such as a hard drive failure, data corruption, files getting captured by ransomware, or any other event that could result in data loss, these files can be restored in an instant.
After all, in many cases, every second your website or business system is down, is money lost.
However, the definition of DRaaS has become murky over the years. Today, most disaster recovery solutions are simply backup services that offer a few extra features and can scale up to your business's needs.
Of course, the most important part of these services is actually how you recover.
In most cases, many services offer one-click recovery options for simple backups. More complex plans will allow you to recover individual elements at any time. Nonetheless, the fancier the service, the higher the price.
Thus, you should only pay for what you need.
The Best Disaster Recovery Service of 2023
1. Microsoft Azure Site Recovery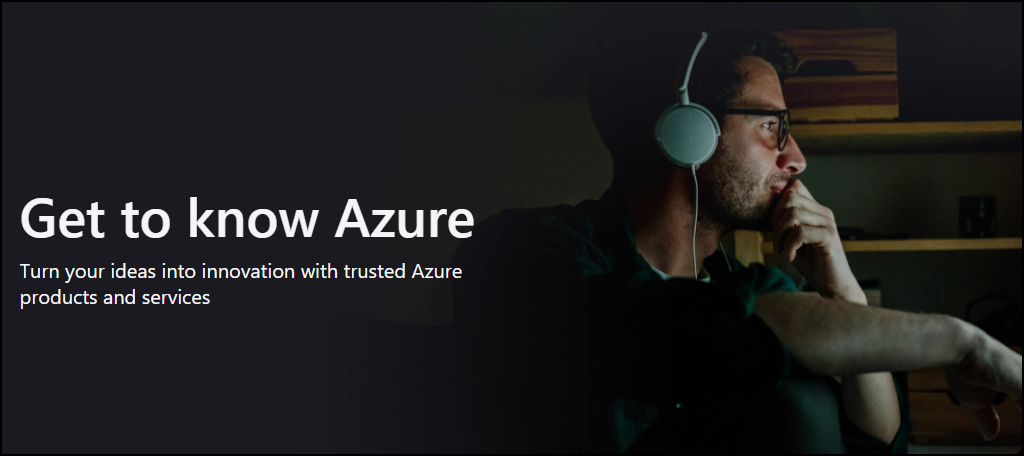 Without a doubt, Microsoft Azure Site Recovery is one of the best recovery services for websites. Microsoft's Azure servers are some of the best in the world, and having your data stored on them means you can rest easy every night.
And the service is surprisingly cheap for the tools and support you receive.
One of the key features you should take into consideration is that it supports backing up data not only on its top-of-the-line Azure servers, but can also store them on your own. While this might not mean much to a small business, mid and large businesses will rejoice.
Simple backup recovery services are easy to implement. However, for more complex disaster recovery services, it's not so simple. In fact, you're probably going to need an IT background to get full use out of all of the services included.
If your know what you're doing, you can recover within an hour.
Benefits of Microsoft Azure Site Recovery
Supports both physical and virtual machines
Perfect for businesses with a global presence and for those that only operate locally
No on-site equipment necessary
Price of Microsoft Azure Site Recovery
For Azure Site Recovery to customer-owned sites, the service starts at $16 per month per instance
For Azure Site Recovery to Azure, the service starts at $25 per month per instance
2. Acronis
Not all businesses have the same needs, and Acronis understands this. You can pick and choose the plan elements you need by selecting which add-ons are right for your business. Thus, you end up with a plan that can perfectly fit your business.
That said, this service was intended for large and mid-sized businesses. Picking out a lot of add-ons can cost thousands of dollars.
The plans are typically yearly, and the features really depend on the add-ons you choose. For instance, the Disaster Recovery Add-on allows you to instantly access critical workloads in the event of a disaster. This includes 150 GB of cloud storage and 750 running hours.
There are also options for small businesses like the Acronis small business backup add-on. This is a standard backup for simple data and file protection. Therefore, regardless of what kind of business or size, Acronis has a solution for you.
Benefits of Acronis
You can also use Acronis for cybersecurity and endpoint management
24-hour support is available to customers worldwide
Integrates with over 50 popular business tools like Microsoft 365
Price of Acronis
Acronis allows you to customize your plan by selecting add-ons to your account. Each add-on has its own price tag.
3. Carbonite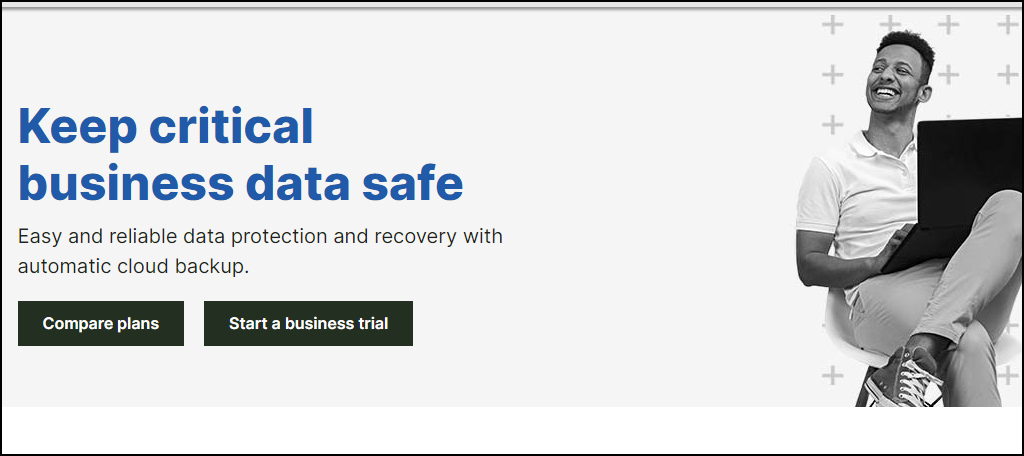 If you're looking for a backup solution for your small business, Carbonite is an excellent choice when disaster strikes. In most cases, a small business's data protection is simple, and as a result, they really only need a backup of their data.
And it lets you recover data in just a few clicks.
One of the biggest strengths of Carbonite is how easy it is to recover. In most cases, if a hard drive failed, the average small business owner may go into a slight panic. However, with Carbonite, you can restore your data in just a few clicks.
You can even restore individual files by exploring your backups. It is perfect for small businesses that need to store important files that may contain customer information. If you lose it, odds say you will never be able to get it back from that customer.
Benefits of Carbonite
All of the files are stored in the cloud and can be accessed 24/7
Works with both virtual machines and even virtual servers
Easily restore files if your business has been affected by ransomware
Price of Carbonite
Basic computer backup starts at $25 per month per computer
Advanced endpoint protection starts at $34 per month per computer
4. Quorum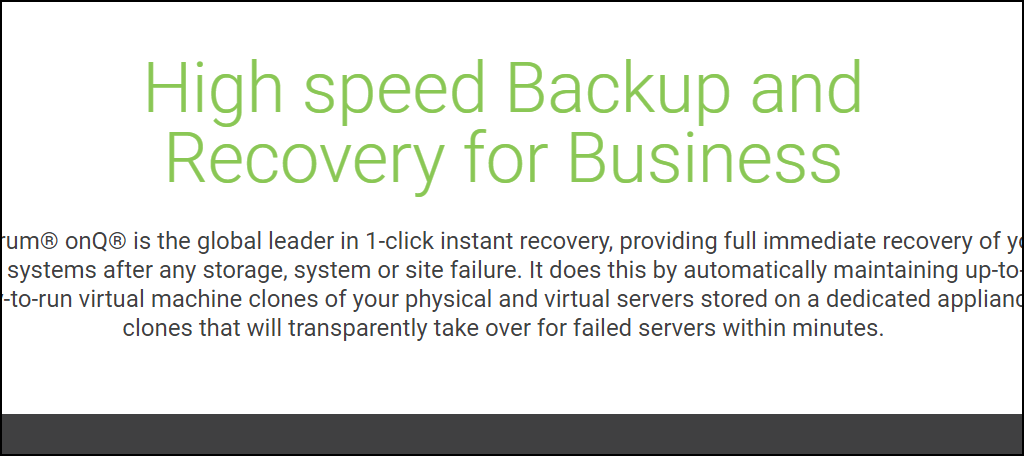 If something goes wrong, do you want to press one button to restore your data? If so, then look no further than Quorum. It's a comprehensive disaster recovery service that helps businesses of any size recover from a disaster.
It provides simple solutions for small businesses and complex solutions for larger ones.
Quorum can help you instantly recover from a disaster with the cloud backup actually being one of the last resorts.
It requires customers to have onsite equipment to clone data instantly from the server. If the original device fails, you can actually use the clone to keep working without interruption.
And the data is encrypted, thus you never have to worry about ransomware taking over your backups. If for some reason you do need the cloud-backup, it's super simple. In fact, it only takes one click to restore your files.
Benefits of Quorum
The service can scale to businesses of any size
Adding additional hardware to the on-site premise is as simple as starting the setup wizard
Sandbox environment allows you to test new patches and updates before implementing them
Price of Quorum
Quorum does not make its pricing public. Thus, you must contact them for a quote.
5. IBM DRaaS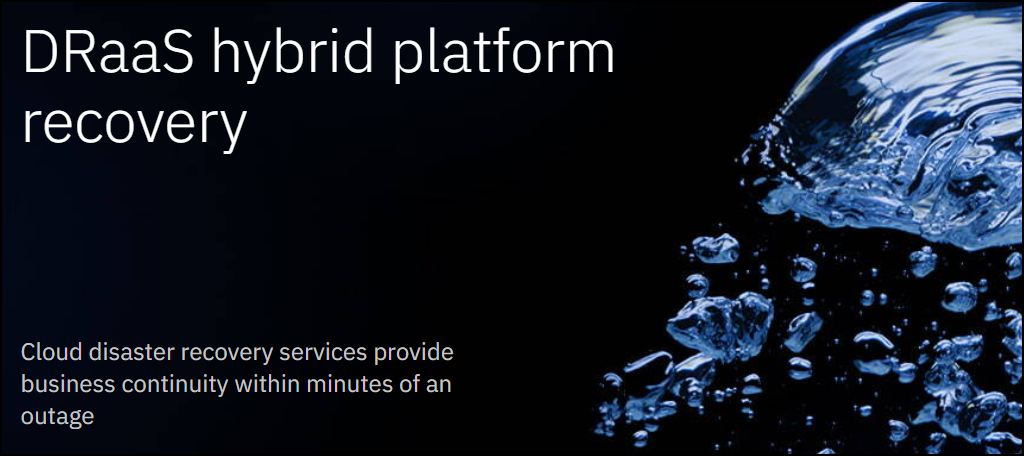 It should come as no surprise that IBM has its own DRaaS hybrid platform recovery solution for businesses. This solution not only helps you recover from a disaster, but it also helps you prevent it from happening in the first place.
This is done by monitoring the health of your devices and catching problems before they cause you trouble.
The solution is very powerful and can actually begin recovery efforts automatically. This can significantly help reduce the number of IT staff you need because the monitoring and recovery is automated.
That said, this is an advanced option for mid-sized businesses and above. It requires on-premise equipment that can quickly raise the price. However, the added security for your data is definitely worth the expense. And with IBM consulting, you can easily identify your needs.
Benefits of IBM DRaaS
Get RPO and RTO reports in minutes
Support is always available and you can even get consulting advice
Backups are easy and cloud-based
Price of IBM DRaaS
IBM does not make its pricing public. Instead, you must contact them for a quote.
6. Zerto Virtual Replication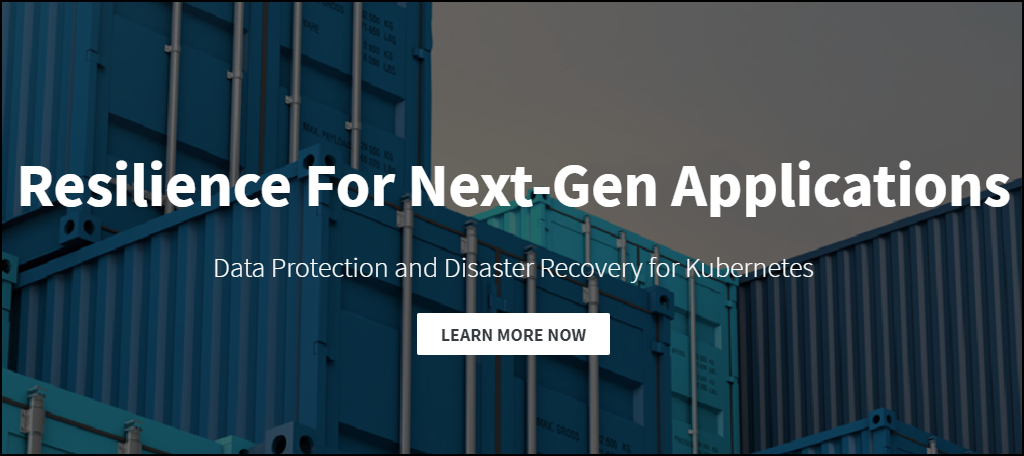 Last on this list is Zerto. It's dedicated to large companies that have a dedicated IT team to manage all of the features and tools they offer customers. The services and plans are customizable, which means that this solution will work for any business.
Just keep in mind, that while less technically-savvy users can use the service, it can get complicated.
That said, it's dedicated to larger companies that have staff dedicated to IT, so it shouldn't be considered a negative. The interface is actually rather simple and sports a tab-based UI that is easy to navigate.
However, it will not always tell you when a mistake was made during setup.
Thus, it has a bit of a learning curve. Backups, migration, and disaster recovery is top of the line and can improve the speed of recovery by 75%. Setup time will vary because the equipment used is unique, but it should only take a few hours for the initial setup.
Benefits of Zerto Virtual Replication
Failover testing only requires 3 steps
Allows you to continue working even during planned disturbances
View an infrastructure health report that is available 24/7 with the latest information
Price of Zerto Virtual Replication
The pricing for these services is not publicly available. You must contact them to receive a quote.
When Should I Buy A Disaster Recovery Service?
Day zero.
Every business regardless of the type uses data stored online in one form or another. This can include the most basic things like spreadsheets that contain customer information, too far more complex systems like IT infrastructure.
In either case, you should have a backup in place. And if you don't believe these are important, think about the impact of losing your data would have.
For instance, let's just imagine the most basic data on a spreadsheet. If you lost this spreadsheet that contained all of your customer's information, you would need to collect it all again. However, what if the phone number and emails were stored there too?
It's all gone and you're at square one. And just imagine how that phone call would go. Explaining that you lost all of their information is going to destroy your credibility as a trustworthy business. They probably won't even give the information back.
Thus, you need to have a disaster recovery service right from the get-go.
Protect Your Data and Business Service Today
Things can go wrong at any moment, and the only way to protect your business is to have an up-to-date backup in place. This will minimize the impact of these disasters on your business and drastically improve the time it takes to recover.
Having a backup in place is good business.
Make sure that you also find a plan that offers the services you need and nothing extra. Many plans will include all kinds of features that can drastically raise the cost. Be on the lookout while hunting for a good plan. This also includes the amount of space you have access to.
It may sound great to have a terabyte of backup space available, but if you don't even use 100 gigabytes, you are probably overpaying.
Which disaster recovery service do you use?